Summit League tournament: Five men's players who could make an impact
We know the stars. Here are five players that can swing things in their team's favor by stepping up in March
SIOUX FALLS — The Summit League's premier players — the ones fans will be keeping their eye on this weekend in Sioux Falls — are obvious.
Max Abmas of Oral Roberts is the league's premier and most well-known player. South Dakota State's Zeke Mayo and North Dakota State's Grant Nelson have emerged as the league's newest superstars, and Trenton Massner of Western Illinois is an elite scorer with a flair for the dramatic.
But everyone knows about those guys. Who are some others that might not necessarily lead their teams in scoring, but can have a major impact on the games?
Here are five:
Connor Vanover, Oral Roberts
At 7-foot-5, he's unlike anyone we've seen in the Summit League. And at times he's used that size to dominate. His 95 blocked shots are almost twice as many as anyone else in the league. But as South Dakota State showed in the regular season finale, it's possible to go right at him. Matt Dentlinger went 10-of-15 from the floor against ORU, as Vanover had zero blocks in the Eagles' 69-65 win. If the former Arkansas Razorback brings his 'A' game on defense, the undefeated Eagles will be very tough to upset.
Matt Mims, South Dakota State
One of the league's most unsung players, 'Mimsy' has had a down year shooting the ball, hitting at just a .365 clip from outside after connecting at a .463 percentage last year. But his role has expanded this year for his steady hand as a point guard and more importantly for his on-ball defense. Mims draws the assignment against the league's toughest guards and he always brings it. He helped the Jacks hold Abmas to 2-of-10 shooting last week. That defense will be central to SDSU's hopes of unseating ORU, and if Mims finds his shooting stroke it would make him even more dangerous.
A.J. Plitzuweit, South Dakota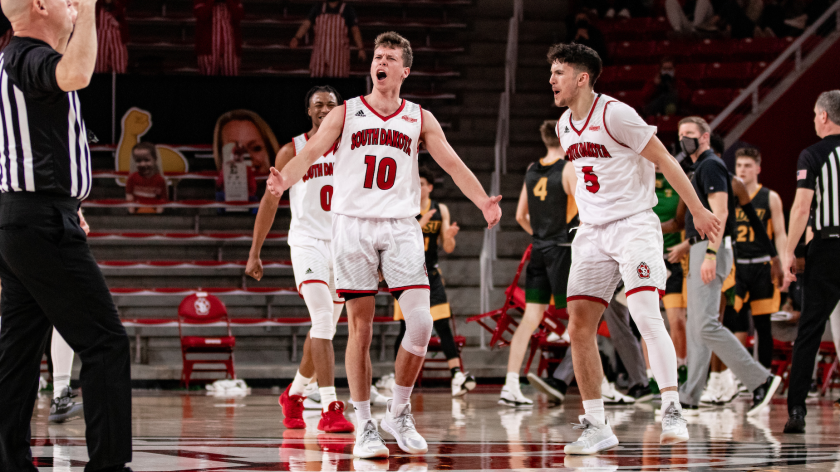 After missing 18 months with a brutal leg injury Plitzuweit finally returned this year, and he hasn't been quite the same player as before the injury.
But who would be? After averaging 19 points, four rebounds and four assists in 2021, Plitzuweit averages 11.5 points this season.
But that doesn't mean he can't still be a big factor in Sioux Falls. The 6-2 guard is shooting .429 from 3-point range, and has shown flashes of his old self, like when he had 33 points on 9-of-11 shooting in the home opener. As the year went on it became clear that playing on short rest was harder for Plitzuweit, and coach Eric Peterson started to throttle his minutes accordingly. Now it's tournament time, though. Plitzuweit will be well-rested for the Coyotes first round game against NDSU. If they win, he'll have to fight through soreness to come back the next night. If he can do it, USD is a far better team.
When Miller first came to the Tommies way back in 2018, it was to play Division III basketball and compete for MIAC titles, if not national championships. Now in his fifth year he'll be playing in a Division I conference tournament, and the 6-3 guard won't be intimidated - at this point in his career he's just about seen it all.
The Tommies have made a relatively smooth transition from D3 to D1, and Miller has been a big part of it. He averaged 15.5 points last year, and this season, with the Tommies bringing in a full class of Division I recruits, he's made room for new talent while still playing a big role in them earning the 4-seed. He averages 12.4 points per game and his 85 3-pointers are second only to Abmas.
Boden Skunberg, North Dakota State
Whoa, hey, what a surprise, the Bison shook off a slow start to head into the tournament with momentum. After dropping their first two conference games they went 11-5 the rest of the way, which included wins in five of their last six games.
And while Nelson, their versatile and talented big man, has led the way, Skunberg, a 6-5 junior, has stepped up in a big way to give Nelson a capable wing man. After averaging just 5.9 points last year, Skunberg is second on the Bison with 14.7 points per game, with a team-high 50 3-pointers on a .379 percentage while also chipping in 5.2 rebounds and shooting 88 percent at the line. His buzzer-beater in the regular season finale against Western Illinois locked up the 3-seed for NDSU.