State volleyball roundup: Northwestern downs Trojans for 11th title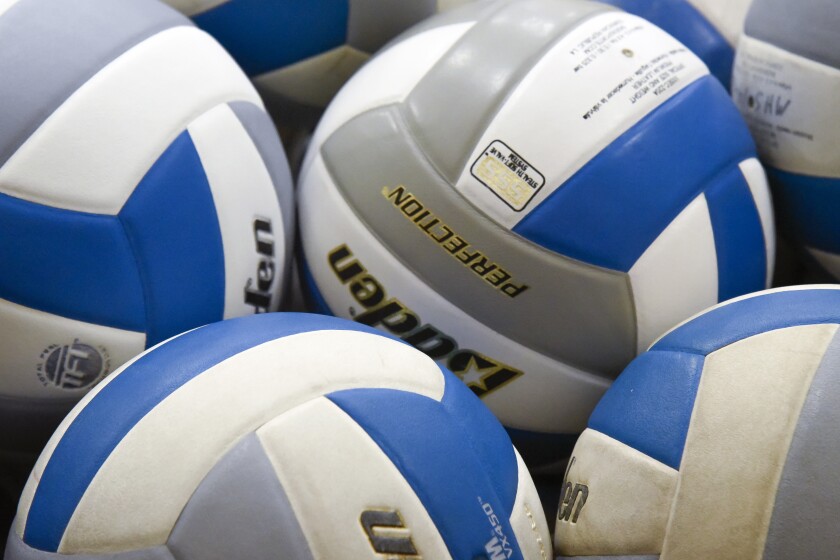 RAPID CITY -- Northwestern won its 11th state championship on Saturday, taking down Faulkton Area, 25-21, 25-17 and 25-13, in the Class B title game. The Wildcats ended the season winning all but one set.
Northwestern (41-0): Sydney Schell finished with 14 kills and nine digs. Hannah Schentzel added 10 kills and 13 digs for the Wildcats. Madalyn Groft dished out 28 assists to go with six kills and five digs in the win. Northwestern finished with 6.5 blocks as a team.
Faulkton Area (24-6): Peyton Melius put down a team-high 10 kills to go with 10 digs. Morgan Gutenkauf added 14 assists and eight digs for the Trojans, while Isabel Aesoph recorded a team-best 11 digs. Abby Vetch finished with seven digs.
Watertown 3, Sioux Falls O'Gorman 0
RAPID CITY -- Watertown took care of business on Saturday, defeating Sioux Falls O'Gorman in straight sets to win the Class AA state title. Set scores were 25-21, 25-23 and 25-16.
Watertown (28-2): Mckenzie Buisker and Sophie Tietz each hammered down 10 kills, while Siri Kranz recorded 15 digs. Tietz also recorded four blocks. Devyn Keller recorded 10 kills and Alexx Bayles dished out 25 assists for the Arrows.
Sioux Falls O'Gorman (26-5): Bergen Reilly finished with a team-high eight kills for O'Gorman. Emma Ronsiek (10) was one of four players with double-digit digs. Raegen Reilly (13), Sydney Wambach (13) and Emma McKay (18) all recorded at least 13, too.
Sioux Falls Christian 3, Dakota Valley 2
RAPID CITY -- Sioux Falls Christian held off Dakota Valley's rally, as it claimed the Class A state championship on Saturday. Set scores were 25-22, 25-23, 16-25, 22-25 and 15-11.
Sioux Falls Christian (29-9): Abby Glanzer finished with 23 kills and 21 digs in the win. Kelsi Heard added 40 assists and 17 digs, as well. Jamaica Calkhoven recorded 13 digs for Christian, while Katie Van Egdom and Caitlyn Pruis added 12 and 11 digs, respectively. The Chargers recorded 10 blocks as a team.
Dakota Valley (31-4): Rachel Rosenquist and Jorja VanDenHul each had 15 kills in the loss. Taylor Wilshire had 33 digs and Ally Beresford dished out 49 assists to go with 13 digs and 12 kills. Sophia Atchison added 17 digs and 10 kills.
Chester Area 3, Faith 1
RAPID CITY -- Chester Area took down Faith in four sets to take fifth place in Class B. Set scores were 25-20, 16-25, 25-23 and 25-20.
Chester Area (26-8): Makenna Larson recorded a 28-dig, 16-kill double-double for the Flyers. Karly Campbell (23) and Brianna Backus (22) each topped 20 digs, too. Kenna Brown added 45 assists, as Jayda Kenyon put down 15 kills. Ella Pry finished with 11 kills.
Faith (31-5): Aiyana Byrd recorded a match-high 31 kills for the Longhorns. Megan Drum added 15 digs, Sydnie Schauer recorded 39 assists and 20 digs and Allix Vance added 17 digs. Ariah Engel recorded 10 kills and 10 digs, too.
EPJ 3, Groton Area 2
RAPID CITY -- Elk Point-Jefferson had to rally to defeat Groton Area on Saturday and finish in seventh place in Class A. Set scores were 24-26, 26-24, 14-25, 25-22 and 15-13.
Elk Point-Jefferson (22-14): Carlie Corder finished with 29 kills and Kenna Curry added 14 kills. Sophia Giorgio dished out 53 assists for the Huskies to go with 16 digs. Riley Donnelly (25) and Katelyn Chytka (29) both topped 20 digs in the win.
Groton Area (26-10): Eliza Wanner finished with 20 kills and 15 digs. Indigo Rogers added 11 kills and 10 digs, while Tadyn Glover recorded a team-best 33 digs. Nicole Marzahn added 15 kills and Kaylin Kucker recorded 46 assists and 18 digs.
Huron 3, Sioux Falls Washington 2
RAPID CITY -- Huron battled back from down 2-1 to take third place in Class AA over Sioux Falls Washington in five sets on Saturday. Set scores were 25-22 22-25, 22-25, 30-28 and 15-11.
Huron (20-7): Libby Rounds was Huron's only player to record double-digit kills, as she finished with 18. Tenley Buddenhagen dished out 40 assists and 16 digs, while Havyn Heinz added 25 digs. Alaina Dale added 15 digs. Huron had eight team blocks.
Sioux Falls Washington (20-10): Phekran Kong put down a match-best 20 kills to go with five blocks. Laura Petterson added 20 digs and 16 kills. Morgan Bischoff reached the 50-assist mark and Sydni Schetnan hammered down 13 kills.
Sioux Falls Roosevelt 3, Rapid City Stevens 2
RAPID CITY -- Sioux Falls Roosevelt defeated Rapid City Stevens in five sets on Saturday to take fifth place in Class AA. Set scores were 25-23, 23-25, 18-25, 25-15 and 15-10.
Sioux Falls Roosevelt (21-11): Tatum Wilson (17), Abby Ward (14) and Jasmine Greer (10) all finished with double-digit kills for the Rough Riders. Elizabeth Denevan added 43 assists in the win. Tatum Kooima recorded 25 digs.
Rapid City Stevens (23-12): Kyah Watson recorded 13 kills and 14 digs. Julia Lee finished with 43 assists, Sammi Sundby and Bailee Sobczak each had 11 kills. Stevens had nine blocks.
Harrisburg 3, Sioux Falls Lincoln 2
RAPID CITY -- Harrisburg stole seventh place in Class AA from Sioux Falls Lincoln on Saturday in five sets. Set scores were 17-25, 25-19, 25-15, 22-25 and 15-13.
Harrisburg (16-12): Mercedes Covrig and Abbrielle Carolan dished out 30 and 22 assists, respectively. Abby Meister was the biggest beneficiary with 16 kills. She also added 20 digs. Hallie Mertz recorded 17 digs and 14 kills in the win.
Sioux Falls Lincoln (14-12): Sydni Wietfeld stuffed the stat sheet with 15 assists, 15 kills and 17 digs. Baily Plourde recorded 12 kills. Chloe Brown added 17 assists and three aces.