Tradition of top talent continues for Burke, with Adisyn Indahl among Class B all-state volleyball selections
The Cougars' program has now had a player receive all-state recognition for six consecutive seasons, with 2022 being the first season with two players on the list in Indahl and sophomore Kailee Frank, who received an honorable mention nod.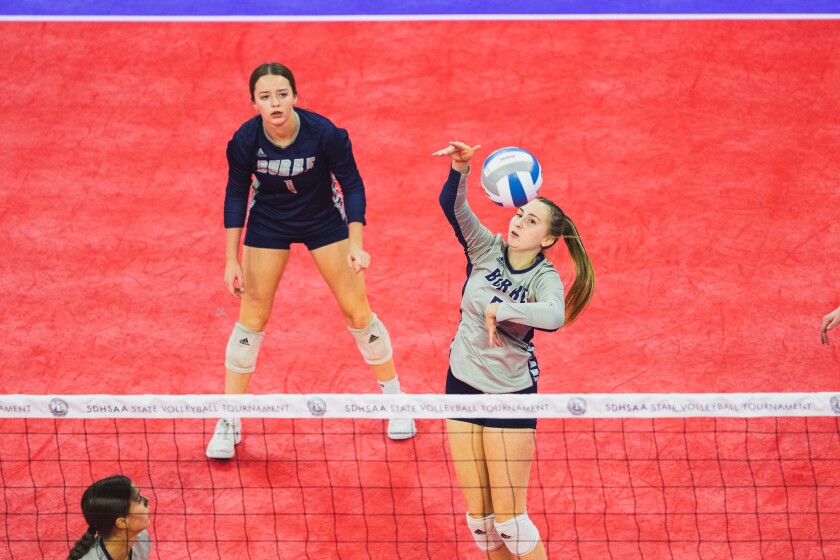 We are part of The Trust Project.
BURKE, S.D. — Burke High School senior Adisyn Indahl was selected as one of the six members of the South Dakota Volleyball Coaches Association's Class B all-state first team, continuing a recent tradition of top players for the Cougars' program.
Indahl, who was a second-team selection in 2021, finished the season with 520 kills, 56 aces and 514 digs for the season, powering the Cougars to a 32-6 record and a program-best fourth-place finish. For her five-year varsity career, Indahl finishes with 1,455 kills, 1,962 digs, 199 aces and 71 total blocks.
"Adisyn is just such a versatile player, and I think that's what sets her apart from many other athletes," said Burke coach Billie Jo Indahl. "She has experience at every position (during her prep career), so we can utilize her in every position. We knew we could put her anywhere defensively or offensively and she'd get the job done."
The Cougars' program has now had a player receive all-state recognition for six consecutive seasons, with 2022 being the first season with two players on the list in Indahl and sophomore Kailee Frank, who received an honorable mention nod.
The rest of the Class B all-state first team includes Warner junior Ava Nilsson, Northwestern senior Ella Haven, Wolsey-Wessington senior Mya Boomsma, Chester Area freshman Lily VanHal and Colman-Egan junior Daniela Lee. Three players are repeat selections to the all-state first team in Nilsson, Haven and Boomsma.
Nilsson, a 6-foot setter, powered the Monarchs to a second consecutive state championship in Class B with a 37-2 record. Nilsson, who has played since the seventh grade, had 1,167 assists this season, 250 digs, 61 blocks, 94 kills and 63 aces. The 2022 first-team selection is her fourth in a row in Class B, something no other Warner player has ever done, and she joins current Sioux Falls O'Gorman senior Bergen Reilly as the first players to have four consecutive seasons of first-team all-state selections in their respective classes.
Boomsma, a 5-foot-9 outside hitter, helped the Warbirds to their first Class B state tournament and posted 417 kills and 414 digs, along with 55 aces. She is the first Warbird in school history to be named to the all-state first team, and has now done it twice.
VanHal, a 5-foot-7 setter and right-side hitter, logged 391 kills, 82 aces, 289 digs and 588 assists for the Flyers, who finished second in the Class B state tournament. VanHal is only the third player to be a first-team all-state selection as a freshman, joining Nilsson in 2020 and Sioux Falls O'Gorman's Bergen Reilly in 2019.
Haven, a 5-foot-9 outside hitter, was the state's most prodigious hitters during the season. She had 670 kills for the season in the Wildcats' 29-9 season, including 84 kills in three matches at the state tournament, plus 59 aces, 316 digs and 68 blocks for the season.
Rounding out the team was Lee, a 5-foot-5 outside hitter for the Hawks, who had 268 kills and 150 blocks, helping Colman-Egan return to the state tournament in 2022.
Class B's second-team selections included Wessington Springs junior middle hitter Avery Orth, who helped the Spartans' turnaround season in 2022. Orth had 435 kills, 31 aces, 122 total blocks and 449 digs.
"Avery was a huge part of our team this season and a big reason for our success," Wessington Springs coach Lynnette Neely said. "She does great in the middle up front and had an amazing 132 total blocks this season. But what's really great is she does so well in the back row also. She led our team in digs — which is surprising with a tall middle hitter. But the one thing I can say about Avery is she works her tail off to get better at whatever she does."
Orth, who stands at 6-foot-2, is the first Wessington Springs all-state player on the first or second team in 21 years.
The rest of the Class B second team included seniors Mackenzie Everson, of Castlewood, Peyton Ostenson, of Edgemont, and Peyton Rankin, of Jones County, along with juniors Addison Melius, of Faulkton Area, Lauren Marcuson, of Warner, and Faith sophomore middle hitter TyAnn Mortenson.
Class B's honorable mention selections include Burke outside hitter Kailee Frank and Tripp-Delmont/Armour setter Hannah Stremick.
Frank, a 5-foot-8 sophomore, continued her breakout play with 379 kills, 75 aces and 385 digs for the Cougars, who finished fourth in Class B.
Stremick, a 5-foot-8 senior for the Nighthawks, finished with 672 assists, 204 digs and 90 aces. She wraps her career with 1,769 career assists and reached the Class B SoDak 16 for the first time with a 25-5 record.
Other honorable mention selections included Hitchcock-Tulare sophomore middle hitter Katelyn Schroeder, Oldham-Ramona/Rutland junior middle hitter Julia Trygstad, Viborg-Hurley senior outside hitter Coral Mason and Philip junior libero Alyn Spry.