The complete Cougar: Burke's Adisyn Indahl named Mitchell Republic volleyball player of the year
Senior Adisyn Indahl is the 2022 Mitchell Republic volleyball player of the year after helping lead the Burke Cougars to a 32-6 record and a fourth-place finish in Class B.
We are part of The Trust Project.
BURKE, S.D. — An argument could be made that Adisyn Indahl didn't choose volleyball, rather the sport chose her.
Either way, it's hard to think of one without the other.
From the time Adisyn could walk and handle a volleyball, her mother, Burke volleyball coach Billie Jo Indahl, remembers her daughter spending hours pounding the ball off the wall in the corner of the Burke High School gymnasium while Billie Jo was coaching the high school team. Those moments marked the start of a relationship that's only grown stronger as Adisyn evolved into one of the best all-around volleyball players in South Dakota.
"My earliest memories (of volleyball) are of going to practices with (my mom) when I was really little," Adisyn recalled. "I would shag balls and fill up waters if the girls needed it. I guess I've just been around the game for so long that it's kind of a part of me, and I really enjoy it."
As a senior in 2022, Indahl helped boost Burke to the No. 2 seed in the Class B postseason and the program's fifth state tournament appearance in six years. At the state tournament, the Cougars took fourth place, matching the program's best-ever finish at the event, and completed the season with a 32-6 record.
For her key contributions in all phases as a six-rotation outside hitter during Burke's continued rise up the Class B ranks, Adisyn Indahl earned the Mitchell Republic's 2022 volleyball player of the year award.
Indahl paced the Cougars with 520 kills while owning a hitting percentage of .269, ranked second on the team with 514 digs and 56 ace serves and chipped in 405 service receptions, 83 set assists and 20 total blocks, all of which were third-best for Burke. For her performances, Indahl was also named Class B first-team all-state and was on the Class B all-tournament team for the second-straight season.
At the 2022 state tournament, Indahl posted 51 kills, 69 digs, 18 assists and four aces, saving a 20-kill, 25-dig double-double performance for the final match of her prep career.
"This year was definitely, by far, my favorite season," Adisyn Indahl said."We're such a close-knit group of girls and we're always there for each other. Our hard work really came together, and we saw good results."
The Mitchell Republic volleyball player of the year is selected by the newspaper's sports staff via a point-based voting system that awards five points to the top player, four points to the second player on the ballot and so on. Adisyn Indahl received 15 points with all three first-place votes, becoming the second Cougar to win the award alongside her older sister Taylee Indahl in 2019.
Other players receiving consideration were Platte-Geddes' Karly VanDerWerff, Wagner's Emma Yost and Macy Koupal, Burke's Kailee Frank, Freeman's Kate Miller, Kimball/White Lake's Dani Deffenbaugh and Wessington Springs' Avery Orth.
Billie Jo's coaching wasn't the only guide that Adisyn had the opportunity to follow during her journey toward varsity volleyball. Taylee, three years Adisyn's elder, had a standout career for which Adisyn was always close by.
While Adisyn served as a team manager during her seventh-grade year in 2017, Burke (then Burke/South Central) qualified for the state tournament for the first time when Taylee was one of the team's central figures. The pair then got to share the court in 2018 and 2019, making two more state tournaments. During the first of those years, Adisyn was the libero, and then she changed roles to become a right-side hitter and setter the following year.
Then, in 2020, Adisyn was looked to as a figure to fill the void at outside hitter left by Taylee, who graduated as the program's all-time leader in kills, digs, aces and receptions.
"Those were obviously some pretty big shoes to fill, but I knew if I had the right mindset, I could do it," Adisyn said.
However, it wasn't quite that simple. A second role change in as many offseasons wasn't without its challenges, among them adapting to life as a go-to attacker despite standing 5-foot-6 and hitting against blockers that oftentimes had a minimum of 3 or 4 inches of height advantage. There was also the added pressure Adisyn felt in trying to match her older sister's performance early on.
"At first I was like, 'Gosh, I just want to be like, Taylee. Why can't I be tall like her? Why can't I hit like her?'" Adisyn admitted. "But my mom and even (assistant coach Mandy) Frank, would be like, 'Hey, just play your game. Be you and just go out and do what you usually do."
"I wanted her to be her own player," Billie Jo said. "A lot of times she compared herself to her older sister, and I'd tell her, 'You've got to develop into your own athlete, your own person and just be you.' And she took that and ran with it."
Such messages of encouragement worked, with Adisyn adopting a crafty set of attacks at the net, constantly mixing in cut shots, roll shots and gentle tips into her array of powerful attacks to put up 1,355 kills across her three seasons as an outside hitter.
And that's not to mention her contributions on the defensive side, an area that Adisyn says rivals even the joy of being on the attack.
"I don't really have a favorite, but I really like back row," she said. "I don't know what it is, just back row is kind of fun. It just feels good when you get a good dig off a hard hit."
Over the course of her five-year varsity career, Adisyn took over the Burke all-time digs record, finishing with 1,962 to go with 1,455 kills (she also owns the program's single-match record with 29 kills), 340 assists, 199 service aces, 71 blocks and 1,410 receptions across 480 sets played.
Adisyn's growth as an outside hitter follows a similar arc to her evolution as an all-around player. As Billie Jo explains, she expects outside hitters to be well-rounded, which was never an issue for a player that had experience at every other position by the time she stepped into that role.
"I just took what I was given, and I was excited to play whatever role I needed to for the team," Adisyn said in reflection. "Being like the libero or even setting was actually kind of fun for me."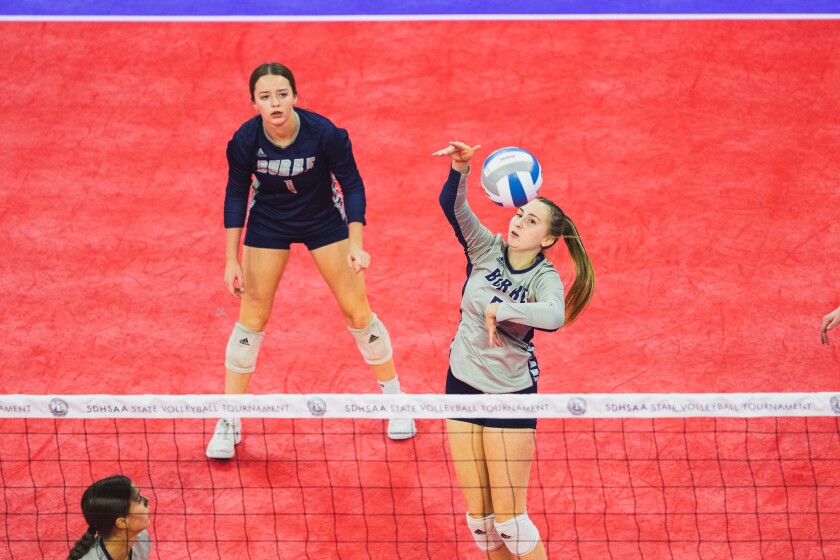 Oftentimes, emotional leaders are thought of as wearing their hearts on their sleeves and being responsible for injecting energy into their teammates.
But though her leadership role grew with her on-court presence, Adisyn took a different approach, opting to maintain a calming presence for those around her and not allowing for her emotions to get wrapped up in the highs and lows that came with each match.
"I definitely don't have a big voice and I'm not a yeller," Adisyn said. "I was never the leader until this year, maybe last year. Looking at our other leaders from past years, I kind of took that and used it to see what I could do. I just think positive reinforcement will help more than yelling, and the game's not over till it's over, so we just have to stay focused and play until it is."
"Her leadership over the last few years has really improved being that go-to player," Billie Jo said. "She's a calming factor out there and just kind of keeps things together. Especially the last couple years, you could really tell that she's confident in the way that she's playing and she's confident in her teammates and builds them up."
It's that type of leadership that has earned Adisyn the respect of her teammates and built relationships that will last a lifetime. With all the success both individually and as a team, there has been plenty to be excited about during Adisyn's five-year varsity career, but what she says she'll miss most is the opportunity to play with her best friends.
The prospect of her career coming to an end brings with it a whirlwind of emotions, many of which were put down in writing for a recent school assignment for which Adisyn, who also plays basketball and golf, wrote an essay centered around the prompt of what volleyball has meant to her.
This is why she's weighing her college options carefully (as of now, Mount Marty is a leading candidate), hoping she can pursue a degree in elementary education (following her mother and sister) while also extending her volleyball career.
"Volleyball has been everything; I absolutely love playing the sport," Adisyn said. "It's been one of the greatest teachers throughout my life and taught me so many lessons. I've made so many memories with my forever friends playing the sport. It's just been so much fun."
Here's a look at the other players who received consideration, with their vote-point totals in parentheses:
Karly VanDerWerff, Platte-Geddes (11): VanDerWerff, a 5-foot-10 junior outside hitter, finished with 428 kills and a .321 hitting percentage, while picking up 52 aces, 56 total blocks and 355 digs, helping the Black Panthers to the state tournament for the second consecutive season and a 28-9 record. VanDerWerff was one of 12 selections to the Class A all-tournament team.
Emma Yost, Wagner (6): Yost finished as a Class A first-team all-state selection, logging 330 kills in a .335 hitting season, 39 aces, 27 total blocks and 502 digs for the season. Yost, a Dakota Wesleyan University women's basketball pledge, finished with 42 kills and 39 digs in three matches at the Class A state tournament as Wagner finished in seventh place and with a 32-5 record.
Macy Koupal, Wagner (6): Koupal, a 5-foot-7 junior setter, finished the season as one of only three setters in South Dakota to amass more than 1,000 set assists in 2022. Koupal finished with 1,043, bringing her career to 2,374, while she also had 291 digs, 32 blocks, 90 service aces and 52 kills. She finished with only 51 ball-handling errors in nearly 2,900 attempts and helped power a team attack that hit .255 as a unit. She was also a Class A all-tournament selection after posting 99 assists in three matches at the state tournament.
Kailee Frank, Burke (2): A sophomore took a big step forward for the Cougars in 2022, finishing with 379 kills and a .226 hitting percentage, 75 aces, 385 digs and 38 set assists. Frank finished with the third-most kills of a Class B player at the state tournament with 54 kills in three matches and was a Class B honorable mention all-state player.
Kate Miller, Freeman (2): Miller, a senior middle hitter, helped the Flyers reach the Class B state tournament for the first time in 24 years. She hit .261 and had 348 kills with only 77 hitting errors on the year, and she had 38 kills and eight blocks in three state tournament matches.
Dani Deffenbaugh, Kimball/White Lake (2): Deffenbaugh, a senior outside hitter, finished the season with 477 kills, good for more than five per set for the Wildkats, and hit .303 on the season. She also finished with 64 aces, 35 total blocks and 416 digs. Deffenbaugh was named to the honorable mention all-state list for Class A, marking her second consecutive honorable mention season. For her career, Deffenbaugh finished with 1,355 kills, 230 service aces, 171 total blocks and 1,453 digs.
Avery Orth, Wessington Springs (1): Orth, a 6-foot-2 junior middle hitter, had a huge season for the Spartans, helping Wessington Springs pick up its first winning season since 2018. Orth had 435 kills, 31 service aces, 122 blocks (including 117 solo blocks) and 449 digs. Orth was named to the second team for the Class B all-state selections, becoming the first Wessington Springs all-state volleyball player on the first or second team in 21 years.
Previous award winners: 2001: Marcy Jacobsen, Mitchell; 2002 (winter): Chelaine Knudsen, Andes Central; 2002 (fall): Chelsey Miller, Mitchell; (*Note: 2002 season switch) 2003: Katrina Brooks, Andes Central; 2004: Gina Baldwin, Mitchell; 2005: Kelli Fiegen, Parkston; 2006: Jena Doom, Wagner; 2007: Kelli Fiegen, Parkston; 2008: Keaya Weber, Wagner; 2009: Jilanne Doom, Wagner; 2010: Charlee Nelson, Mitchell; 2011: Dana Misiaszek, Mitchell; 2012: Taylin Alm, Mitchell; 2013: Anna Flitner, Lyman; 2014: Makaela Karst, Mount Vernon/Plankinton; 2015: Makaela Karst, Mount Vernon/Plankinton; 2016: Sierra Mesman, Bon Homme; 2017: Mackenzie Miller, Mitchell; 2018: Chelsea Brewster, Mitchell; 2019: Taylee Indahl, Burke; 2020: Julia Weber, Bridgewater-Emery; 2021: Karly VanDerWerff, Platte-Geddes; 2022: Adisyn Indahl, Burke.