Sudbeck claims all-around title at Region 2A gymnastics meet
Chamberlain, Wagner/Bon Homme, PEHMV among area teams advancing to state meet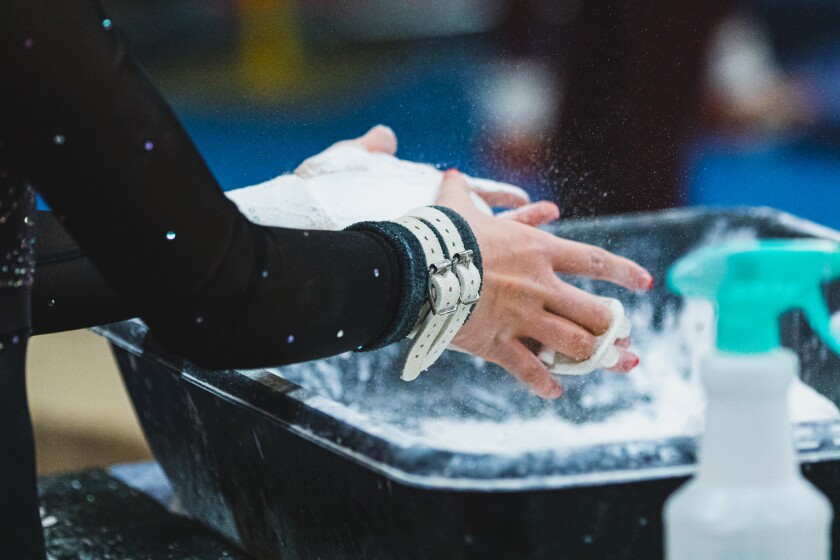 WAGNER, S.D. — London Sudbeck, of Parkston/Ethan/Hanson/Mount Vernon, earned the Region 2A all-around championship on Friday night at the state-qualifying meet.
In the all-around scoring, Sudbeck was the champion with a score of 35.050, with Wagner/Bon Homme's Alexys Rueb in second place at 34.925. Chamberlain's Amelia Jones took third (34.900) and teammate Kylah Biggins was fifth (34.300) after Hot Springs' Jaylen Nachtigall (34.775).
Hot Springs edged Chamberlain in the final team standings, scoring 135.650 points as a team, staying in front of the Cubs by 0.525 points, who had 135.125 points. PEHMV was third with 130.825 points, followed by Wagner at 127.425 for fourth place. Those four teams will compete in the team competition at the Class A state meet in Aberdeen on Friday, Feb. 10. Wall/Kadoka Area/Philip was fifth at 126.150 points.
Biggins was the champion on bars for the Cubs, scoring an 8.725, with Sudbeck second (8.500). Gilbert was the next highest area finisher in sixth place (8.175).
The Cubs' Jones finished tops on beam, scoring 9.250, with Rueb second (8.850) and Sudbeck in third place (8.725).
Rueb finished as the champion in the floor exercise for Wagner/Bon Homme, scoring 9.250. Jones was second (9.075) and Sudbeck was third (8.850).
On vault, Hot Springs' Nachtigall was the champion (9.225), with Reub in second (9.200) and WKP's Piper Cordes and Chamberlain's Amelia Jones each tied for third (9.075), with Wagner/Bon Homme's Jasmine Gilbert in fifth place (9.050).