Sioux Falls O'Gorman earns Class AA girls basketball state championship over Rapid City Stevens
Knights win third Class AA state title; first since 2017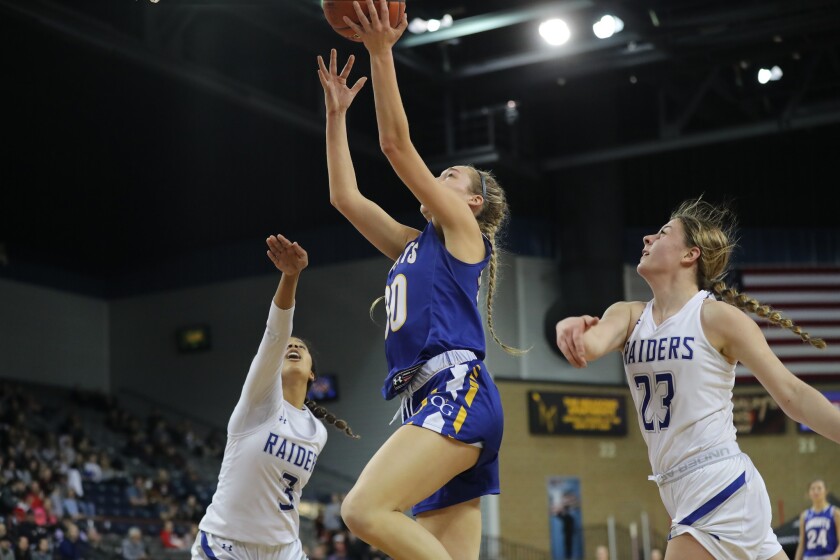 We are part of The Trust Project.
RAPID CITY — Sioux Falls O'Gorman won its third Class AA girls basketball state championship in school history on Saturday, powering past Rapid City Stevens in a 49-42 victory in the state title game at the Monument Ice Arena.
It is the Knights' first title since 2017, as No. 2 O'Gorman finished 21-3.
Hannah Ronsiek had 15 points for the Knights, powered by a 9-for-11 free-throw shooting night.
As a team, O'Gorman converted 19 of 23 free-throw tries in the victory. Hannah Friedman had 12 points, five rebounds and four blocks and Mahli Abdouch had 11 points for O'Gorman, which shot at a 41.2% clip in the game.
The two teams were tied at 4-4 after the first quarter, before O'Gorman outscored Stevens 17-12 in the second quarter and 10-7 in the third quarter to build their largest lead of the night at 11 early in the fourth quarter.
Stevens (19-5) was led by Bailey Sobczak, who had 13 points and 11 rebounds. Jayda McNabb had 11 points and Jillian Delzer had 10 points and nine rebounds for the Raiders, who pulled down 15 offensive rebounds and outrebounded O'Gorman, 32-22. The Raiders were playing in their second consecutive state championship game, taking second again in 2022 after a 2021 title round loss to Sioux Falls Washington.
Class AA special awards
Spirit of Six: Sioux Falls Lincoln
Spirit of Su: Bailey Sobczak, Rapid City Stevens
All-tournament team:
Mahli Abdouch, Hannah Friedman and Hannah Ronsiek, of Sioux Falls O'Gorman; Bailey Sobczak and Jayda McNabb, of Rapid City Stevens; Hillary Behrens, of Brandon Valley; Cierra Watkins and Jaidyn Dunn, of Sioux Falls Jefferson; Ndjakalenga Mwenentanda, of Sioux Falls Washington; Sadie Glade and Josie Hill, of Rapid City Central; Emilee Boyer, of Harrisburg.