Shooting for success: Wagner's Ashlyn Koupal named Mitchell Republic girls basketball player of the year
The talented Wagner forward had a shooting season rarely seen in high school basketball, let alone by a freshman.
WAGNER, S.D. — Ashlyn Koupal's path to basketball success started on a six-foot hoop with a miniature-sized ball.
At age 3, that's where Ashlyn was perfecting her shooting stroke in the family great room at their house. Parents Mike and Tera coach basketball, too, so Ashlyn and her older sister Macy received instruction from an early age to keep their elbow in and to follow through on their shot.
Knowing how it started and knowing that Ashlyn Koupal frequently puts up 400 to 500 shots each day in the Wagner gym before school helps explain why she shot 67% from the field, 73% on two-point shots alone and 53% from 3-point range this season.
Those figures led to 22 points and nearly seven rebounds per game, a Class A second-place state finish and Koupal's selection as the 2023 Mitchell Republic girls basketball player of the year.
The skill, the size and the work ethic all point to why the 6-foot-2 guard/forward is the next standout South Dakota high school girls basketball player, even after finishing her freshman season. At the Class A state tournament in Watertown, Koupal averaged 21 points and 8.3 rebounds per contest in the Red Raiders' state title bid that ended in second place with a 24-2 record.
"The shooting percentage comes from going on The Gun (shooting machine) every morning and getting the shots in and building the confidence in your shot and that you're going to be able to score when you get your chance," Koupal said. "Going in every morning gives me confidence to shoot the ball and take the big shot when the team needs me."
Koupal received 14 points in the newspaper's award voting and two of the three possible first-place votes. She is the second freshman to win the honor in the past four seasons, joined by Corsica-Stickney standout Avery Broughton in 2020. Other nominees for the award included Mitchell's Sawyer Stoebner, Ethan's Ava Lingemann (who received the other first-place vote), Broughton, Wagner's Emma Yost, Mount Vernon/Plankinton's Emilee Fox and Howard's Abby Aslesen.
Ashlyn's basketball story can't be told without pointing out the Koupal hoops history. Her parents, Mike and Tera, are both teachers at Wagner and coach the girls basketball team, with Mike as the head coach. Tera was a talented college basketball player who capped her career at Dakota Wesleyan.
Ashlyn's aunt, Mandy, is a South Dakota basketball legend first at Wagner and later at the University of South Dakota who won the Mitchell Republic player of the year honor three times, including in 1997 and 1998 when the Red Raiders won back-to-back Class A state titles.
Ashlyn said alongside her older sister Macy and brother Michael, who is two years younger, they frequently played games of 21 or P-I-G on the court outside their house. Together, they are part of a family that has six children.
"We're always going at it," Ashlyn said. "We've grown up playing against each other."
On the court, Ashlyn said Macy, who was a regular starter for the Red Raiders this year, is frequently pushing her to bring that competitive level from the home court out onto the game floor.
"Out on the court, she's not afraid to yell at me, which I need sometimes," Ashlyn said. "She's really helped me get the most out of my game."
Playing more down low this season, coupled with her sharpshooting, Ashlyn Koupal has been a force for Wagner girls basketball as a freshman.
Ashlyn has played since she was in seventh grade for the Red Raiders varsity but much has already changed, her dad Mike said. That started with a five-inch growth spurt over the last two years, which made the outside-shooting Ashlyn consider her future as a forward, working under the basket.
"In summer ball, she kind of got thrown to the wolves a little bit playing in the post," Mike Koupal said. "But she's a competitor and she doesn't like being pushed around. So she's been working on a lot on her post moves and she's got some skills that are going to improve as she gets older. She's always loved shooting 3-pointers and playing at the perimeter and she's working on that part of her game too."
In 2023, Ashlyn showcased her ability to score at all levels, and she was quick to credit her teammates for her success. She had a pair of 30-plus-point games, including 36 against Mount Vernon/Plankinton on Jan. 24, and she scored 27 from off the bench in the state semifinal round against Sisseton. She also had a game with seven blocks during the season.
"They're a big reason for me having the success I've had," Ashlyn said. "They are able to attack and we all get open shots from each other. … We're a really good shooting team so defenses couldn't pack the paint against us."
Coach Koupal said he looked at the team as a puzzle, with pieces that fit together in a all kinds of combinations, including with standout senior forwards Emma Yost and Shalayne Nagel drawing attention that allowed Ashlyn Koupal to move around on offense.
"We take a lot of good shots and that's a testament to our team knowing their roles and where they fit and we maybe passed up good shots to get a better shot," Mike said. "That's just goes to our girls playing good team basketball."
It is the second consecutive school year that Koupal has experienced state tournament trips in both volleyball and girls basketball, experiencing them with the same core group of athletes. Koupal is already a two-time reigning state high jump champion, as well.
"We're all gym rats and we want to be in the gym together," she said. "We have the same mindset, we don't care who the top scorers are, we just want to win."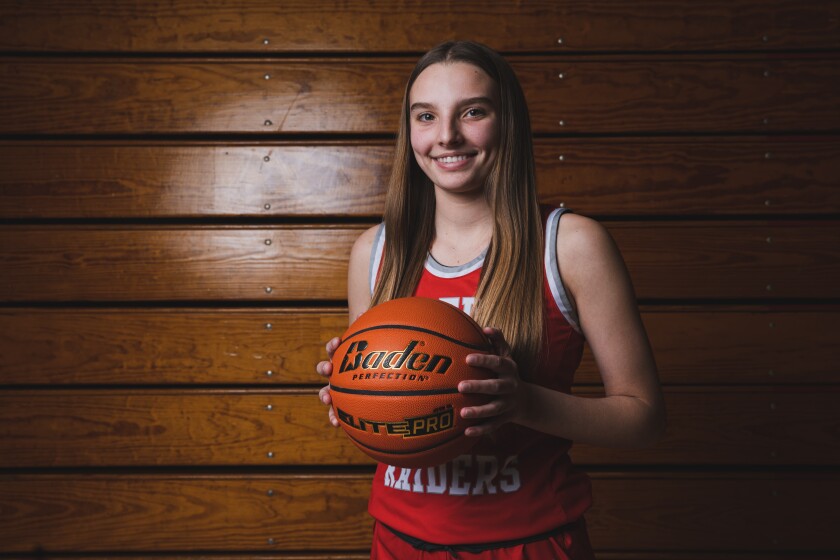 After a particularly tough night shooting free throws earlier this season, Koupal said she shot 300 free throws before school on the shooting machine. She said it's common to work on getting 400 to 500 shots before school, including 100 to 200 3-pointers a day.
And at 6 a.m. on the Monday after the state championship game, she was back in the gym, working on her craft.
"I like it a lot, just practicing and working in the gym and getting better," Ashlyn said of her morning shooting sessions.
Having her parents as coaches might be daunting, but Ashlyn said she's learned to relish it, and isn't afraid to bring home her thoughts about basketball after practice or games.
"We can sit down at home and watch film," she said. "My seventh-grade year, I took things to heart a lot and now I'm better at understanding how everything fits together. I can work with my sister and whatever (Dad) tells us, we can work on in the gym."
As for that shooting success, Mike said the shooting form is a frequent discussion topic when coaches and onlookers watch his daughter play basketball.
"That's one of the main things we always hear about, is how good her shooting form is and how it's been for a long time," he said. "Most kids, they get that instruction in the fifth grade. But she grew up with basketball coaches so she's gotten it since she was 3 years old."
That six-foot hoop? The Koupals still have it but Mike jokes it's not used much for shooting anymore. Ashlyn was followed by three younger brothers, who have gotten their share of dunks in on the basket.
"Our boys are rough-housers, so there's probably been too much dunking on it," he laughed. "But we still have it."
The comparisons between Ashlyn Koupal and her aunt are inevitable. But Koupal has a chance to carve her own legacy at the state track meet.
Koupal has a litany of regional Division I schools that would like her to play collegiately, including offers from Creighton, Nebraska, South Dakota and South Dakota State. That could intensify this summer, as she puts forth another season playing with the Sanford Basketball Academy AAU teams.
"I've enjoyed the recruiting. It's slowed down since school started, since (colleges) are in their seasons and I've had mine," she said. "It will pick up in the summer. I'm excited to see it all play out."
Her dad doesn't shy away from the role summer basketball has played in making his daughters better at high school basketball.
"Basketball now is not just a seasonal sport, it's all year round. It's 365 days a year," Mike said. "If you want to be a successful at that sport, you've got to put that time in and Ashlyn has figured that out. As a seventh-grader, I was a little worried because it was just her raw talent at that point and she's grown up a lot in the last (three) years and I think summer ball has helped with that a lot, playing against the top competition you can find."
Other award nominees are listed below, with their vote totals in parentheses:

Stoebner (11): The Kernel 5-foot-9 junior willed her team with a 25-point, 14-rebound performance in the SoDak 16 to get the 12th-seeded Kernels into the Class AA state tournament and led the Kernels this season with 14.7 points, 11 rebounds per game in a Class AA first-team all-state season. Stoebner had 11 double-doubles in Mitchell's 10-win season and Stoebner was an all-tournament selection averaging 15 points and 11 rebounds over three games.
Lingemann (10): The 5-foot-6 junior guard turned into one of Class B's best scorers, as Lingemann led the class in scoring with 20.6 points and 6.2 assists per game in a first-team all-state season. She helped the Rustlers finish fourth at the state tournament, where she was an all-tournament selection, and she reached 1,000 career points during the season.
Broughton (5): The 5-foot-11 senior guard/forward finished with 17.4 points, nine rebounds and three assists per game in a Class B first-team all-state season, while recovering from a knee injury prior to the season and frequently dealing with double and triple teams on a young Jaguars team. A signee to play at the University of South Dakota, Broughton finished with 2,229 career points and the all-time points, rebounds, assists and blocks leader for the Jaguars.
Yost (3): A 5-foot-11 senior forward, Yost was a Class A second-team all-state pick during the Red Raiders state runner-up season, putting up 15 points, 10.4 rebounds and nearly four assists per game. She plans to play basketball at Dakota Wesleyan.
Fox (1): A Class A second-team all-state selection, the 5-foot-8 junior guard finished with 14.1 points, 4.7 rebounds and 4.3 rebounds per game for the 14-8 Titans. Already MVP's all-time scoring leader, Fox is a South Dakota State commit in the class of 2024 and she has received all-state recognition four times.
Aslesen (1): The junior guard/forward for Howard helped get the Tigers back to the Class B state tournament, earning seventh place in Huron. The Tigers finished 20-6 on the year and Aslesen posted 16.4 points and 9.7 rebounds per game on the season, earning Class B second-team all-state honors.
Past award winners: 1994: Erin Olson, Mitchell; 1995: NaTascha Dawson, Howard; 1996: Mandy Koupal, Wagner; 1997: Mandy Koupal, Wagner; 1998: Mandy Koupal, Wagner; 1999: Lacey Johnson, Wessington Springs; 2000: Lacey Johnson, Wessington Springs; 2001: Vanessa Yanes, Wagner (2002 Season Switch); 2003: Jenna Hoffman, Mitchell; 2004: Jeana Hoffman, Mitchell; 2005: Allison Johnson, Mount Vernon; 2006: Jill Young, Mitchell Christian; 2007: Megan Doyle, Hanson; 2008: Terri VerSteeg, Platte-Geddes; 2009: Rhianna Gullickson, Hanson; 2010: Hillary Paulson, Freeman; 2011: Kerri Young, Mitchell; 2012: Kerri Young, Mitchell; 2013: Macy Miller, Mitchell; 2014: Macy Miller, Mitchell; 2015: Myah Selland, Sanborn Central/Woonsocket; 2016: Myah Selland, Sanborn Central/Woonsocket; 2017: Myah Selland, Sanborn Central/Woonsocket; 2018: Morgan Koepsell, McCook Central/Montrose; 2019: Karly Gustafson, Ethan; 2020: Avery Broughton, Corsica-Stickney; 2021: Bella Swedlund, Winner; 2022: Avery Broughton, Corsica-Stickney; 2023: Ashlyn Koupal, Wagner.