Mitchell's Ryker Kreutzfeldt named region boys basketball coach of the year for second-straight season
Wagner's Mike Koupal was the girls region basketball coach of the year honoree.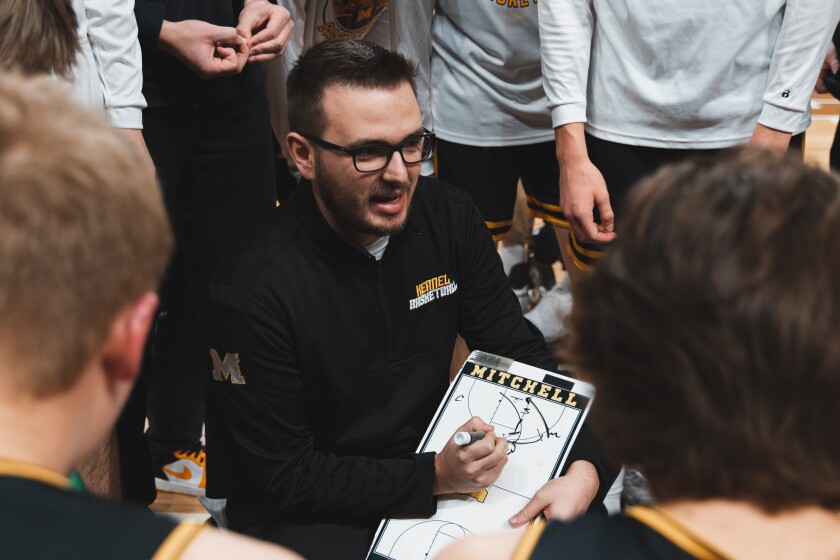 MITCHELL — For the second-straight season, Mitchell High School boys basketball head coach Ryker Kreutzfeldt was awarded Region 7 head boys coach of the year by the South Dakota Basketball Coaches Association.
This season, the Kernels posted a 19-5 record with a runner-up finish in the Class AA state tournament, as both were the program's best showing since the 2011-12 season. In two seasons as MHS head coach, Kreutzfeldt is 34-14.
Wagner's Mike Koupal was also recognized for the second season in a row as the Region 7 girls head basketball coach of the year. The Red Raiders went 24-2 and finished as the Class A runners-up.
Mount Vernon/Plankinton's Jason Helling (Region 7) and Winner's Trent Olson (Region 8) were named boys basketball assistant coaches of the year in their respective regions, and Parkston's Joe Shepardson received the same distinction as a girls basketball assistant coach of the year in Region 7.
Colome's Ron Determan was honored as the 2023 John Wooden Legacy Award winner for South Dakota girls basketball, as awarded by the National High School Basketball Coaches Association. Per the announcement, the award "honors scholastic basketball coaches around the country who are educators and have achieved excellence on the floor, in the classroom and in the community that further embody the characteristics and legacy of Coach John Wooden."
Here's a full listing of the honorees:
2023 Region Coaches of the Year Awards
Awarded by South Dakota Basketball Coaches Association
Region 1
Head boys coach: Jerome Nesheim, Clark/Willow Lake
Head girls coach: Jeff Kosters, Leola/Frederick Area
Assistant boys coach: Mark Prouty, Clark/Willow Lake
Assistant girls coach: Steven Marks, Tiospa Zina
Region 2
Head boys coach: Todd Neuendorf, Hamlin
Head girls coach: Tim Koisti, Hamlin
Assistant boys coach: Buster Vincent, Sioux Valley
Assistant girls coach: Jamie Neuendorf, Hamlin
Region 3
Head boys coach: Brianna Kusler, Pierre
Head girls coach: Josh McGillvrey, Wolsey-Wessington
Assistant boys coach: Brevin Kaiser, Pierre
Assistant girls coach: Terry Becker, Pierre
Region 4
Head boys coach: Kyle Courtney, Rapid City Christian
Head girls coach: Joseph Kieffer, Rapid City Christian
Assistant boys coach: Steve Hilton, Sturgis
Assistant girls coach: Ted Standing Soldier, Rapid City Christian
Region 5
Head boys coach: Tim Reck, Sioux Falls Jefferson
Head girls coach: Jamie Parish, Sioux Falls Washington
Assistant boys coach: Tanner Hilbrands, Sioux Falls Jefferson
Assistant girls coach: Alicia Hess, Sioux Falls Washington
Region 6
Head boys coach: Chris Haynes, Yankton
Head girls coach: Molly Mason, Viborg-Hurley
Assistant boys coach: Zach Ronning, Elk Point-Jefferson
Assistant girls coach: Dana Bigge, Harrisburg High School; Paul McVey Lennox High School (tie)
Region 7
Head boys coach: Ryker Kreutzfeldt, Mitchell
Head girls coach: Michael Koupal, Wagner
Assistant boys coach: Jason Helling, Mount Vernon/Plankinton
Assistant girls coach: Joe Shepardson, Parkston
Region 8
Head boys coach: Aaron Noteboom, Hot Springs
Head girls coach: John Hess, Wall
Assistant boys coach: Trent Olson, Winner
Assistant girls coach: Madison McLaughlin, Wall
Region 1-4 lower level boys coach: Hank Taken Alive, Mobridge-Pollock
Region 1-4 lower level girls coach: Lexi Roe, Hamlin
Region 5-8 lower level boys coach: Gary Nebelsick, Elk Point-Jefferson
Region 5-8 lower level girls coach: Bill Hansen, Viborg-Hurley