Jagger Tyler, Sawyer Stoebner receive Mitchell Republic MVP awards
Mitchell Republic announced Sawyer Stoebner and Jagger Tyler as its most valuable athletes at the Mitchell High School athletic awards banquet Wednesday at the Corn Palace.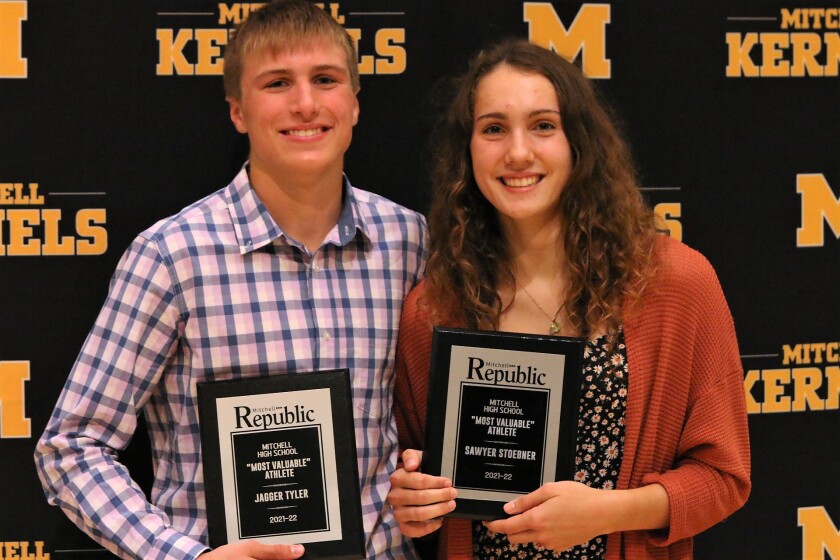 We are part of The Trust Project.
MITCHELL – Sawyer Stoebner and Jagger Tyler received the Mitchell Republic's Most Valuable Player awards during the Mitchell High School athletic awards banquet Wednesday at the Corn Palace.
The newspaper awards MVP honors to one male and female athlete at Mitchell High School, selected by the sports staff based on athletic performance during the academic year.
Tyler was the first Kernel since 2018 to win a state wrestling title , ending his 37-2 record season with a pin on the No. 1 seed entering the tournament in the 145-pound championship match.
The junior defensive back was also a Class 11AA football all-state honorable mention, finishing his season with 57 tackles, 42 solo. While recording the second most tackles on the team, Tyler had seven receptions for 144 yards and a touchdown.
Stoebner was named to the Class AA basketball all-state second team and the all-Eastern South Dakota Conference team after averaging 15.9 points, 9.3 rebounds, 3.4 assists and 3.2 steals per game. She helped the Kernels finish 10th in Class AA, scoring in double figures 15 of her 17 games and recording six double-doubles.
She also set a new Mitchell High School single-match record of nine blocks during the volleyball season this past fall. As a sophomore, Stoebner ranked third in Class AA with a team-best 77 total blocks.
Those two awards were only a pair of several honors handed out at the banquet.
A list of the Mitchell athletic banquet award winners:
Hustler Awards: Kyra Gropper (competitive cheer), Kennah Escobin (competitive dance), Brock Russell (boys cross country), Lindsay Andersen (girls cross country), Joe Van Overschelde (football), Kate Nash (football sideline cheer), Jamie Herren (football sideline cheer), Noah Larson (boys golf), Kaileb Hubbard (boys soccer), Mia Mullenmeister (girls soccer), Atlanta Stahle (girls tennis), Sarah Sebert (volleyball), Kate Nash (softball club), Charlie McCardle (boys basketball), Sawyer Stoebner (girls basketball), Heaven Hofer (basketball sideline cheer), Lainee Forst (gymnastics), Joe Van Overschelde (wrestling), BobbiJo Middendorp (powerlifting), Will Elfstrand (Marlins boys hockey), Tanner Puetz (Marlins boys hockey), Kelsey Amick (Marlins girls hockey), Olivia Knockels (Marlins girls hockey), Kenzie Stange (Riptide swimming), Maddie Childs (girls golf), Allison Meyerink (girls golf), Macon Larson (boys tennis), Lizzie Tyler (girls track and field), Carter Moller (boys track and field), Bryce Palmer (boys track and field), Seth Muth (baseball), Sarah Sebert (girls strength and conditioning) and Joe Van Overschelde (boys strength and conditioning)
CorTrust Bank/MHS Athletic Booster Club Scholarships: Kaitlyn Christensen, Taylor Haring, Samantha Kludt, Kennedy Knippling, Sarah Sebert, Joe Van Overschelde
Leon Feilmeier Athletic Scholarship: Kaitlyn Christensen
Dave Brewer Award: Kendell Fick
Jill McCormick Scholarship: Julia Platt
Keith "Doc" Fitzpatrick Student Athletic Trainer Award: Kennedy Knippling
Adam Aslesen Memorial Leadership Award/Scholarship: Julia Platt and Josh Grosdidier
South Dakota Army National Guard "Warrior of the Month" Award: Lizzie Tyler (girls strength and conditioning), Joe Van Overschelde (boys strength and conditioning), Atlanta Stahle (girls tennis), Aidan Patrick (boys tennis), Tenley Peterson (girls soccer), Kaileb Hubbard (boys soccer), Lindsay Andersen (girls cross country), Brock Russell (boys cross country), Macon Larson (boys golf), Lara Widstrom (girls golf), Kyra Gropper (competitive cheer), Keenah Escobin (competitive dance), Treyson Schulz (football), Lizzie Tyler (volleyball), Kyra Gropper (gymnastics), Brandon Sparks (wrestling), Sarah Sebert (girls basketball), Caden Hinker (boys basketball), Jurzee Gregg (girls track and field), Kendell Fick (boys track and field)
MHS Assistant Coach of the Year Award: Dave Brooks
Tom Maxwell/KORN Radio Coach of the Year Award: Pat Moller
KMIT Student-Athlete Award: Sarah Sebert
Mitchell Quarterback Club Scholarships: Taylor Haring and Josh Grosdidier
MHS Class of 2022 Hall of Fame inductees: Ron Wiblemo, Sr., Ron Wiblemo, Jr., Carla Snedeker and Phil Collins
Golden M Award: Aubrey Gelderman (competitive cheer, gymnastics and track), Joslin Sommerville (competitive cheer, sideline cheer and gymnastics), Kyra Gropper (competitive cheer, gymnastics and track), Carson Podhradsky (football, wrestling and track), Tabitha Sadler (competitive dance, competitive cheer and gymnastics), AJ Siemsen (football, boys basketball and track), Jagger Tyler (football, wrestling and track), Lara Widstrom (competitive cheer, gymnastics and golf), Kendell Fick (football, wrestling and track), Taylor Haring (volleyball, sideline cheer and track), Heaven Hofer (competitive dance, competitive cheer and sideline cheer), Chloe Holzwarth (competitive dance, competitive cheer and sideline cheer), Macon Larson (golf, boys basketball and tennis) and Sarah Sebert (volleyball, girls basketball and track)