Football standout Griffin Wilde guides Sioux Falls Jefferson to state semifinals on basketball court
As the No. 1 Cavaliers downed Harrisburg to advance to Friday night's semifinals, the South Dakota State football signee posted 18 points, eight rebounds, two steals and a block.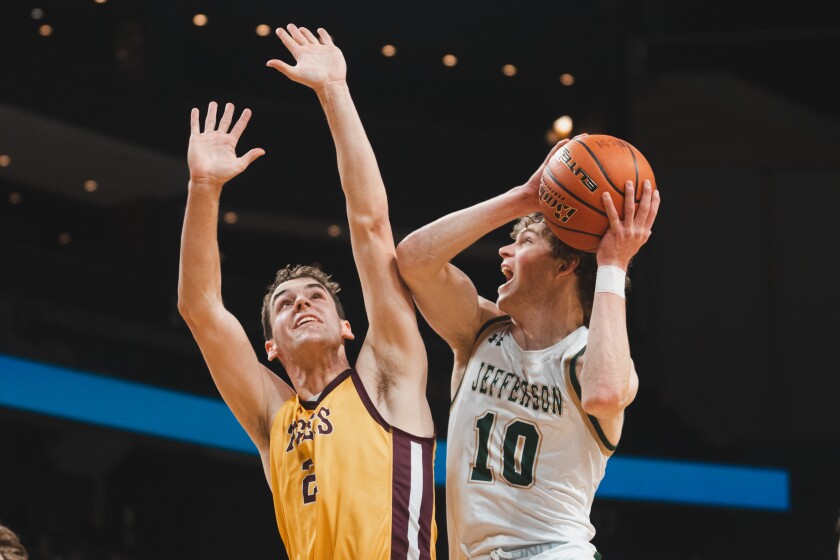 RAPID CITY — Griffin Wilde is used to being in the spotlight, and on Thursday afternoon, one of South Dakota's best football recruits looked like one of the state's top basketball players, too.
For top-seeded Sioux Falls Jefferson, Wilde was the most impactful player on the court during much of the opening Class AA boys basketball quarterfinal, a 53-41 win for the Cavaliers over ninth-seeded Harrisburg at the Summit Arena.
Sioux Falls Jefferson defeats Harrisburg 53-41. Yankton defeats Sioux Falls Washington 58-51. Sioux Falls Lincoln defeats Sioux Falls Roosevelt 56-48.
Utilizing his exceptional speed to get layups to complete fast breaks as well as burying two of his three attempts from behind the 3-point arc, the 6-foot-2 senior filled up the box score, recording 18 points, eight rebounds, two steals and a block.
"For me, it's about taking full advantage of the opportunity," Wilde said. "When it's my turn, I have to step up and produce."
What's perhaps a scarier idea for opponents is that Wilde — more commonly revered for his exploits as a wide receiver, defensive back and special teams returner — plays alongside a pair of prospective first-team all-state selections in guard Taylen Ashley and forward Kaden Year, usually making Wilde the No. 3 offensive option.
Thursday, Wilde's output rivaled the combined efforts of Ashley and Year, who were heavily keyed on by Harrisburg's defense. Between the pair, they had 23 points, 13 rebounds, five assists, four steals and two blocks.
As far as Jefferson head coach Tim Reck is concerned, Wilde is the best third option in all of South Dakota. For the season, Wilde has averaged 11.8 points and 4.1 rebounds per game.
"Griff's a dude, that's the best I can explain it," Reck said. "He's a gamer who wants to step up and his focus is just winning."
Wilde, who's signed to play college football as a wide receiver at South Dakota State, said he had the option to early enroll in Brookings, but opted to stay in Sioux Falls to complete his senior year and pursue a team championship, like the one the Cavaliers won in Class 11AAA football just over four months ago.
Just like the champion football team, this group of Cavaliers has skill up and down the roster. It's a major reason why Jefferson earned the top seed in the tournament and is now 20-2 on the season. If the Cavs claim the title in Rapid City this weekend, they'll become the third school to win a Class 11AAA football title and Class AA boys basketball title in the same academic year, joining Sioux Falls Lincoln in 2014-15 and Brandon Valley in 2018-19.
In addition to Wilde's big afternoon, three of the four Cavs that came off the bench chipped in on the scoreboard, including 3-point field goals from Cameron Black and Dawson Sechser
"One of our biggest strengths is our depth," Reck said. "We play nine guys, and we hope because we've done that all year that they'll have legs here at the end for these three games. So far, it looks like it's going OK."
"We have nine guys that can go in, bang around and play their hearts out," Wilde added. "No matter what crew is on the floor, we're going to produce."