Despite second-place state team finish, Kernel gymnastics celebrates 2022 successes
In the end, it took a strong effort to overcome MHS' strong depth and talent in the state meet
MITCHELL — It didn't end with a state championship in 2022, but the Mitchell High School gymnastics season included a lot of successes.
Sioux Falls O'Gorman walked away with the Class AA state team title —becoming the first state champion other than Mitchell or Watertown since 2012. But it would be hard for the Kernels to hang their heads, considering they set a school record for a state meet team score in the effort with 149.700 points. O'Gorman edged the Kernels with 150.300 points, winning by a margin of six-tenths of a point. Along with Harrisburg's score of 148.233 points, each of the top-three schools earned a team score that would have won them any Class AA state team meet since 2013.
Even without the state title, the Kernels achieved one of their goals in setting an MHS team record in a state meet. It came just six days after an Eastern South Dakota Conference championship on Feb. 5 with a score of 150.475, which was just a few tenths away from the overall school record. Mitchell also had five different gymnasts finish in the top-15 of the all-around scoring, which was more than any other Class AA school.
"The kids performed, they did their job and to have to do it two weekends in a row is hard," Mitchell head coach Audra Rew said. "We hit it out of the park at ESD. We were a little more nervous at state, but everybody has those nerves. I can't say enough about how hard it was for these kids to perform back-to-back and hit all their routines. I'm really proud of them."
There was an immense amount of pressure all season for Mitchell from personal goals among each of the gymnasts, to the undefeated record during the season and Rew herself noting this was "the deepest and most talented team she's coached."
Due to the COVID-19 pandemic creating an unordinary state meet last season, this was the first time some of its younger gymnasts like eighth-graders Olivia Prunty and Kyanna Gropper competed in a two-day meet of this magnitude.
Freshman Joslin Sommerville set season-high performances when it mattered most as she set her season-high on floor (9.717) and in bars (9.333) during the state meet. The following day in the individual competition, Sommerville surpassed her season-high in bars again with a score of 9.433 and set a season-best on beam with a 9.433. She beat her all-around score last year at state by 0.388.
"We've had a lot of pressure since we won state last year but we put in effort on all the hard days and we knew the hard days would always be worth it," Sommerville said. "We knew we had the pressure but we didn't care. We sang, we danced, we performed like no one was watching and I think that's what Mitchell has that other teams don't."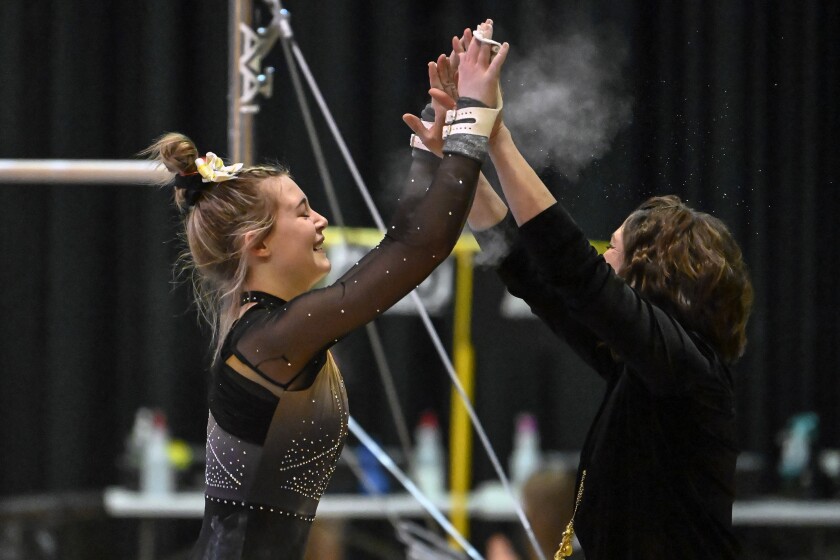 Freshman Bentley Bates set her personal-best score on floor this season at the state meet with a 9.667. She also posted a season-high score of 9.533 on bars during the individual competition the following day.
Junior Kyra Gropper scored season-best 9.617 on floor at the state meet while eighth-grader Prunty had Mitchell's highest score on vault, her season-best as well, with a 9.433. In Prunty's first state appearance, she also topped her best score on floor by 0.1 with a 9.550.
"The fans from Mitchell watching and cheering us on gave me so much encouragement," Prunty said. "We worked on the details and did pressure sets all year that I think brought out the best in us."
Mitchell's lone senior Chelsey Mohr said the thing that made her last season so special was the belief her head coach had in them.
"Audra told us she could stick anybody in the lineup and we'd all score the same so that gave us all the confidence we needed and helped us improve all year," Mohr said. "It was an amazing year and everyone's performance looked great. It was special to end the year at the Corn Palace."
The tradition of the program and the depth of the roster likely will have Mitchell in the state championship mix again in 2023. Mitchell has had a top-two finish in each of the last three state meets and has won the ESD title three straight seasons, with nearly 10 gymnasts getting state meet experience in 2022.
"The physical talent they have and along with how mentally tough they are is what I will remember about this group," Rew said. "To hit meet after meet all season long, how deep we are and you can't pick who's the best because it could be any one of them on any certain day."
After another outstanding season, Rew said many of the team's members are looking forward to club competition, including traveling to Arizona to compete in a meet in mid-March.