Area volleyball roundup for Sept. 29: Tripp-Delmont/Armour sweeps Corsica-Stickney
Prep volleyball action from around the state for Thursday, Sept. 29.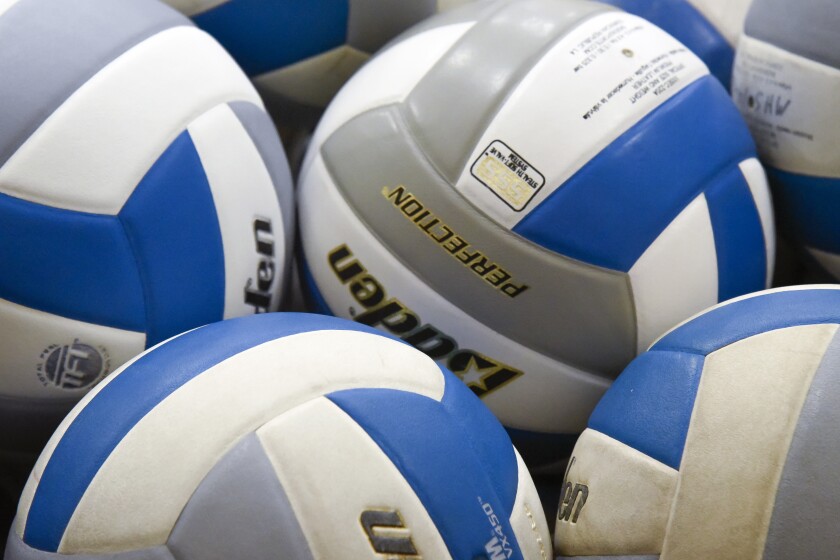 We are part of The Trust Project.
CORSICA, S.D. — Tripp-Delmont/Armour made short work of Corsica-Stickney on the road Thursday night, finishing the Jaguars off in three sets. Set scores were 25-9, 25-12 and 25-8.
Gracey Schatz led TDA offensively with 11 kills and added four blocks. From the service line, Hannah Stremick had nine service aces, while Morgan Gemar added four aces of her own.
For Corsica/Stickney, Sutten Eide tallied 11 set assists, six digs and a service ace.
TDA (9-1) and Corsica/Stickney (2-12) will both be back in action in the Great Plains tournament on Saturday, Oct. 1 in Lake Andes.
Elle Johnson had 21 digs in a three-set win for Burke on Thursday at Boyd County (Neb.), while teammate Adisyn Indahl had 13 kills.
Kimball/White Lake's Dani Deffenbaugh tallied 24 kills and 16 digs, while Ryann Nielsen picked up 19 kills, 21 assists and 14 digs in a win over Hanson.
The combination of 15 kills from Reagan Rus and 25 set assists from Vanessa Hoffman helped lift Mount Vernon/Plankinton to a win over Winner in three sets.
Kenzy Beare picked up 17 kills for Estelline/Hendricks in a three-set win over De Smet. She also added two aces and three blocks.
Colleen Wipf had 34 digs and Jacey Wipf had 32 digs for James Valley Christian's rally from a 2-0 hole to defeat Sanborn Central/Woonsocket in five sets. Kenna Ochsner had 15 kills and 30 digs in the loss for the Blackhawks.
Elkton-Lake Benton's Rachael Krog had 16 kills and 21 digs, and Tevan Erickson added 30 set assists, 18 kills, two kills, an ace and a block assist in a three-set win over Arlington.
In a straight-set win over Elk Point-Jefferson, Peyton Poppema racked up a double-double with 14 kills and 11 digs for Sioux Falls Christian. Addisen Barber added 41 set assists and a pair of blocks in the win.
Class B No. 2 Chester Area's Lily VanHal had 11 kills, 18 assists and five aces for the Flyers in a sweep over Beresford.
Baltic's Peyten Krull tallied a 14-kill, 10-dig double-double in a win over Viborg-Hurley.
Aberdeen Central def. Brandon Valley, 25-21, 26-24, 18-25, 25-23
Baltic def. Viborg-Hurley, 25-17, 25-16, 23-25, 25-15
Burke def. Boyd County (Neb.), 25-18, 25-13, 25-18
Centerville def. Irene-Wakonda, 25-22, 25-22, 25-16
Chester Area def. Beresford, 25-19, 25-12, 25-10
Colman-Egan def. Castlewood, 25-18, 23-25, 14-25, 25-18, 15-11
Dell Rapids St. Mary def. Iroquois/Lake Preston, 25-13, 25-14, 25-21
Deubrook def. Oldham-Ramona/Rutland, 25-23, 25-17, 25-20
Douglas def. Sturgis Brown, 25-11, 26-28, 25-14, 25-20
Elkton-Lake Benton def. Arlington, 25-18, 25-10, 25-14
Estelline/Hendricks def. De Smet, 25-17, 25-20, 25-10
Faulkton Area def. Aberdeen Christian, 25-10, 25-7, 25-19
Hamlin def. Redfield, 25-15, 25-12, 25-18
Harrisburg def. Jefferson, 26-24, 25-16, 20-25, 25-22
James Valley Christian def. Sanborn Central/Woonsocket, 11-25, 22-25, 25-22, 25-23, 15-8
Jones County def. Kadoka Area, 25-17, 2525-15, 20-25, 25-20
Kimball/White Lake def. Hanson, 17-25, 25-14, 25-23, 25-18
Langford Area def. Waubay/Summit, 14-25, 25-19, 26-24, 19-25, 15-7
Little Wound def. Marty, 25-16, 25-14, 23-25, 25-11
Mount Vernon/Plankinton def. Winner, 25-25-14, 25-15, 25-22
Platte-Geddes def. Lyman, 25-9, 25-9, 25-10
St. Thomas More def. Red Cloud, 25-15, 25-10, 25-21
Sioux Falls Christian def. Elk Point-Jefferson, 25-16, 28-26, 25-14
Sioux Falls Lincoln def. Huron, 25-22, 25-16, 25-15
Sioux Falls O'Gorman def. Pierre, 26-24, 25-19, 25-15
Sioux Falls Roosevelt def. Mitchell, 25-16, 28-26, 25-22
Tripp-Delmont/Armour def. Corsica-Stickney, 25-9, 25-12, 25-8
Warner def. Herreid/Selby Area, 25-12, 25-14, 25-10