Area basketball roundup for Feb. 25: Corsica-Stickney, Wessington Springs girls advance from Region 5B
The Jaguars upended No. 1 region seed Andes Central/Dakota Christian at the Corn Palace.
MITCHELL — After a slow first three quarters offensively, Corsica-Stickney's offense came to life in the fourth, as the Jaguars beat Andes Central/Dakota Christian, 45-38, in a Region 5B girls basketball semifinal game at the Corn Palace on Saturday and qualify for the Class B SoDak 16.
Avery Broughton helped lead the C-S charge in the fourth with six points, as the Jaguars scored 22 as a team after scoring 23 in the first three quarters combined.
Broughton finished with 17 points in the win. Elsewhere for the Jaguars, Sydney Spaans posted 11 points.
The Thunder also started slowly on offense but led 8-5 after one quarter before being tied 16-16 at half. ACDC took a 24-23 lead to the fourth, but the Jaguars outscored the Thunder 22-14 in the final frame.
Josie Brouwer had 11 points in the loss and Allison Muckey had 10 points.
Corsica-Stickney (13-8) awaits its opponent in the SoDak 16 on Thursday, March 2, while ACDC closes its season at 18-4.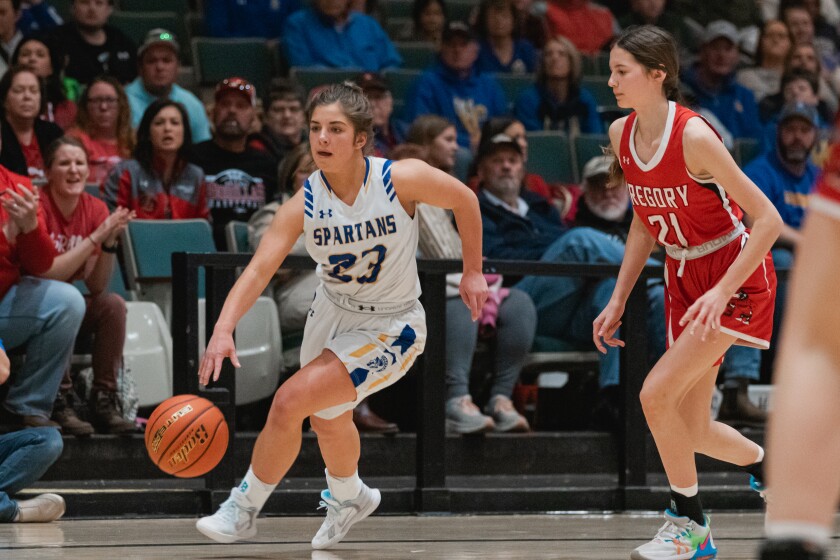 Wessington Springs moves past Gregory in Region 5B semifinals
MITCHELL — A big game from Avery Orth helped Wessington Springs take down Gregory, 66-50 during a Region 5B girls basketball semifinal game at the Corn Palace on Saturday and qualify for the Class B SoDak 16.
Orth racked up 23 points in the win, with 11 coming in the first half and 12 coming in the second. Kate Havlik and Carissa Scheel also cracked double figures for the Spartans, picking up 15 and 13 points, respectively. Kirstie Munsen chipped in nine in the win.
For Gregory, Jessy VanDerWerff also had 23 points and tallied 15 in the second half. Cassidy Keiser had 11 points in the loss.
Wessington Springs (16-6) moves on to the Class B SoDak 16 on Thursday, March 2, and Gregory ends the season at 11-11.
Corsica-Stickney defeats AC/DC 45-38 and Wessington Springs defeats Gregory 66-50.
In Wagner's 73-36 win over Mount Vernon/Plankinton, four Red Raiders scored in double figures. Shalayne Nagel had 25 points, Emma Yost put up 15, Ashlyn Koupal racked up 13 and Macy Koupal chipped in 11. Emilee Fox had 14 points for MVP in the loss.
A 17-point outing from Gracie Oakley helped lift Parkston over Hanson, 62-56. Abby Hohn added 16 points and Mya Thuringer had 10 for the Trojans, while Eliza Oltmanns scored 22 points for Hanson.
Howard earned a spot in the Class B SoDak 16 with a 57-31 win over Dell Rapids St. Mary in Salem. The Tigers' Kate Connor finished with 22 points for the Tigers and Abby Aslesen scored 12 points and grabbed 12 rebounds.
Though Freeman fell to Centerville, 77-62, Ashlin Jacobsen had 22 points and Kate Miller scored 15 points with eight rebounds. Lillie Eide (17), Mackenzie Meyer (14), Thea Gust (14) and MaKayla Heesch (13) all scored in double figures for the Tornadoes.
Despite a 67-47 loss to Northwestern, Wilmot's Addison Heinje put up 28 points. Adriana Ratigan had 22 points on 10-for-15 shooting for Northwestern, to go along with nine rebounds.
Sioux Falls Washington's Grace Peterson picked up 23 points in a 51-38 win over Rapid City Central. Teila Jiron had 15 points in the loss.
As Flandreau beat Great Plains Lutheran, 51-17, Lizzie Pavlis scored 19 points, Claire Sheppard tacked on 13 and Lily Klein had an 11-point, 10-rebound double-double.
Castlewood defeated Arlington, 52-48, behind a 12-point, 11-rebound double-double from Mackenzie Everson, as well as 15 points from Madeline Horn. Addalyn Steffensen poured in 17 points in the defeat.
Dylan Soulek poured in 25 points, powered by five 3-pointers, as Mitchell claimed a second-straight Eastern South Dakota Conference championship with a 57-49 win at Brandon Valley.
Brookings' Austin Clark picked up 24 points and eight rebounds in the Bobcats' 73-67 win over Spearfish. For the Spartans, Seth Hamilton had 20 points.
After bringing the game to within one at 19-18 in the second quarter, Class AA No. 5-ranked Brandon Valley outscored the Kernels 36-15, picking up a win in Brandon on Saturday.
Class AA regular season
Brandon Valley 55, Mitchell 33
Rapid City Stevens 54, Sioux Falls Lincoln 43
Sioux Falls Washington 51, Rapid City Central 38
Spearfish 39, Brookings 33
Sturgis 44, Yankton 42
Class A
Region 1A — Quarterfinals
Aberdeen Roncalli 45, Redfield 32
Groton Area 55, Waubay/Summit 27
Milbank 55, Webster Area 37
Sisseton 83, Tiospa Zina 46
Region 2A — Quarterfinals
Flandreau 51, Great Plains Lutheran 17
Florence/Henry 54, Clark/Willow Lake 23
Hamlin 74, Estelline/Hendricks 26
Sioux Valley 57, Elkton-Lake Benton 44
Region 3A — Semifinals
Garretson 44, West Central 43
Sioux Falls Christian 69, Tri-Valley 29
Region 4A — Semifinal
Lennox 53, Canton 22
Region 5A — Semifinals
Parkston 62, Hanson 56
Wagner 73, Mount Vernon/Plankinton 36
Region 6A — Semifinals
Miller 64, Crow Creek 35
Dupree 68, Mobridge-Pollock 62
Region 7A — Semifinals
Lakota Tech 61, Winner 50
Red Cloud 75, Todd County 42
Region 8A — Semifinals
Rapid City Christian 66, Belle Fourche 49
St. Thomas More 42, Hill City 26
Class B
Region 1B — Quarterfinals
Leola/Frederick Area 50, Aberdeen Christian 13
Hitchcock-Tulare 41, Britton-Hecla 40
Northwestern 67, Wilmot 47
Warner 58, Langford Area 26
Region 2B — Semifinals
Wolsey-Wessington 60, James Valley Christian 35
Castlewood 52, Arlington 48
Region 3B — Semifinals
Ethan 50, Colman-Egan 21
Howard 57, Dell Rapids St. Mary 31
Region 4B — Semifinals
Centerville 77, Freeman 62
Viborg-Hurley 60, Scotland 22
Region 5B — Semifinals
Corsica-Stickney 45, Andes Central/Dakota Christian 38
Wessington Springs 66, Gregory 50
Region 6B — Semifinal
Sully Buttes 49, Herreid/Selby Area 31
Region 7B — Semifinals
Jones County 46, Kadoka Area 29
Wall 62, White River 55
Region 8B — Semifinals
Harding County 58, Faith 46
Timber Lake 66, Lemmon 53
Class AA regular season
Aberdeen Central 49, Watertown 44
Brookings 73, Spearfish 67
Mitchell 57, Brandon Valley 49
Sioux Falls Lincoln 75, Rapid City Stevens 41
Sioux Falls Washington 79, Rapid City Central 54
Yankton 60, Sturgis 42