A complete preview of the Mitchell area high school playoff football teams
19 area high school teams will open their playoffs on Thursday night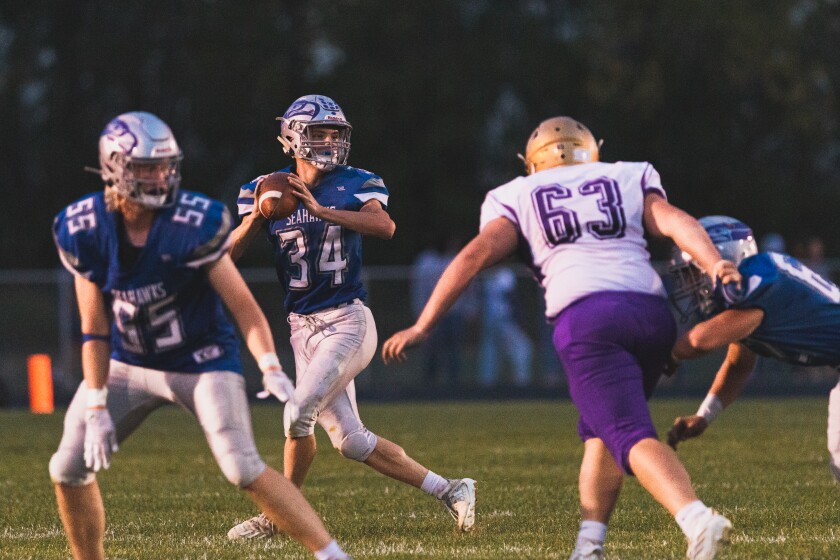 We are part of The Trust Project.
MITCHELL — After nine weeks and eight games, the playoffs for South Dakota high school football have arrived.
Nineteen area football teams begin their quest for the DakotaDome in Vermillion, with Class 11B and the three nine-man classes starting playoffs Thursday, Oct. 20. Here's a preview on each area team in their respective fields, with teams listed by class and alphabetically:
Bridgewater-Emery/Ethan, which has played in the last five Class 11B state championship games, returns to the playoffs once again this year and is well-tested. With a record of 5-3, 10th seeded BEE's losses came to the No. 1, No. 3 and No. 5 seeds in this year's bracket. BEE played the third-toughest schedule in Class 11B during the regular season, with an opponent winning percentage of .583.
The Seahawks have been hurt by injuries during the season, losing running back Riley Endres and quarterback Sam Hofer for periods of the season. Endres led the team in scoring (10 touchdowns, 62 points) and rushing yards (488), while Hofer accounted for four touchdowns in the first two games of the season before being sidelined. Sutton Arend has nearly 500 yards from scrimmage and four touchdowns, while Macklen Weber has handled the quarterbacking duties for the Seahawks. Aaron Horvath and Aguer VanSickle lead the team in tackles with 46 and 45, respectively, and Drake Gustafson has 39 tackles and a team-best three interceptions for a defense that allows an average of 185 yards per game to opponents.
In 2021, BEE was the No. 7 seed and defeated their first round opponent this year, Hot Springs, by a score of 48-6 in the first round, along with wins at Sioux Valley and over Beresford to set up a title tilt with WInner, which the Warriors won.
The Seahawks and Bison are meeting in the playoffs for the third time in four seasons, with BEE winning a 2019 contest by a score of 36-0 in the first round. Hot Springs is 6-2 on the season but has historically struggled with East River opponents, with only two wins in that situation since the start of the 2017 season, including a 14-13 road win at Redfield earlier this year.
A talented offense and strong defense has propelled McCook Central/Montrose to a 7-1 season in 2022 and a No. 5 seed in the Class 11B playoffs.
On offense, MCM has a strong passing attack, thanks to quarterback Boston Katzer, who has thrown for more than 1,400 yards and 14 touchdowns, hitting receivers Weston Cleveland, Ty Morrison, Jackson Grady and Ty Doblar. MCM's defense has logged nearly 20 takeaways this season in eight games, allowing 7.9 points per contest.
In the 2021 playoffs, MCM won a 9-6 road game at Woonsocket/Wessington Springs/Sanborn Central and then fell victim to a 66-28 loss at eventual state champion Winner in the quarterfinal round.
MCM hosts Sioux Valley in the first round, a team that MCM defeated on Sept. 23 in Volga by an 18-14 score. In the first meeting, Katzer was 20-for-24 passing for 269 yards and two touchdowns, including 104 yards receiving from Ty Morrison. Jackson Remmers had 121 yards rushing and a score in the win, as well, while the Cossacks rushed for 233 of its 300 total yards.
With a No. 4 seed and a 7-1 record, Mount Vernon/Plankinton is gearing up for the Class 11B postseason, hoping to put together a playoff run to remember.
The Titans have rushed for 314 yards per game and tallied 355 yards of total offense per game. On defense, the Titans allow 14 points and 200 yards per game. Reed Rus has rushed 113 times for 1,005 yards and 19 touchdowns, plus thrown for 324 yards and three scores, and added 45 tackles (10 for a loss) on defense. Drew Gerlach has rushed for 526 yards and seven touchdowns for the Titans, while Christopher Mayer has tallied 410 yards and four touchdowns on the year. Defensively, Rylan Bush has made 37 tackles, Brady Fox has 36 tackles and Daniel Laufman has made 10 tackles for loss and four sacks.
MVP was seeded third entering last year's playoffs but was upset in the first round by Beresford, which won in Hail Mary fashion by a 27-24 score in Mount Vernon. Since the start of the 2017 season — which was the Titans' first in 11-man football — MVP has amassed a record of 38-16 in Class 11B.
The Titans will play Tri-Valley in the first round of the playoffs. In the first meeting with the Mustangs in Colton, MVP rushed for 404 yards and gained 19 first downs in a 32-6 win, while holding their opponent to only 119 yards. The winner of the Titans-Mustangs game will take on McCook Central/Montrose or Sioux Valley in the quarterfinal round.
Currently riding a 31-game winning streak and standing as the reigning two-time champions in the class, Winner (8-0) is the No. 1 seed in Class 11B.
En route to earning the top seed in 11B, the Warriors took down Bridgewater-Emery/Ethan, West Central and Mount Vernon/Plankinton — three teams that were unbeaten going into the contests.
Offensively, the Warriors feature a potent rushing attack headlined by Aiden Barfuss. Barfuss ran for over 700 yards this season, averaging over eight yards per tote and has found the end zone 11 times. Riley Orel is the other back that Winner predominantly features. Orel is averaging 12.5 yards per carry and has 10 rushing touchdowns as well as a receiving score.
Defensively, Winner had Class 11B's fourth-best scoring defense, surrendering 6.5 points per game on its way to outscoring its opponents 344-56 on the season. During the final five games of the season, Winner allowed 20 total points, including a stretch of three games in a row where its opponents failed to score.
The Warriors will host Lead-Deadwood in the first round on Oct. 20, with Deuel or St. Thomas More potentially awaiting in the second round. When Winner and Lead-Deadwood squared off on Sept. 17 in Winner, the Warriors walked away with a 44-0 victory.
If Winner is successful in closing out the undefeated season and finishing with a third-straight championship in Class 11B, it would be the first school to do so since Hamlin in 1989, 1990 and 1991.
Woonsocket/Wessington Springs/Sanborn Central
Woonsocket/Wessington Springs/Sanborn Central has locked up a fourth consecutive winning season and finished with a 6-2 season in Class 11B, earning the No. 6 seed and a first-round playoff game with Redfield.
WWSSC's only two losses came to ranked opposition in Mount Vernon/Plankinton and McCook Central/Montrose. Through seven games, quarterback Holden Havlik has thrown for 725 yards and 11 total touchdowns for the Blackhawks. Camden Jost rushed for nearly 500 yards and seven touchdowns, and Blake Larson and Ryder Michalek each caught three touchdown passes.
The Blackhawks' defense has been the heart of its team this year, pitching four shutouts and holding opponents to six points or less five times. WWSSC ranked No. 6 in their class in scoring defense, allowing 13.4 points per game.
In 2021, WWSSC was seeded eighth and lost 9-6 in a home contest to McCook Central/Montrose in the first round of the Class 11B playoffs. As for this year, Redfield and WWSSC did not play each other during the regular season. The victor of the first-round game taking on Elk Point-Jefferson or Rapid City Christian, with the latter facing the Blackhawks in on Oct. 14 in a WWSSC 14-6 win.
At 5-3, Bon Homme carries a No. 8 seed into the Class 9AA playoffs and will be a tricky out for whomever matches up with the Cavaliers in this year's postseason. Once again, Bon Homme played a difficult schedule, deemed the second-toughest in Class 9AA with an opponent's winning percentage of .611. The Cavaliers' three losses came to No. 2-seeded Elkton-Lake Benton by 16 points, by seven points at No. 6 seed Parkston and by 11 points at Class 9A No. 3 Gregory.
The Cavaliers get their explosiveness primarily from Isaac Crownover and Riley Rothschadl on offense. Rothschadl runs the offense from quarterback while Bon Homme gets the ball to Crownover all over the field. He had five touchdowns in a late season win over Chester Area, and Rothschadl accounted for five touchdowns of his own in a home win over Stanley County in September. Jackson Caba, Landon Bares, Logan Winckler are among the other key offensive players, while Chapin Cooper regularly leads the Cavaliers' defense in tackles from his linebacker position.
In the 2021 first round of the Class 9AA playoffs, the Cavaliers nearly knocked off second-seeded Parkston in a 20-15 loss.
In a first-round game that could have its share of fireworks, Bon Homme will take on Ipswich. The Tigers, who are 6-2, are No. 2 team in Class 9AA in scoring offense, posting 49.3 points per game, while Bon Homme has averaged 31 points per game and has the fifth-best scoring defense in the class, allowing 11 points per game.
Freeman/Marion/Freeman Academy
A newcomer to nine-man football in 2022, Freeman/Marion/Freeman Academy had a successful regular season, finishing 6-2 under first-year coach Dustin Tschetter. The Phoenix will carry the No. 7 seed into the postseason in Class 9AA.
FMFA has shown an ability to throw the ball behind freshman quarterback Riley Tschetter, who has thrown for 1,796 yards and 26 touchdowns, completing 57.5% of his passes. Maddox Kihne has been among the top receivers, hauling in 55 passes for 761 yards and 11 touchdowns, and teammates Matt Hagen and Evan Scharberg have racked up six touchdown catches apiece. Dominic Sperling has rushed for 366 yards and two touchdowns on the season, and Kihne has rushed for nearly 300 yards and three scores.
Rocky Ammann has 49 tackles on the season, Scharberg has 40 tackles to his name and Kihne has made 38 tackles on defense and two interceptions. Tate Sorensen has made 28 tackles and three sacks for FMFA, which allows 26.4 points per game.
The first-round matchup for the Phoenix will be a rematch of the regular-season finale with Florence/Henry, which FMFA won by a score of 36-14. In that contest, FMFA had 417 total yards, including 272 passing yards and held F/H to under 150 total yards in the game. The winner of the opening-round game will face either Elkton-Lake Benton or Kimball/White Lake in the quarterfinals.
A stout defense is helping Hanson prepare for a possible run in the Class 9AA postseason. The Beavers, 7-1 on the year, have the No. 5 seed in the postseason and will take on Platte-Geddes in the first round.
Since an opening week loss to Class 9AA No. 3 seed Howard on the road by a score of 20-14, Hanson has allowed only 26 total points, including three shutouts and six games with the opponent scoring six points or less. The Beavers' top wins included home victories over Parkston and Canistota in back-to-back weeks.
Under coach Jim Haskamp — who earned his 200th win earlier this season — Hanson averages more than 190 yards rushing per game and behind quarterback Jayce Slaba, the Beavers have a talented trio of running backs in Brock Tuttle, Hadley Wallace and Jackson Jarding, with Ethan Cheeseman and Riley Haynes providing receiving threats. Tuttle, Hayden Wallace, Charlie Prien and Stetson Riggs are additional leaders on defense.
The Beavers' first-round meeting comes with some recent history with Platte-Geddes. The Black Panthers defeated Hanson, 26-24, in the 2021 quarterfinals, ending Hanson's run as the No. 1 seed in the postseason. The winner in this year's game is set to face either Hamlin or Viborg-Hurley, the latter of which Hanson has already defeated 48-6 on Oct. 7.
A state champion from last season in Class 9A, the Howard Tigers have re-tooled and remained tough to defeat once again, earning the No. 3 seed in Class 9AA this season. The Tigers have won 20 consecutive games and are 29-1 dating back to the start of the 2020 season.
Howard has been impressive running the ball this season, averaging 381 yards per game on the ground, powering an offense with 38 points per game. In the last five games, Howard has averaged 557 yards per game and turned the ball over only three times in that span. Quarterback Taiden Hoyer leads an offense that includes running backs Karsyn Feldahus, Karsten Hamilton and Griffin Clubb, On defense, the Tigers have allowed 13 points per game this season, with Jack Neises, Gabe Turpin, Atticus Darnell, Luke Koepsell and Kaden Hofer leading the way.
Last season's route to the dome included wins over Kimball/White Lake, Wolsey-Wessington and a 21-17 semifinal win over Wall before a 55-18 victory over Herreid/Selby Area in the Class 9A championship game.
The Tigers open the playoffs with a home contest with 14th-seeded Britton-Hecla (4-4). The winner will face either Parkston or Leola/Frederick Area in the quarterfinals.
Kimball/White Lake's 2-6 record was good enough to earn the Wildkats the No. 15 seed in 9AA, in part because they've played one of the toughest schedules of anyone in South Dakota football this year. KWL's opponents boast a combined record record of 51-21, which comes out to a winning percentage of .708.
KWL is coming off a 53-0 win over Bennett County, which came on the heels of a 54-0 loss to Wall the game prior. However, the Wildkats have won two of their last three games after losing their first five games to open the season.
Iden Myers is the leading rusher with 581 yards on 97 carries this season, scoring three touchdowns, with Nathan Mohnen rushing for four touchdowns. Defensively, the Wildkats give up the ninth-most points in Class 9AA at 27.9 points per game, while scoring the 17th-most points on offense at 14.6 per game.
KWL is on the road to take on No. 2 Elkton-Lake Benton (8-0) with the winner of Freeman/Marion/Freeman Academy versus Florence/Henry on deck for whichever team moves on.
After falling in the semifinals last year to runner-up Canistota/Freeman, Parkston is back in the Class 9AA playoffs after a 7-1 campaign in 2022. The Trojans are the No. 6 seed and will host No. 11 seed Leola/Frederick Area in the first round with either Howard or Britton-Hecla awaiting the winner.
If not for an 8-6 loss at Hanson on Sept. 9, the Trojans might be undefeated on the season, which has included wins over Wolsey-Wessington, Bon Homme and Gregory, with Parkston winning 32-25 on the Gorillas' home field when Gregory was the then-No. 1-ranked team in Class 9A.
Alongside quarterback Kaleb Weber, the Trojans have a large stable of running backs, including Brayden Jervik, Luke Bormann and Kolter Kramer. Parkston had Class 9AA's fourth-best scoring defense, allowing 10.6 points per game, while scoring nearly 32 points per contest.
Last season, the Trojans had wins over Bon Homme and Garretson as the No. 2 seed before falling 24-20 to Canistota/Freeman in the Class 9AA semifinals. The Trojans are seeking their first state championship game appearance since moving to nine-man football and last won a state title in Class 11B in 2014.
The two-time defending state champions in Class 9AA, Platte-Geddes went 4-4 in 2022.
The Black Panthers were dealt the sixth-most difficult schedule in Class 9AA, with an opponent winning percentage of .583. They went 2-4 against opponents with a record better than .500 and 2-0 against teams under that mark.
Joey Foxley offers the Panthers an option on the ground and through the air, eclipsing 300 yards in both departments — he posted 338 rushing yards and 314 receiving yards with eight total touchdowns.
At quarterback, Dawson Hoffman threw for 1,115 yards with 13 touchdowns and five interceptions on 58% passing. Hoffman also intercepted six passes on defense for the Panthers.
Platte-Geddes surrendered the eighth-least points in Class 9AA, giving up 19.4 points per game while scoring 22.9 points per contest.
Foxley is also one of the headliners on the Panther defense. He posted seven tackles for loss and two interceptions.
The Panthers will start its search to make it three consecutive state titles against No. 5-seed Hanson (7-1) on the road and will face the winner of Hamlin versus Viborg-Hurley should they win.
After a 1-7 season, the Burke Cougars are looking to summon a special run in the Class 9A playoffs. The 16th-seeded Cougars will travel to No. 1 Warner in the first round of the playoffs, as the Monarchs are the last remaining undefeated team in the class entering the postseason. Warner averages 40.3 points per game and allows opponents an average of 11 points per contest.
Burke earned a 33-22 win over Gayville-Volin to close the regular season and assure themselves a spot in the postseason. Sawyer Tietgen and Gentry Bartling each had two rushing touchdowns in the win. For the season, Reed Benter has thrown for nearly 700 yards, while Tietgen has rushed for nearly 500 yards to lead the Cougars and Bartling has rushed for 280 yards and seven touchdowns this season.
The Cougars, playing as an 11-seed, were defeated 34-6 in the first round of the 2021 playoffs in Class 9A at the hands of Gregory. This year, the winner of the Burke/Warner game will take on Alcester-Hudson or Canistota in the quarterfinals.
After a difficult regular season schedule, Canistota returns to the Class 9A playoffs off a 4-4 season. The Hawks had Class 9A's toughest regular-season schedule, with opponents amassing a 49-23 record (.681 winning percentage) during the season. They will travel to No. 8 Alcester-Hudson in the first round, with either top-seeded Warner or Burke awaiting in the quarterfinals.
Canistota quarterback Tage Ortman has thrown for 842 yards and eight touchdowns, plus rushed 81 times for 447 yards and five scores. Noah Kleinsasser has rushed for 645 yards and 11 touchdowns, including three each in Canistota's last two games. The Hawks have rushed for 214 yards per game this season in an offense that averages 29.1 points per contest.
Kleinsasser has made 67 tackles and three sacks for the Hawks' defense, Levi Schroeder has made 52 tackles, and Cayden Scott has made 47 tackles. Canistota is allowing about 260 yards per game and nearly 21 points per game.
Last season, as part of the Canistota/Freeman co-op, the Pride finished second in Class 9AA with a 14-8 loss in the championship game to Platte-Geddes. That run to the DakotaDome was done as the No. 11 seed — entering the playoffs with a 4-4 record — all on the road in games, and included wins by two and four points.
The Hawks' matchup with Alcester-Hudson is the only contest of the first round of the playoffs across all classes that involves both teams receiving votes in the Oct. 10 edition of the South Dakota Prep Media poll.
Gregory boasts a high-powered offense and a sprawling, aggressive defense and carries the No. 3 seed into the Class 9A postseason after a 7-1 regular season. The Gorillas will host Iroquois/Lake Preston in the opening round.
Rylan Peck makes the offense go for Gregory at quarterback, throwing for 899 yards and 12 touchdowns, while rushing for 722 yards and 15 touchdowns. Owen Hansen had 800 yards from scrimmage and five total touchdowns, while Kade Stukel accounted for more than 600 yards and eight touchdowns. Eli Fogel hauled in five touchdowns in the regular season, as well.
Gregory's defense has allowed 12.8 points per game and held opponents to 190 yards per game. Fogel leads the team in tackles with 66, including 16 for a loss and 10 sacks. Gunnar Stephens has made five sacks and has 53 tackles and Trey Murray had 54 tackles.
Gregory, which won back-to-back state championships in Class 9AA in 2016 and 2017, reached the Class 9A quarterfinals last season, defeating Burke and then falling 34-20 at Wall.
The winner of the first-round game between the Gorillas and Sharks will meet either Wolsey-Wessington or Deubrook Area in the second round. Gregory defeated W-W in the opening game of the season, 60-34, in Gregory.
After an 8-2 season in 2021, the Lyman Raiders have backed it up with another solid regular season in 2022, earning the No. 2 seed in Class 9A and posting a 7-1 record. They will host Oldham-Ramona/Rutland in a first-round Raider Bowl in Presho to open the playoffs, with a route to host all playoff games on the road to the DakotaDome, where the Raiders have not been since 1994.
Lyman has a three-headed attack on offense, with quarterback Teagan Gourneau throwing for 15 touchdowns and 1,002 yards, and rushing for six more touchdowns and 348 yards. Running back Tance Wagner has 873 yards and 16 touchdowns on the ground, and wideout Cooper Long has 31 catches for 671 yards and 13 touchdowns this season. The Raiders have rushed for at least 320 yards in each of their seven wins.
Lyman's only loss came to West River nine-man stalwart and Class 9AA No. 1 seed Wall by a score of 48-6 on Sept. 23. Oddly enough, Lyman did not play any games against Class 9A teams during the regular season, with its eight opponents all in either Class 9AA or Class 9B. The Raiders averaged 42.8 points per game — which is the second-best scoring offense in Class 9A — and had the second-best scoring defense in the class at 11.6 points per game only behind No. 1-seeded Warner.
Lyman reached the Class 9AA quarterfinals last season, defeating Stanley County in the first round before falling 24-18 to Timber Lake. If Lyman wins this year's first-round game, they will host either No. 7 Castlewood (6-2) or Timber Lake again, with the Panthers holding the No. 10 seed in 2022 and also moving down to Class 9A.
After a heart-breaking finish to the 2021 playoffs, the Avon Pirates are hoping to put together a solid run in 2022 as the No. 8 seed and a 4-4 regular-season record.
The Pirates had the third-toughest schedule of anyone in Class 9B this season, with an opponent winning percentage of .583. Avon allowed 23.8 points per game on defense in its eight regular-season contests. The regular-season had some highs, as well, including a 36-22 win over Class 9A ranked foe Alcester-Hudson on Sept. 30.
Avon has gained about 90% of its yards on the ground this season, rushing for 279 yards per game. Paxton Bierema has rushed for 506 yards and 12 touchdowns, Jaden Stahl rushed for 523 yards and four touchdowns, Cade Faulkner has rushed for 467 yards and a touchdown, with Brady Bierema and Noah Watchorn each getting key carries for the Pirates as well. Avon's offense averages nearly 27 points per game, while the defense has allowed about 24 points per game.
In 2021, Avon reached the Class 9B semifinals with wins over Estelline/Hendricks and Alcester-Hudson before falling to eventual state champion Dell Rapids St. Mary, 32-30, in Avon. The Pirates have made eight trips to the DakotaDome for championship games in the last 20 years, including Class 9A championships in 2002, 2004 and 2008, and Class 9B titles in 2005 and 2013.
If Avon can knock off Faulkton Area (4-4) in the first round, they will take on top-seeded Herreid/Selby Area or Lemmon/McIntosh in the quarterfinals.
The Colome Cowboys posted a 4-4 record in 2022, good for the 11th seed in Class 9B and a trip to De Smet in the first round of the playoffs. The Cowboys had wins over Gayville-Volin, Burke, Sunshine Bible Academy and Centerville — teams which combined for a record of 3-29 during the season — meaning the playoff meeting with the Bulldogs will be a key test.
Sophomore Eli Vobr is in charge of helping make the Cowboys offense go at quarterback, throwing for 643 yards and eight touchdowns, plus rushing for 664 yards and six touchdowns. Kash Heath has 11 total touchdowns, including 655 rushing yards and eight rushing scores. Seth Heath has 66 tackles, Kaden Pechota has made 44 tackles and Vobr has 35 tackles and four interceptions on defense.
In 2021, Colome made the playoffs and were on the wrong end of a 52-0 first-round loss to Faulkton Area. But the Cowboys have recent postseason success, winning Class 9B state titles in 2016 and in 2018.
One of the younger teams in Class 9B, Corsica-Stickney's 6-2 season earned the Jaguars the No. 5 seed.
The Jaguars boasted the fourth-best scoring offense in Class 9B this season, scoring nearly 33 points per game, while allowing 21 points per contest on defense.
Freshman Waylon Bolle leads the Jaguar offense on the ground. He eclipsed the 1,000 yard rushing mark, racking up 1,049 yards on 130 carries — good for 8.1 yards per tote. He also scored 15 touchdowns on the ground and hauled in three through the air, including two in a win against Burke on Sept. 16.
Carter Wright poses a dual threat on offense for the Jaguars. He ran for 705 yards and seven touchdowns on the year but also posted 351 receiving yards and a pair of scores. Defensively, Wright racked up 71 tackles and had five games with nine or more tackles. He added five tackles for loss and a pair of interceptions on that side of the ball as well.
The Jaguars come into the playoffs having suffered their second loss of the season last time out — a 32-14 defeat to Sully Buttes.
In last year's Class 9B first round, the Jaguars fell to eventual champion Dell Rapids St. Mary by a 40-0 score. This year, Corsica-Stickney hosts 12th-seeded Irene-Wakonda (3-5) and will take on either Sully Buttes or Potter County with a win.