Watching the spring migration of birds on the prairie
Though the weather this month has been full of fluctuation, it has been fun to watch the progression of spring on the prairie.
We are part of The Trust Project.
March is for the migrators! Within the last few weeks, the prairie has come to life with a wide assortment of wildlife returning and becoming active across the landscape. Though the weather this month has been full of fluctuation, it has been fun to watch the progression of spring on the prairie.
American tree sparrow - Grand Forks County
American tree sparrows, like many of the wintering sparrows, use the frigid prairies as their vacation home! These sparrows will breed in the northern reaches of Canada, typically near the edge of the northern treelines. With the warming weather, this bird was foraging on the prairie's seeds and berries in order to fuel up for the trip back north.
Northern pintails and mallards - Grand Forks County
I did mention that march is for the migrators, and this is the most obvious with the returning waterfowl. Unless you've been living under a rock, you've likely heard the honking of geese or the whistling wings of overhead ducks. These Northern pintails and mallards are often some of the earliest prospecting waterfowl and tend to follow the ice-out as they move north in the spring. As a duck guy, I couldn't be more excited for their return!
Peregrine falcon - Grand Forks
Peregrine falcons are the fastest unaided animal in the world. In a dive, these feathered missiles can reach speeds of around 240 mph. The University of North Dakota's water tower has hosted peregrines for several years now, and we've seen the return of "Marv," a banded male who has returned for several nesting seasons, and his unnamed and unknown girlfriend. It's not unusual to see them flying overhead on my walk to classes or to hear the two birds screeching and squawking on their perch. I'm hoping to see their true speed someday as they dive after pigeons and prey on campus.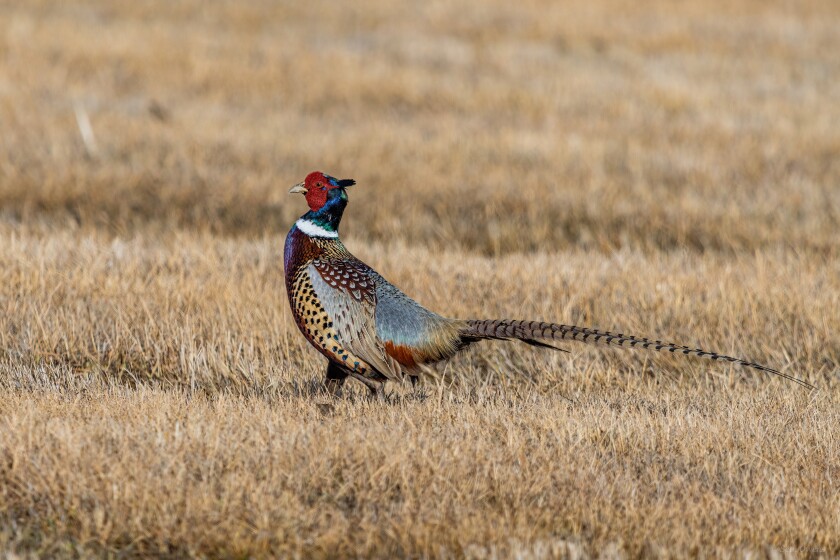 Ring-necked Pheasant - Grand Forks County
Ring-necked pheasants may not be native to North America, but they have become a welcome bird across the prairies. Throughout the summer, fall, and winter, they are often a bit more elusive, sticking to the thicker brush and weedy slough-bottoms, but, in the spring, the males are often seen on ditch-lines and gravel roads across much of the Red River Valley. On your next trip out of town, keep your eye out for these "rainbow chickens" and listen for the males crowing in the morning.
Snowy owl - Grand Forks County
An unexpected sight in March was this snowy owl. I had seen several in January and February, but the sightings slowed as winter progressed. In the last few weeks, I have had six different encounters with snowy owls. It sure has been interesting! Snowys are the heaviest owl in North America and are close relatives of the great-horned owl, look at the little "horn" tufts on their heads. These snow-white owls aren't likely to stick around for much longer, and they will likely begin their migration northwards in the coming weeks, so get out and take a look.
They're tough to see right away, but once you spot them they stick out like a sore thumb.
Wild turkey - Grand Forks
On UND's campus, there are a few resident turkeys. There are actually two that frequent the lawn outside of my apartment! Turkeys are not native to North Dakota, but heavy introduction efforts in the 1950s allowed for their establishment across much of the state. In some places, their introduction was so successful that now they are almost nuisances to landowners. We'll see how long these two stick around campus. I haven't seen any hens, so they'll likely go searching soon as the breeding season is rapidly approaching.
Tri-colored heron - Orange County, Fla.
Though the migration is starting, much of North Dakota is absent of the vivid colors that will return in the coming weeks. To add a bit of color, here was the superstar species of my spring break trip. Tri-colored herons are quite the lookers, and even this juvenile was adorned with a variety of shades of indigos, reds, and yellows. It won't be much longer before many of the more colorful songbirds, waterfowl, and herons return to the prairies, but hopefully, this tropical bird will sate your appetite for color until then.
Western meadowlark - Grand Forks County
Even though it's limited, there is still color out on the prairie in early spring. The state bird of North Dakota, the Western meadowlark, returned to its breeding home a few weeks ago.
These birds may be one of my favorite. Their bubbling song brings a smile to my face, and I always chuckle when I see one all puffed up, fighting the cold springtime wind. Sadly, it's been estimated that Western Meadowlark populations have been declining at a rate of 1% per year since 1966. This male did not seem to know that though as he belted out his spring song into the sunrise. They're still here, you just have to look.
Seth Owens is a lifelong North Dakotan whose love of birds began at a very young age. He picked up photography in the spring of 2021 and now has merged those two interests.

Since coming to the University of North Dakota in 2019, the birdwatcher and aspiring wildlife photographer has taken his passion to a new level, exploring Grand Forks and the surrounding area with keen ears, keen eyes and a Nikon camera with a very large lens, to observe and photograph birds.
Barring the April snowstorm, I think that we should see a slow increase in our local species over the next few weeks. With the water opening up, we now have a variety of waterfowl moving into the state! With the plants and insects beginning to awaken, we will shortly have an influx of migrating warblers and sparrows.
For April, I am looking forward to the grand assortment of warblers moving into the region. There have been several reports of different warblers working their way north through the central regions of North America, and it's only a matter of time before the trees, shrubs, and grasses are alive with song.
Facebook - https://www.facebook.com/stuff.seth.sees
Instagram - https://www.instagram.com/stuff.seth.sees/?hl=en
Print Gallery - https://stuffsethsees.darkroom.tech/