DWU finishes Siouxland Invite as runner-up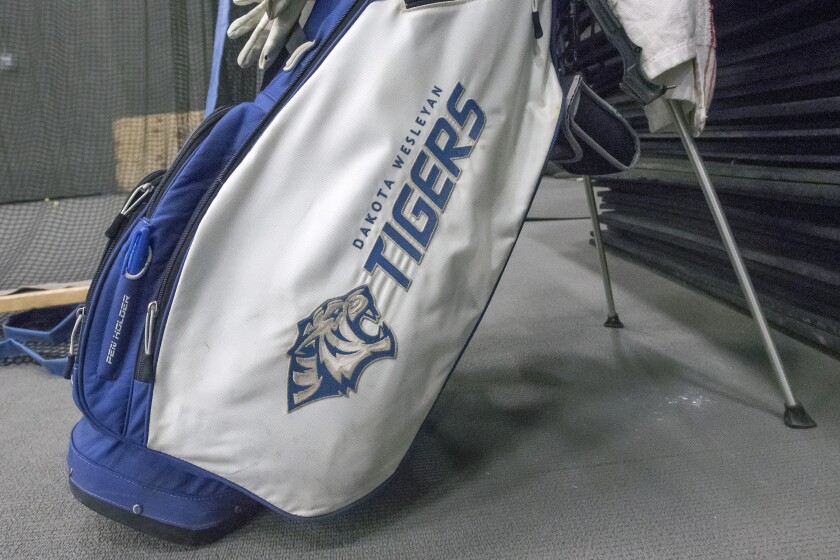 ORANGE CITY, Iowa -- Dakota Wesleyan University's 'blue' team entered the final round of the Siouxland Invite on Tuesday three strokes off the lead.
First-place Morningside shot four strokes higher in the second round at Landsmeer Golf Club, but DWU was nine strokes higher than its first-round score. The Tigers finished the tournament with 579, which tied Doane for second place and was 11 strokes behind champion Morningside.
The DWU 'white' team placed 11th in the 14-team field with a 630.
Mitchell native Cade Carpenter paced the Tigers by posting a two-round score of 141, tying him for third place, five strokes behind Morningside champion Torben Boeger.
DWU's Bennett Lundy tied for 10th after shooting a 145, one stroke ahead of teammate Justice Morrison. Nolan Wiegel finished 16th with a 147 and Tony Hayes was 21st with a 148.
DWU returns to action in the two-day Jamestown Invitational, beginning Sunday in Jamestown, North Dakota.
DWU women show improvement, but finish last at Bellevue Invite
BELLEVUE, Neb. -- The Dakota Wesleyan women's golf team placed fifth out five teams in the Bellevue Fall Invite on Tuesday after carding a 144-over-par 720 across two rounds.
The Tigers shot 19 strokes better in the second round, but William Penn ran away with the team title with a 77-over-par 653.
Megan Hinker led DWU with a 12th-place finish, posting a 27-over-par 171. Winner native Ronae Klein was tied for 17th with a 179 and Howard native Jordan Glanzer was 21st with a 186. Mitchell graduate Ashley Zimmer (188) and Parkston's Jayden Bormann were 23rd and 25th, respectively.
DWU begins play in the two-day Lila Frommelt Fall Classic on Friday in North Sioux City.