USD stifles SDSU in Summit women's title final, earns third-straight tourney title
Coyotes improve to 27-5, will appear in fourth-straight NCAA tourney
We are part of The Trust Project.
SIOUX FALLS -- If defense wins championships, the University of South Dakota women's basketball team's gold medals and first-place trophy were well-earned on Tuesday afternoon.
The Coyotes frustrated their rivals from South Dakota State to the tune of 24.6% field goal shooting for the game and earned a 56-45 victory for a third-straight Summit League tournament championship in front of 8,117 fans at the Premier Center.
With the win, USD (27-5) qualified for the NCAA tournament for the fourth consecutive season and snapped SDSU's 15-game win streak. Star center Hannah Sjerven scored 17 points for the Coyotes, while Chloe Lamb had 15 points and Liv Korngable had 11 points for USD.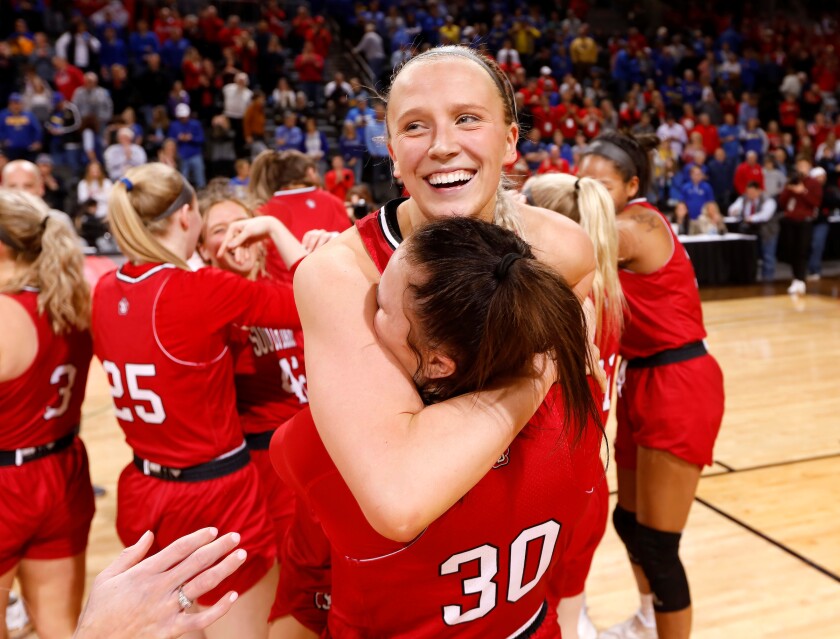 It was the star super-senior trio for the USD that delivered on what they had hoped to do when they took advantage of COVID-19 eligibility rules for another season in Coyote red.
"They came back for a moment like this. But just because you want to doesn't mean you get to," USD coach Dawn Plitzuweit said. "It's a testament to their character and toughness and all of the time they put in to get back here."
The game involved two teams playing closer to their averages for points allowed -- 53 per game for the Coyotes, 58 per game for the Jackrabbits -- but the No. 9 scoring defense in the country in USD was able to cut through SDSU's offense for most of the game. contesting a number of shots at the rim and holding SDSU to a 6-for-28 game on layups in the paint.
"We were able to slow them down and they were able to do the same to us," Plitzuweit said. "I think it came down to some really big plays for us."
After SDSU got to within four points with 7:19 remaining, Liv Korngable hit a 3-pointer to bring the Coyotes lead back to 46-39 with 6:07 to go. From there, the made field goals were mostly turned off between the two teams, with only an SDSU layup from Paiton Burckhard with 1:25 remaining and a final layup from Irwin landing on the Jacks' ledger. SDSU was 3-for-22 from the field in the fourth quarter shooting the ball and did not have a quarter with more than four made shots all game.
"We certainly played hard enough," SDSU coach Aaron Johnston said. "We just didn't get into a rhythm offensively and we never really got going and we were kind of digging out of a hole for a lot of the game. … Points in the paint were hard to come by."
South Dakota, seeded No. 2 in the tournament based on a tiebreaker, went the final 5:52 of game time without a made field goal, but subsisted from the free-throw line, converting 10-of-14 free throws in the final quarter.
It marked just the third time this season that top-seeded SDSU has been held to 50 points or less, and two of those occasions have been at the hands of USD, who held the Jackrabbits to a season-low for scoring in their first matchup, a 65-42 Coyote win in Vermillion on Jan. 8.
"It was the game-changer for us," Sjerven said. "We just tried to stay in front of them, put our hands straight up and if they made the shot, that's a tough shot and credit to them."
The first half was defined by offense that was hard to come by for the two teams, with the Coyotes converting only three of their first 12 shots and shooting 33% overall. SDSU finished the half 2-for-14 on two-point shots and was able to stay afloat due to its 3-point shooting. The nation's No. 1 3-point percentage team was able to hit five 3-pointers to stay within one point at halftime, 23-22.
SDSU (23-9) will be under consideration for an at-large bid to the NCAAs, but won't know until Selection Sunday on March 13 when the newly expanded field of 68 will be announced. SDSU entered the day with a NET ranking of 33, which is one of the primary ranking metrics that the NCAA selection committee has at their disposal.
Tuesday's meeting was the seventh time the two rivals have met in the conference title game since 2013, continuing their domination of the mid-major league. SDSU won Summit title contests over USD in 2013, 2015, 2016, 2018 and 2019. Coyotes won the 2020 meeting 63-58 over the Jacks and then defeated Omaha for the championship in 2021 after SDSU was bounced by the Mavericks in the first round.
Irwin had 15 points for SDSU, while Burckhard had 14 points. Myah Selland had five points and 10 rebounds in a tough day offensively, finishing 0-for-10 from the field, but she did go over 1,500 points for her career in the contest.
"Myah is the best player around," Johnston said. "I mean she's good, really good. But she just had a day that didn't go well and I thought USD impacted that as a team very much."