Traxler: Myah Selland soaks in one last championship run for South Dakota State women
Selland is the latest in a long line of Jackrabbit women's basketball legends who serve as role models.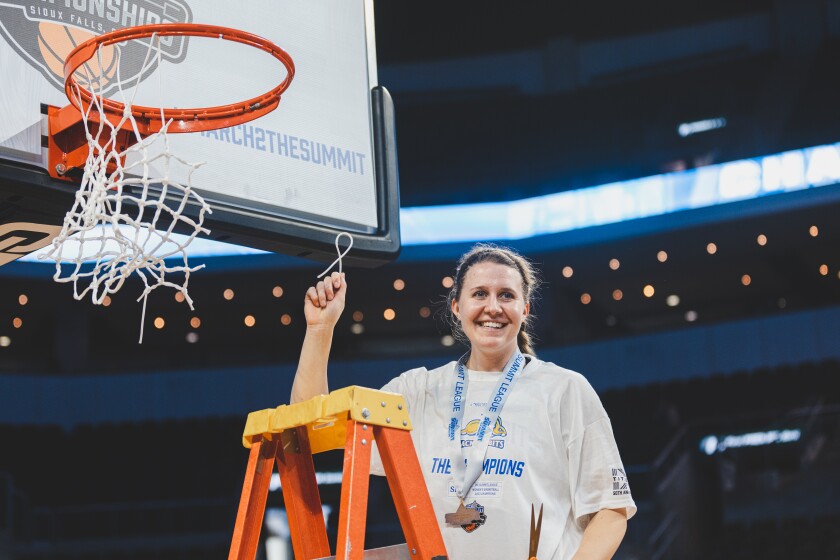 SIOUX FALLS — With 5 minutes and 45 seconds remaining in a game that had long been decided, Myah Selland checked out of the Summit League championship game for the final time.
Alongside fellow in-state product Paiton Burckhard, who is walking the same final steps with Selland, the two checked out of the game and Selland made sure to give Burckhard a hug before they reached the bench. Together, the pair has played in 312 games for the Jackrabbits over six seasons.
In a 93-51 victory, South Dakota State fans let Selland and Burckhard hear their appreciation one more time. It was emblematic of how the Jackrabbit faithful always felt about Selland, the sixth-year standout who has been on her game from the moment she stepped on campus.
Her story of shooting in the family barn near Letcher has always been the stuff of legend in South Dakota, and since high school, Selland has consistently delivered. She's scored more than 4,300 points combined, will finish as the second-leading scorer in Jackrabbit history, and she's going to the NCAA tournament for the fourth time, for the third time when she's been able to contribute in a career that has had its share of injuries and pain.
On Tuesday, Selland had a wide smile on her face for much of the game. She said she made a concerted effort to try to relish every moment with the team, on the court, and during the championship celebration. Without prompting, she was well aware that this was the last time she'd play college basketball in South Dakota, the last time she'd play in the Premier Center in Sioux Falls.
"We've talked about this for a while and to come out on top in our last chance to do this, it's really special," Selland said. "I'm playing here for the last time, in South Dakota, in front of these Jackrabbit fans. I just want to soak it in."
Soaking it in included Selland lifting her four-year-old cousin, Laynie, and carrying her around on her shoulders after the confetti dropped. She also picked up teammate Haleigh Timmer in celebration after Timmer won the tournament MVP award. And she helped be the floor general for a number of family photos on the court at the Premier Center. Those included her sister Shelby, who has been the Jackrabbits' director of basketball operations for the last two years. Last season ended with a WNIT championship; and this one will include a conference title and a trip to the Big Dance.
When her older sister's high school career ended, Myah said she didn't think she was going to be able to be on a basketball team again with her sister, and SDSU has allowed that love of basketball in the Selland family to continue.
"We're already so close and basketball has only made it better," Myah said.
Selland is the latest in a long line of Jackrabbit women's basketball legends who serve as role models. Players like Selland, who are ambassadors for the game with how they relate to young fans, are major reasons why the women's game thrives in South Dakota.
"She's become just an incredible role model to so many people, whether it's her teammates or people in the community, that's what I'm so proud of. … It's a huge part of who she is," Shelby said. "Basketball is obviously important to her but she cares so much about people. To have someone who just excels on the court like she does but also loves people, it's a special combination."
It's that impact, her dad Brett said, that is among the most special parts of Selland's basketball career. He noted the impact of Selland's nonprofit foundation, Her Turn, which she created with her teammate Tori Nelson, which attempts to provide girls sports opportunities to children who otherwise wouldn't have the means to do so.
"It's so important to these kids," Brett said. "For an older person to pay attention to them, it changes their lives. Her Turn, the kids, it's a great opportunity that they might never get and they have the chance to pass it on and that impact can grow."
Selland's on-court impact will continue for at least one more game, as the Jackrabbits will get an NCAA tournament trip next week. She vowed that the period of enjoying the ride and relishing her opportunities will continue.
"Unfortunately, I know what it feels like to have to sit out something like this," Myah said. "So I really want to enjoy this as much as possible, because this team is such a fun group to be a part of."