First DWU women's wrestling recruit 'the right human' to help develop program
"She's going to help be a leader to develop that sense of family to really make our environment and our culture an enjoyable place," DWU head coach John Lynch said of Olivia Smith.
EDITOR'S NOTE: This story is the third in a periodic series on the creation of the Dakota Wesleyan women's wrestling program.
CASPER, Wyo. — Wrestling coach Travis Peak opened the wrestling room at 6:15 a.m. one Thursday morning.
It's not every morning he does that, but on this particular morning, Dakota Wesleyan signee Olivia Smith organized an early-morning practice for the Kelly Walsh High School girls wrestling team and had all her teammates show up to practice together.
Smith didn't originally intend to wrestle collegiately. Instead, the Casper, Wyoming product was focused on playing softball at the next level, and she came on a visit to DWU for softball and loved almost everything about the school.
"I just fell in love with the campus," Smith said. "I love the small town. I love how the community is tighter knit and everyone kind of knows everyone."
Smith wasn't on the radar of DWU women's wrestling coach John Lynch at first, either. Since 2022-23 is the first year girls wrestling is a sanctioned sport in Wyoming, recruiting the state has been no small task for Lynch to go along with starting a program up, due to the lack of information about the wrestlers there prior to the start of the season.
But a unique connection led to Smith becoming the first signee in the history of DWU women's wrestling.
The father of Madeline Sargent — who pioneered the women's wrestling program at DWU — was a police officer in Rapid City and worked with Smith's dad before the Smiths moved to Wyoming when Olivia was about five years old. It was through Matt Sargent, though, that Smith heard about DWU women's wrestling.
"My dad saw that Mady (Sargent) was wrestling and then (Sargent's dad) had reached out to my dad and saw about me wrestling," Smith said. "He was like, 'Hey, this is a great opportunity, brand new startup.'"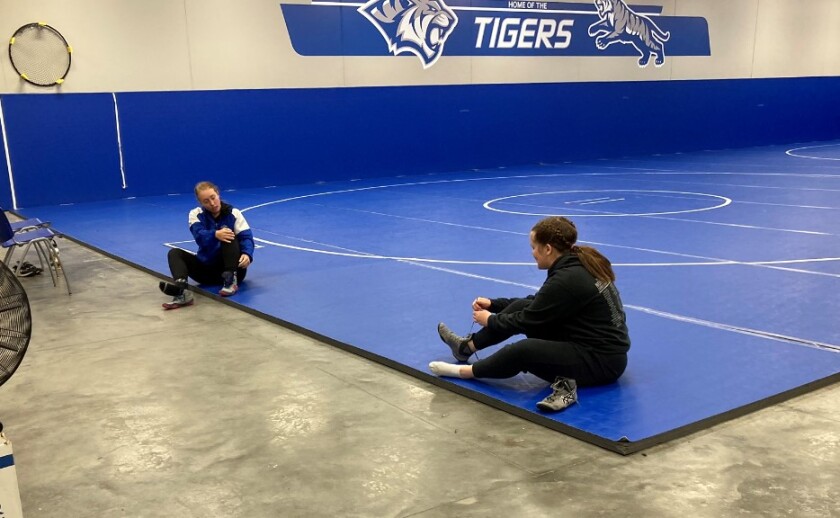 When Smith signed on Nov. 30, she marked the first signee in DWU women's wrestling history, and she brings with her a background in not only softball, but judo. She earned her black belt in judo in August, and some of her skills translate to the wrestling mat.
She used those skills largely against boys growing up, and up until this year, she was a part of the Kelly Walsh wrestling team but mainly wrestled against boys during competition.
"She's caught a lot of boys in the last few years doing (judo moves)," Peak said. "Guys think they're in position and doing OK, and she's got something up her sleeve and throws a guy on his back and pins him or scores a bunch of points."
Casey Schell, who's coached Smith since she started wrestling seven years ago, has seen her grow since the day she walked into the wrestling room as sixth grader and declared she was going to wrestle.
"She has grown tremendously as a person — her character, her drive, her motivation to succeed to do well in everything that she does," Schell said. "If we're talking wrestling-wise, her confidence, her aggression — she doesn't back down, she's ready for the fight."
Schell said on the mat, Smith is a "technician," and Smith feels one of the strongest parts of her game is her throws, a move she learned in judo.
Now, though, with girls wrestling officially being a sanctioned sport in Wyoming, Smith has gotten the chance to wrestle solely against girls for a full season. And it's largely gone well.
She's wrestled most of the season at the 170-pound weight class, and as of Jan. 5, Smith had just one loss on the year. She's won a handful of events, too, such as the Cheyenne Tournament and the Douglas Tournament, among others.
"It's definitely different because it's all girls, not boys, and there's definitely newer girls out there," Smith said about this season. "But it's amazing to see the sport grow and not just be the only girl or see one other girl in the gym that's taking the mat."
Coming to Mitchell for school is a seven-and-a-half hour trek from Smith's hometown Casper, and being so far from home, she said she was looking for a school that felt like a "second family" to her. For Lynch, who bases his program in faith and family, he saw "the right human" for his program in Smith, and she saw the family attitude of the program, as well.
"She's going to help be a leader to develop that sense of family to really make our environment and our culture an enjoyable place," Lynch said.
"They were so welcoming. And I just loved how tight-knit it was and the family," Smith added. "They were really a selling factor."