Area volleyball roundup: WiLdKats top Jaguars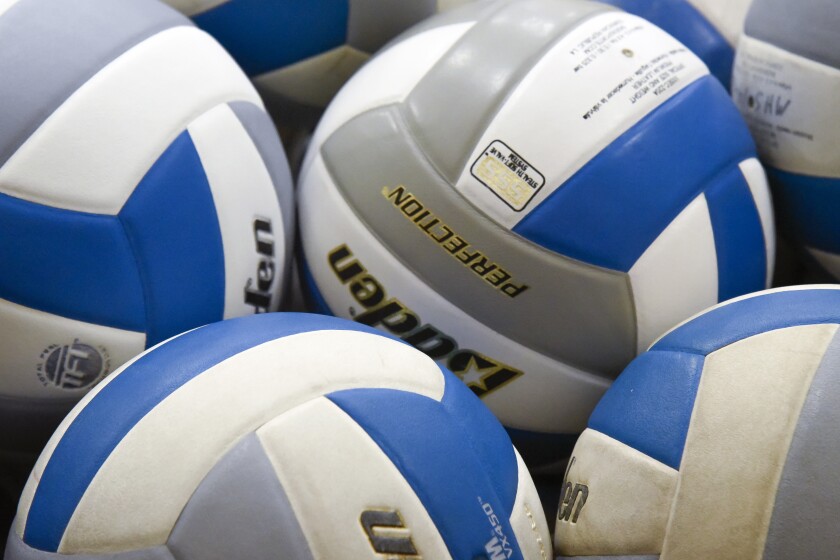 WHITE LAKE -- Kimball/White Lake rebounded after dropping the second set to Corsica-Stickney on Tuesday, earning a four-set prep volleyball win. Set scores were 25-23, 11-25, 25-22 and 25-22.
Kimball/White Lake (2-8): Kennedy Leiferman led the way with 15 kills and 10 digs. Grace Konechne added 12 kills, 15 digs and two aces. Ryann Neilsen posted 27 assists. Dani Deffenbaugh added six kills and 15 digs. Madison Heath finished with 27 digs. Kimball/White Lake hosts Wagner on Thursday in White Lake.
Corsica-Stickney (3-4): Morgan DeLange finished with nine kills, three blocks and two aces. Raven Barse finished with 17 digs and six kills, while Camden Plooster recorded 10 assists, nine digs and two aces. Alexis Tilton adds 27 digs and two aces in the win. The Jaguars play Gregory on Thursday in Corsica.
Freeman 3, Scotland 1
SCOTLAND -- Freeman rebounded from a first-set loss to beat Scotland in four, 21-25, 25-18, 25-20 and 25-20.
Freeman (8-2): Emily Miller put down 19 kills and came up with 12 digs, while Rijjy Peterson had 11 digs, nine kills and three blocks. Cara Maske also added 30 assists. The Flyers travel to Menno on Thursday.
Scotland (3-5): Delanie VanDriel had 18 digs, nine kills and three blocks, while Rylee Conrad had 16 assists and Kennedy Bietz had 17 digs. The Highlanders travel to Avon on Oct. 1.
Menno 3, Viborg-Hurley 2
MENNO -- After falling behind after three sets, Menno topped Viborg-Hurley in the last two sets to capture the win, 25-15, 16-25, 24-26, 25-18 and 16-14.
Menno (3-3): Jesse Munkvold had nine kills and 21 digs and Kylie Harriman had nine assists, nine digs and four aces. Madelyn Heckenlaible also pitched in five kills and five aces. The Wolves host Freeman on Thursday.
Viborg-Hurley (2-9): Coral Mason had seven kills and 14 digs and NeVaeh Ronke had eiht kills and eight digs. The Cougars play Centerville on Thursday in Viborg.
MCM 3, Flandreau 0
MONTROSE -- Class A No. 4 McCook Central/Montrose swept Flandreau in straight sets in prep volleyball action on Tuesday. The set scores were 25-22, 25-15 and 25-7.
McCook Central/Montrose (12-3): Abigail Van Ruler led MCM with nine kills, four blocks and three aces. Jacy Pulse and Aleah Ries each put down seven kills apiece, while Ries had six digs. Emily Bies finished with 14 assists, seven digs and three aces. Cassy Knudson added nine digs and three aces, while Maggie Miles contributed 13 assists. The Fighting Cougars travel to Parkston on Thursday.
Flandreau (5-12): Kennedy Headrick finished with six kills and Shaylyn Peters added nine assists. The Fliers host Dell Rapids on Thursday.
Burke 3, Platte-Geddes 0
BONESTEEL -- Class B No. 3 Burke notched a straight set prep volleyball win over Platte-Geddes on Tuesday. Set scores were 25-15, 25-19 and 25-16.
Burke (10-1): Taylee Indahl put down a team-high 14 kills to go with nine digs and three blocks. Lainee Schonebaum and Sally Hakin both added five kills, while Adisyn Indahl finished with nine digs. Hakin also added two blocks in the win. Bobbi Jo Wischmann dished out 20 assists. The Cougars play Bon Homme on Thursday in Bonesteel.
Platte-Geddes (5-6): Avery DeVries served three aces to go with nine assists and five digs for the Black Panthers. Regan Hoggman added nine digs, while Cadence VanZee finished with six kills and two blocks. The Black Panthers play Bon Homme on Monday in Tyndall.
Wagner 3, Bon Homme 0
WAGNER -- Wagner didn't drop a set on Tuesday as it swept Bon Homme in prep volleyball action. Set scores were 25-14, 25-10 and 25-19.
Wagner (9-4): Kayli Kocer served five aces for the Red Raiders. Abby Brunsing added 11 kills and 10 digs, while Emilea Cimpl dished out 27 assists to go with 12 digs. Lizzie Tyler put down 10 kills and Maesa Dvorak finished with six blocks. The Red Raiders play Kimball/White Lake on Thursday in White Lake.
Bon Homme (1-10): McKenzie Carson served two aces and put down four kills. Ciera Himes added 16 digs and Johanna Jelsma dished out seven assists. The Cavaliers play Burke on Thursday in Bonesteel.
Bridgewater-Emery 3, Hanson 0
EMERY -- Bridgewater-Emery received balanced offensive attack in a Cornbelt Conference win over Hanson in three sets, 25-20, 25-15 and 25-13.
Bridgewater-Emery (9-3): Julia Weber had eight kills and 10 digs, while Sophia Potter had 12 assists and seven digs. Kerrigan Schultz also had eight assists and five kills and Haley Schulz had four kills and three blocks. The Huskies play Canistota on Thursday in Emery.
Hanson (5-7): Abby Kortan had 12 assists, seven aces and five digs, while Hannah Robinson came up with 39 digs. The Beavers play Irene-Wakonda on Thursday in Alexandria.
Madison 3, Chamberlain 0
MADISON -- Madison took down Chamberlain in straight sets in a high school volleyball match on Tuesday. The set scores were 25-14, 25-12 and 25-17.
Madison (8-3): Sophia VandenBosch led the Bulldogs with 10 kills and one block. Abby Brooks posted eight kills and one block. Kendra Leighton recorded 11 digs and Grace Nelson finished with 16 assists. The Bulldogs travel to Tri-Valley on Thursday.
Chamberlain (9-6): Hannah Anderson had four kills, nine digs and one block. Mya Knippling finished with five kills. Makenzy Mutziger had eight digs and seven assists. The Cubs play in the Dakota Valley tournament on Saturday in North Sioux City.
Wolsey-Wessington 3, SCW 0
FORESTBURG -- Wolsey-Wessington nipped Sanborn Central/Woonsocket by two points in the first set en route to a sweep, 25-23, 25-18 and 25-13 on Tuesday.
Wolsey-Wessington (5-2): Carli Marani had 18 kills and Hailey Clarke had 34 assists. The Warbirds play James Valley Christian on Thursday in Wolsey.
Sanborn Central/Woonsocket (5-5): Taryn Ziebart and nine digs and eight assists, while Trista White had seven kills and Katie Schmit added 11 digs. Mariah Jost also had six kills. The Blackhawks play Iroquois/Doland on Thursday in Iroquois.
Colman-Egan 3, Canistota 1
CANISTOTA -- Colman-Egan dropped the second set to Canistota, but bounced back to take the match in four sets on Tuesday. Set scores were 25-9, 19-25, 25-16 and 25-10.
Colman-Egan (8-3): Madison Fodness served a team-high five aces, while Mackenzie Hemmer stuffed the stat sheet with 12 digs, seven kills, four blocks and four aces. Jordan Wittrock added 19 assists and six digs. Braiden Westley recorded 13 digs and six kills, with Olivia Baumberger added seven blocks, six digs and three kills. The Hawks travel to Howard on Thursday.
Canistota (5-8): Hannah Parry added 13 digs, 12 assists and two aces. Harley Cormany finished with 16 digs, seven kills and two aces for the Hawks. Skylar Bultje finished with 13 digs and seven kills in the loss, while Lexi Tieszen dished out 12 assists. The Hawks play Bridgewater-Emery on Thursday in Emery.
ACDC 3, TDA 1
LAKE ANDES -- All four sets were decided by four points or fewer, but Andes Central/Dakota Christian prevailed over Tripp-Delmont/Armour, 25-21, 25-22, 22-25 and 26-24.
Andes Central/Dakota Christian (4-8): No statistics were provided. The Thunder play Freeman Academy/Marion on Thursday in New Holland.
Tripp-Delmont/Armour (3-4): Bailey Spaans nine assists and seven digs, while Hannah Stemick had 12 digs and Karli Marts had 10. The Nighthawks play Mitchell Christian on Thursday in Armour.
DRSM 3, Howard 2
DELL RAPIDS -- Dell Rapids St. Mary dropped the first two sets to Howard on Tuesday, but won the final three sets to earn a prep volleyball win. Set scores were 24-26, 25-27, 25-22, 25-19 and 15-10.
Dell Rapids St. Mary (7-5): Ella Heinitz finished with 28 digs, 21 assists, 11 kills and five aces in the win. Courtney Brown finished with 13 kills and 29 digs. Tyra Harrington finished with seven kills and two assists. The Cardinals host Elkton-Lake Benton on Thursday.
Howard (3-5): Emma Rudebusch dished out 47 assists. Kate Connor added six assists and three kills in the win. Madison Kizer put down a team-high seven kills and served for a team-best three aces. The Tigers host Colman-Egan on Thursday.