Area volleyball roundup: Wessington Springs scores four-set win over Gregory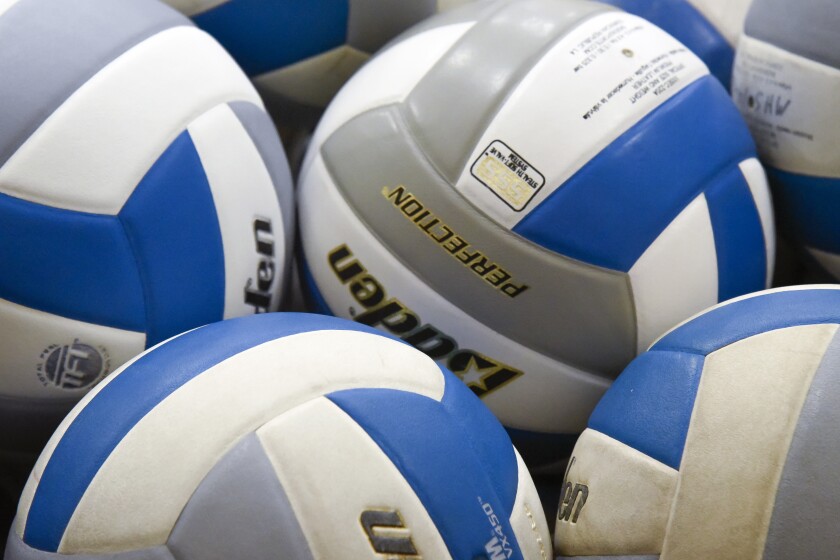 WESSINGTON SPRINGS -- Wessington Springs knocked off Gregory in four sets of a prep volleyball match on Saturday. Set scores were 25-18, 14-25, 25-20 and 25-20.
Wessington Springs (4-2): Grace Gran finished with 12 kills and 23 digs, while Trinity Flowers put down 10 kills. Flowers added three aces, as did Alyssa Grohs. Grohs also dished out 23 assists and 25 digs. Avery Orth finished with eight total blocks. The Spartans play Sanborn Central/Woonsocket on Tuesday in Woonsocket.
Gregory (2-4): Brooklyn Kenzy and Kodi Timanus had 10 and nine kills, respectively. Gracie Kenzy finished with 12 assists, while Brynn Hylla had three aces. Jessy Jo VanDerWerff recorded 16 digs and Mya Determan added four blocks. Gregory hosts Bennett County on Tuesday.
ORR 3, FAM 0
RUTLAND -- Oldham-Ramona/Rutland swept Freeman Academy/Marion in straight sets in high school volleyball action on Saturday.
ORR (2-3): Julia Trygstad finished with nine kills and four aces. Alivia Spilde added eight kills, while Alivia Bickett finished with 16 digs, three kills and three aces. Sine Matson finished with 19 digs, while Paige Hanson dished out 17 assists. ORR plays Iroquois/Doland at Tuesday in Iroquois.
FAM (0-3): Sarah Cremer posted three kills and 16 assists. Hailey Stahl posted 19 assists, while Zenovia Butler added three kills and two digs. Alivea Weber finished with seven digs, two kills, two blocks and one ace. Alexa Gortmaker added five assists, three digs and two aces. FAM plays Irene-Wakonda on Tuesday in Wakonda.
Chester Area 3, MCM 0
CHESTER -- Chester Area swept McCook Central/Montrose in a high school volleyball match on Saturday. Set scores were 25-23, 25-19 and 25-21 in the third-place match of the Big East Conference tourney.
Chester Area (6-1): Ella Pry posted 10 kills and Breckyn Gwoldt added eight kills. Lily Van Hal and Carly Becker finished with four and three aces, respectively. Benna Brown added 29 assists and Karly Campbell logged 19 digs. Emery Larson recorded 17 digs. Chester Area plays Elkton-Lake Benton on Tuesday in Elkton.
MCM (2-6): Madisen Koepsell finished with seven kills and four blocks. Brandy Pulse added six kills, while Maggie Miles added 14 assists. Brianna Even dished out eight assists. Ashtyn Wobig notched two aces and 17 digs, while Tayan McGregor finished with five blocks. Riley Morrison recorded 18 digs. MCM hosts Sioux Falls Christian on Tuesday at Salem.

Parker 3, MCM 1
PARKER -- Parker dropped a high-scoring second set, but still came back to defeat McCook Central/Montrose in four sets on Saturday during the Big East Conference tournament. Set scores were 25-18, 28-30, 25-22 and 25-23.
Parker (7-0): Cierra Mohr dished out 29 assists to go with nine digs. Breana Jensen had a team-high 27 kills, while Shelby Lang chipped in 16 digs and five aces. Brooke Berens put down 18 kills and three blocks in the win. Sarah Herlyn had 10 kills and three blocks, while Alexis Even finished with 15 digs. The Pheasants host Parker today.
McCook Central/Montrose: Riley Morrison finished with 26 digs and Maggie Miles added 13 assists. Madisen Koepsell added seven kills and five blocks. Brianna Even dished out 15 assists. Ashtyn Wobig recorded seven kills, 13 digs and four blocks. Michaela McCormick chipped in 15 digs. The Fighting Cougars play Sioux Falls Christian today in Salem.