Area volleyball roundup: Wagner sweeps TDA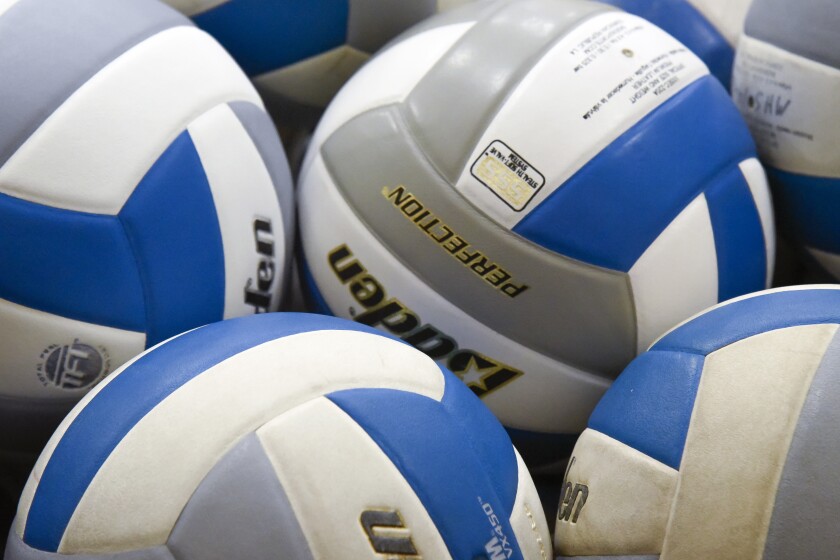 ARMOUR -- Abby Brunsing put down her 1,000th career kill on Friday as Wagner swept Tripp-Delmont/Armour, 25-15, 25-12 and 25-13.
Wagner (18-6): Brunsing had 20 kills and 14 digs, while Emilea Cimpl had 36 assists and 14 digs. Maesa Dvorak chipped in seven kills and 11 digs, while Paige Petry had six kills and 19 digs and Lizzie Tyler had five kills and 14 digs. The Red Raiders play in the Southeast South Dakota Conference tournament today in Parkston.
Tripp-Delmont/Armour (8-14): Bailey Spaans had seven assists and six digs and Kianna Payer had four kills and seven digs. Hannah Stremick also chipped in 11 digs. The Nighthawks play Sanborn Central/Woonsocket today in Woonsocket.
MVP 3, Chamberlain 1
CHAMBERLAIN -- Mount Vernon/Plankinton took down Chamberlain in four sets on Friday. Set scores were 25-15, 19-25, 27-25 and 29-27.
Mount Vernon/Plankinton (12-9): Katlyn Briggs recorded 22 digs in the win. Shyla Tobin chipped in 24 assists and eight digs for the Titans. Rebecca Gerlach and Anna Baker each served two aces. The Titans play in the Parkston tournament today.
Chamberlain (14-12): Hannah Anderson finished with 24 digs, 17 kills and 10 blocks for the Cubs. Mya Knippling added nine kills and four aces. Makenzy Mutziger dished out 22 assists. The Cubs play in the Parkston tournament today.
Bridgewater-Emery 3, SCW 1
EMERY -- Bridgewater-Emery took down Sanborn Central/Woonsocket in four sets on Friday. Set scores were 25-16, 23-25, 25-11 and 25-13.
Bridgewater-Emery (24-6): Kerrigan Schultz finished with 15 assists, eight kills, seven digs and three aces for the Huskies. Julia Weber added 20 digs, 15 kills and four aces. Sophia Potter dished out 29 assists and four digs. Haley Schulz and Kennedee Weber each had nine kills and Cara Meyer added 13 digs and two aces. The Huskies travel to Centerville on Tuesday.
Sanborn Central/Woonsocket (10-11): Kaylee White finished with 20 digs. Morgan Schmiedt recorded 21 digs and 17 aces for the Blackhawks. Cassidy Slykhuis, Trista White and Mariah Jost all put down six kills. The Blackhawks play Tripp-Delmont/Armour today in Woonsocket.
MCM 3, Canistota 0
CANISTOTA -- Class A No. 4 McCook Central/Montrose rolled past Canistota in a sweep, 25-8, 25-8 and 25-19.
McCook Central/Montrose (21-3): Emily Bies had 29 assists and five aces, while Jacy Pulse pitched in 15 kills and seven digs. Abigail Van Ruler also notched six kills, Ashtyn Wobig had five kills and nine digs and Aleah Ries four kills and seven digs. The Fighting Cougars play Hanson on Monday in Alexandria.
Canistota (11-17): Harley Cormany had 17 digs, while Hannah Parry had nine digs and Skylar Bultje had eight digs. The Hawks travel to Freeman on Monday.
Corsica-Stickney 3, Scotland 0
CORSICA -- Corsica-Stickney knocked off Scotland in straight sets on Friday in prep volleyball action. Set scores were 25-15, 25-21 and 25-19.
Corsica-Stickney (18-7): Lexi Tilton finished with 21 digs and four aces for the Jaguars. Raven Barse and Paige Wright each put down eight kills, with Marisa DeLange dishing out 16 assists. Barse also added 13 digs, while Morgan DeLange finished with six kills and five digs. Camden Plooster added 11 assists. The Jaguars play Marty on Monday in Corsica.
Scotland (17-11): Kennedy Bietz finished with 22 digs, three aces and three kills. Bella Vitek led the Highlanders with 11 kills and four digs. Delanie VanDriel added six kills and five digs. Rylee Conrad finished with 19 assists. The Highlanders host Freeman Academy/Marion on Monday.
Hanson 3, Viborg-Hurley 1
ALEXANDRIA -- With the match tied 1-1, Hanson won the final two sets to top Viborg-Hurley in four, 25-23, 18-25, 28-26 and 25-18.
Hanson (9-17): Abby Kortan had 25 assists, eight kills and eight digs, while Grace Weber had 10 kills, six digs and four blocks and Andrea Thelen had eight kills and seven digs. Morgan Huber added six kills and 15 digs and Josie Bartscher had six kills and six blocks. The Beavers play McCook Central/Montrose on Monday in Alexandria.
Viborg-Hurley (4-16): Coral Mason had six kills, six blocks and 13 digs and Katie Johansen had 12 assists, nine digs and four blocks. The Cougars play Alcester-Hudson on Monday in Alcester.
Avon 3, Menno 0
MENNO -- Avon scored a three-set sweep of Menno on Friday, 25-14, 25-12 and 25-19.
Avon (15-10): Natalie Zacharias had 10 kills and 10 digs, while Madisyn Cameron had 19 assists and nine digs. Maddie Kocmich pitched in eight digs, six kills and four aces and Katie Gretschmann came up with 16 digs. The Pirates host Gayville-Volin on Monday.
Menno (7-16): Jesse Munkvold had nine kills and 10 digs and Jordan Fischer added eight kills and eight digs. The Wolves host Parkston on Monday.
KWL 3, Wessington Springs 0
KIMBALL -- Kimball/White Lake scored a 13-point in over Wessington Springs in the first set and cruised to a sweep, 25-12, 25-15 and 25-21.
Kimball/White Lake (12-12): Kennedy Leiferman had 16 kills, six aces and three blocks, Grace Konechne had 17 digs, six kills and five aces and Ryann Nielsen had 21 assists. The WiLdKats travel to Colome on Monday.
Wessington Springs (7-18): Piper Jones had five kills and 10 digs, while Makayla Dornbusch had 10 digs and six blocks and Alyssa Grohs had six assists and six digs. The Spartans play Hitchcock-Tulare on Tuesday in Tulare.
Miller 3, Ethan 0
MILLER -- Class A No. 2 Miller swept Class B No. 5 Ethan on Friday in a battle between ranked prep volleyball teams. Set scores were 25-14, 25-19 and 25-21.
Miller (28-2): Madison Wetz served two aces, while Kadye Fernholz added 18 kills and 11 digs. VonnaGail Schlechter put down 12 kills to go with 11 digs and Rachel Oligmueller dished out 40 assists. Storm Johnson added 12 digs.
The Rustlers travel to Aberdeen Roncalli today.
Ethan (22-6): Cameryn Logan finished with 10 kills, eight digs and three blocks. Jada Plastow added five kills and Erica Storm added four blocks. Jessica Bartscher finished with 20 assists and 10 digs. Hannah Bartscher chipped in with nine digs. The Rustlers play Tripp-Delmont/Armour on Monday.
Colome 3, Centerville 1
CENTERVILLE -- After dropping the first set to Centerville, Colome rallied to win three straight sets, 8-25, 25-12, 25-17 and 26-24.
Colome (10-17): No statistics were provided for Colome. The Cowgirls host Stanley County today.
Centerville (4-23): Jaley Meuer had four kills and 12 digs and Bailey Hansen added 13 assists and five digs, while Ellie Hunter had four kills and nine digs. The Tornadoes host Bridgewater-Emery on Tuesday.