Area volleyball roundup: Menno slips past Canistota in 5 sets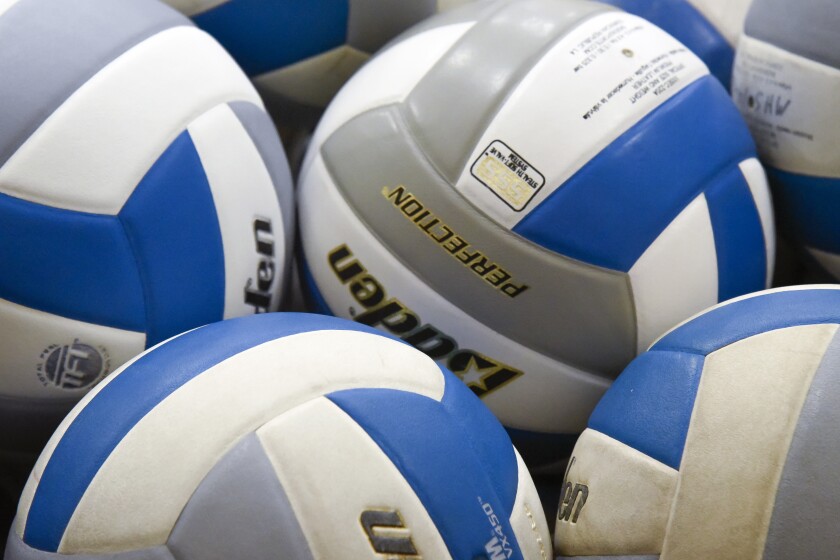 MENNO -- Menno notched a five-set back-and-forth win over Canistota on Tuesday. Set scores were 25-12, 10-25, 25-22, 19-25 and 16-14.
Menno (5-8): Jesse Munkvold had team highs of 25 digs and 16 kills. Kaylie Schempp added 21 digs. Kylie Harriman added 18 digs, 14 assists and four kills. Paityn Huber finished with 11 assists, nine digs and six aces. Menno plays Gayville-Volin on Thursday in Gayville.
Canistota (1-9): Mykkah Krinke recorded 25 assists, 18 digs, five kills and five aces. Kayla Papendick added 27 digs and six kills. Kenzy Krinke and Sydnee Engbrecht both had 10 kills. Lexi Tieszen had a team-high 29 digs. Canistota hosts Howard on Thursday.
Ethan 3, Wessington Springs 2
WESSINGTON SPRINGS -- Ethan edged Wessington Springs in a five-set marathon match on Tuesday. Set scores were 22-25, 26-28, 25-9, 25-10, 15-9.
Ethan (6-5): Bella Nesheim finished with 22 kills and 36 digs. Lexi Lingemann added 10 kills and 39 digs. Ava Lingemann posted 33 assists and five aces. Payton Riggs recorded 10 assists. The Rustlers play at Madison on Saturday.
Wessington Springs (4-8): Trinity Flowers finished with seven kills and Avery Orth added five kills. Orth also posted five blocks. Maddie Privett finished with 25 digs, while Alyssa Grohs added 18 assists and 16 digs. The Spartans host Highmore-Harrold on Thursday.
Avon 3, Burke 2
AVON -- Avon won a marathon fifth set to close out Burke on Tuesday. Set scores were 25-22, 20-25, 29-27, 14-25 and 21-19.
Avon (8-3): Tiffany Pelton put down a team-high 12 kills, while Reese Powers dished out 18 assists to go with nine digs. Katie Gretschmann added 25 digs and three aces. Ali Sees and Maddie Kocmich had 19 and 14 digs, respectively. McKenna Kocmich chipped in 17 assists and 14 digs. Hanna Miller had nine kills and Natalie Zacharias added 13 digs. Avon hosts Bridgewater-Emery on Thursday.
Burke (7-6): Bobbi Jo Wischmann dished out 41 assists and 12 digs. Adisyn Indahl added 20 kills, seven digs and five aces. Ramee Hanson and Elena Keonig recorded 11 and 10 kills, respectively. Elle Johnson added 14 digs. Burke hosts Corsica-Stickney on Thursday.
Parkston 3, Platte-Geddes 1
PLATTE -- A close first set win sparked Parkston's four-set victory over Platte-Geddes on Tuesday. Set scores were 29-27, 25-21, 24-26 and 25-20.
Parkston (12-5): Brielle Bruening put down 15 kills to go with six blocks. Emma Yost added 21 digs and 12 kills, while Tiah Holzbauer chipped in 25 digs and three aces. C.C. Neuegbauer dished out 40 assists for the Trojans. Mya Nuebel added 29 digs and two aces in the win. The Trojans play Kimball/White Lake on Thursday in White Lake.
Platte-Geddes (9-3): Avery Devries dished out 37 assists and 11 digs. Regan Hoffman had a match-high 32 digs, while Cadence Van Zee added 21 digs and 13 kills. Karly Vanderwerff put down 21 kills, 13 digs and three aces. The Black Panthers host Gregory on Thursday in Platte.
SCW 3, SBA 0
WOONSOCKET -- Sanborn Central/Woonsocket knocked off Sunshine Bible Academy in high school volleyball match on Tuesday. Set scores were 25-11, 25-18 and 25-18
SCW (6-7): Brooke Doering and Trista White posted 10 kills apiece. White added six aces. Doering added 10 digs, while Teya Moody and Morgan Schmiedt had eight digs apiece. Cassidy Slykhuis added seven aces. The Blackhawks host Tripp-Delmont/Armour on Thursday in Armour.
SBA (3-8): Ruthe Lopez posted five kills and four blocks. Aja Paul finished with four kills, three aces and six digs. Abby Haun posted 25 assists and five kills. Sunshine Bible Academy hosts Iroquois/Doland on Thursday in Miller.
Freeman 3, Bon Homme 0
FREEMAN -- Freeman cruised past Bon Homme for a straight set win on Tuesday. Set scores were 25-7, 25-23 and 25-20.
Freeman (11-6): Rijjy Peterson finished with 25 digs, 13 kills and three aces. Kate Miller finished with 13 digs and eight digs. Odalite Pankratz chipped in 17 digs and 14 assists. Lily Wipf added nine digs. Freeman hosts Oldham-Ramona/Rutland on Oct. 13.
Bon Homme (7-11): Jenae Alberts recorded a team-high 28 digs. Olivia Bures added 11 digs and four kills. Jenna Duffek added 12 assists, eight digs and two aces in the loss. The Cavaliers host Gayville-Volin on Oct. 12.
ACDC 3, FAM 0
MARION -- Andes Central/Dakota Christian took down Freeman Academy/Marion on Tuesday in three sets for its first win of the season. Set scores were 25-8 25-17 and 25-14.
Andes Central/Dakota Christian (1-7): Lexie Vanderpol put down a team-high seven kills and served three aces. Mackenzie Muckey stuffed the stat sheet with nine kills, five assists, three kills and two blocks. Claire Johnson added eight digs in the win. Keeva Weddell and Allison Muckey both served three aces. The Thunder travel to Burke on Oct. 13.
Freeman Academy/Marion (0-8): Leah Goodwin served four aces. Zenovia Butler added three digs. The Bearcats play Viborg-Hurley on Oct. 13 in Hurley.
Centerville 3, Hanson 2
CENTERVILLE -- Centerville outlasted Hanson for a five-set win on Tuesday. Set scores were 15-25, 26-24, 21-25, 25-23 and 15-12.
Centerville (1-12): Ellie Hunter finished with 18 digs, five kills and four blocks, Mya Bendt chipped in 22 digs and seven kills. Sophie Eide added 23 digs, nine kills and two aces. Bailey Hansen recorded 12 assists, four digs and three aces. Centerville hosts Scotland on Thursday.
Hanson (3-8): Grace Weber had a team-high 13 kills and 22 digs. Skylar Holm added 21 digs. Andrea Thelen finished with 12 digs, while Jalyn Kampshoff chipped in 33 assists and 18 digs. The Beavers host Mitchell Christian on Thursday.
MCM 3, Howard 1
SALEM -- McCook Central/Montrose held off Howard for a four-set high school volleyball match victory on Tuesday. Set scores were 25-17, 25-15, 21-25 and 25-21.
MCM (8-8): Tayah McGregor finished with 11 kills and four blocks. Michaela McCormick and Brandy Pulse posted 10 kills apiece. Ashtyn Wobig recorded 27 digs, five aces and five kills. Maggie Miles and Brianna Even had 19 and 16 assists, respectively. Riley Morrison posted 38 digs. MCM hosts West Central on Thursday in Montrose.
Howard (7-9): Kate Connor finished with eight kills and two blocks, while Aleya Kizer added four kills and five digs. Emma Rudebusch dished out 11 assists. Mia Glanzer finished with four assists and five digs. Piper Thompson posted four digs and Katlin Schlim added 27 digs. The Tigers play at Canistota on Thursday.
Winner 3, Gregory 0
GREGORY -- Class A No. 5 Winner won its 10th match of the season on Tuesday with a sweep over Gregory. Set scores were 25-16, 25-19 and 25-15.
Winner (10-3): Ellie Brozik finished with a team-best 16 kills. Mackenzie Levi dished out 28 assists to go with 10 digs. Kalla Bertram added seven kills and 11 digs for the Warriors. Winner plays at White River on Thursday.
Gregory (3-10): Jessy Jo Vanderwerff had seven kills and 12 digs. Brooklynn Kenzy added eight digs and two blocks. Brynn Hylla dished out 12 assists and Anna Dargatz put down five kills. The Gorillas play Platte-Geddes on Thursday in Platte.
KWL 3, Chamberlain 1
CHAMBERLAIN -- Kimball/White Lake recorded a four-set high school volleyball match victory over Chamberlain on Tuesday. Set scores were 25-21, 23-25, 25-17 and 25-18.
KWL (9-3): Kennedy Leiferman led KWL with 15 kills, 15 digs, five blocks and three aces. Dani Deffenbaugh added 12 kills, while Ryann Nielsen dished out 35 assists. Madison Heath posted 16 digs and four aces. KWL hosts Parkston on Thursday in White Lake.
Chamberlain (1-8): Caycee Guinn finished with nine kills, two aces and two blocks. Emma Powers posted 20 digs, while Kiera Eichstadt handed out nine assists, while Jayslee Petersen had six kills. The Cubs play Mount Vernon/Plankinton on Thursday in Mount Vernon.