Area volleyball roundup: Corsica-Stickney holds off KWL in four sets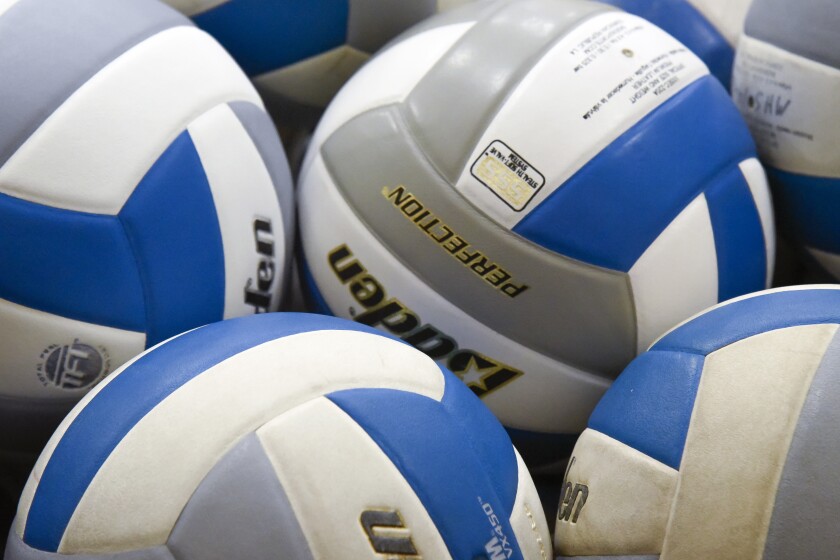 CORSICA -- Corsica-Stickney edged Kimball/White Lake in a four-set high school volleyball match on Tuesday. The set scores were 25-17, 19-25, 25-23 and 25-23.
Corsica-Stickney (7-1): Paige Wright and Avery Broughton finished with nine kills apiece, while Broughton added 11 digs. Raven Barse contributed six kills and 18 digs. Marisa DeLange and Sutten Eide recorded 14 assists apiece. DeLange added nine digs and Morgan Clites logged seven digs and two aces. Casey Tolsma chipped in with five kills. The Jaguars travel to Gregory on Thursday.
KWL (4-3): Kennedy Leiferman led KWL with 16 kills, 15 digs, three aces and two blocks. Dani Deffenbaugh finished with 15 kills and two blocks, while Madison Heath had 20 digs and three aces. Ryann Nielsen finished with 28 assists. The WiLdKats travel to Wagner on Thursday.
Platte-Geddes 3, Burke 1
PLATTE -- Platte-Geddes notched a four-set win over Burke in prep volleyball action on Tuesday. Set scores were 25-13, 25-19, 20-25 and 25-18.
Platte-Geddes (7-2): Taryn Starr finished with 10 digs and five blocks. Avery Devries dished out 41 assists to go with nine digs and three aces. Regan Hoffman added a team-high 28 digs and two aces. Karly Vanderwerff added 21 kills, 10 digs and two blocks. Cadence Van Zee put down 15 kills. The Black Panthers play Mount Vernon/Plankinton on Sept. 29 in Platte.
Burke (2-4): Bobbi Jo Wischmann had 19 assists and 12 digs. Sally Hakin recorded eight digs and six kills. Ramee Hanson recorded nine digs and six aces, while Adisyn Indahl chipped in eight digs and seven kills for the Cougars. The Cougars play Bon Homme on Thursday in Tyndall.
Wagner 3, Bon Homme 0
TYNDALL -- Wagner cruised past Bon Homme for a straight set win over Bon Homme on Tuesday. Set scores were 25-16, 25-20 and 25-16.
Wagner (6-1): Abby Brunsing had 16 kills and two aces, while Paige Petry recorded 12 assists, 10 digs and six kills. Macy Koupal dished out 15 assists. Avari Bruguier chipped in 12 digs and two aces. The Red Raiders host Kimball/White Lake on Thursday.
Bon Homme (4-6): Olivia Bures finished with 13 digs, seven kills and two aces for the Cavaliers. Jenae Alberts chipped in nine digs, six kills and three aces. Jenna Duffek dished out 17 assists. The Cavaliers play Burke on Thursday in Tyndall.
TDA 3, ACDC 0
ARMOUR -- Tripp-Delmont/Armour didn't drop a set on Tuesday in a win over Andes Central/Dakota Christian. Set scores were 25-17, 25-23 and 25-22.
TDA (4-5): Faith Werkmeister put down a team-high 10 kills. Bailey Spaans had 10 assists and six kills. Hannah Stremick recorded 16 assists and five kills. Megan Reiner added eight kills and two aces in the win. The Nighthawks travel to Mitchell Christian on Thursday.
ACDC (0-6): Avery Schacht stuffed the stat sheet with 11 digs, six assists, four kills and two aces. Claire Johnson had a team-high 13 digs and Lexie Vanderpol added seven kills, four digs and two blocks. The Thunder play Freeman Academy/Marion on Thursday in Freeman.
MCM 3, Flandreau 0
FLANDREAU -- McCook Central/Montrose won its fourth game of the season on Tuesday with a sweep over Flandreau. Set scores were 25-17, 25-21 and 26-14.
MCM (5-7): Ashtyn Wobig served six aces and had a team-high 16 digs. Riley Morrison and Maggie Miles both added 11 digs, while Miles chipped in 13 assists. Madisen Koepsell and Tayah Mcgregor had five and six kills, respectively. Mesa Bartmann recorded four aces. The Fighting Cougars play Parkston on Thursday in Salem.
Flandreau (0-11): Lizzie Pavlis had five kills, three blocks and three aces. Claire Sheppard finished with six aces, while Abby Schoeberl dished out 16 assists. Maria Parsley added 20 digs and Kennedy Peper added 12 digs. The Fliers travel to Dell Rapids on Thursday.
DRSM 3, Howard 0
HOWARD -- Dell Rapids St. Mary took all three sets in a sweep of Howard on Tuesday. Set scores were 25-18, 25-13 and 25-16.
Dell Rapids St. Mary (5-1): Courtney Brown had a match-high 15 kills. Ella Heinitz dished out 18 assists to go with 11 digs. Maya Heinitz added 11 digs and Ella Griffin dished out 15 assists in the win. The Cardinals travel to Arlington on Thursday.
Howard (5-7): Kate Connor had six kills and three blocks. Mia Glanzer added seven assists for the Tigers. Katlin Schlim finished with nine digs and Aleya Kizer chipped in eight digs. The Tigers host Viborg-Hurley on Monday.
Wolsey-Wessington 3, SCW 2
WOLSEY -- Wolsey-Wessington squeaked past Sanborn Central/Woonsocket for a back-and-forth five-set win on Tuesday. Set scores were 25-16, 21-25, 25-17, 24-26 and 15-9.
Wolsey-Wessington (2-5): Mya Boomsma had a match-high 26 kills to go with two aces. Hailey Clarke dished out 18 assists and 22 digs, while Lainey Uttecht finished with 44 digs. Emily Eggleston added 13 digs in the win. The Warbirds play James Valley Christian on Thursday in Huron.
SCW (3-4): Trista White and Morgan Schmiedt both served three aces, while White put down 16 kills and 26 digs. Schmiedt added 23 assists and 23 digs. Hannah Dickson chipped in 19 digs. Cassidy Slykhuis recorded three blocks. The Blackhawks play Iroquois/Doland on Thursday in Woonsocket.