Area volleyball roundup: Burke sweeps Wessington Springs in straight sets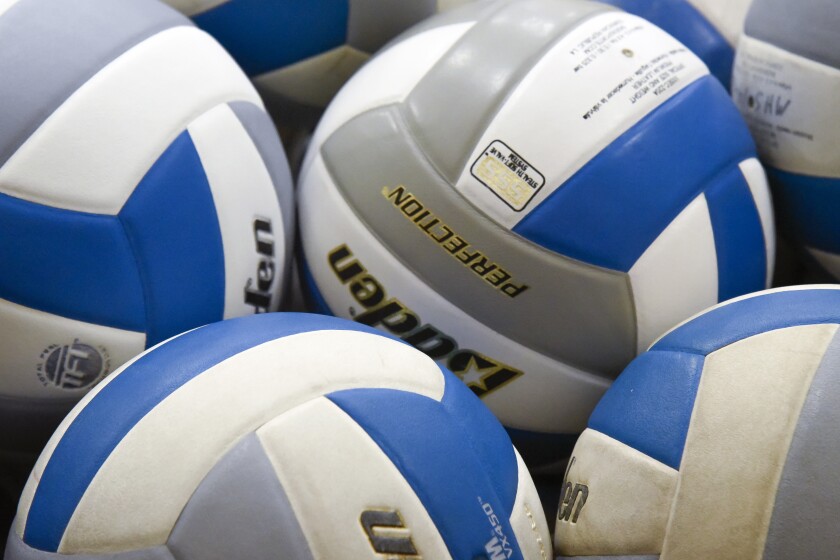 BURKE -- Burke swept Wessington Springs in straight sets in prep volleyball action on Saturday. Set scores were 25-16, 25-13 and 25-5.
Burke (4-4): Ramee Hanson finished with 13 kills and nine digs. Bobbi Jo Wischmann added five kills, four aces and 20 assists. Adisyn Indahl posted five kills, five aces and six digs. Elenna Koenig finished with four kills and Elle Johnson logged 11 digs. Burke plays at Boyd County (Neb.) on Oct. 1.
Wessington Springs (4-4): Grace Gran finished with four kills and 10 digs. Avery Orth added three kills and Alyssa Grohs finished with 11 assists. Angie Paulson posted 10 digs and Cheyenne Burg had two aces. Wessington Springs hosts Corsica-Stickney on Sept. 29.
Chester Area 3, Bridgewater-Emery 1
EMERY -- Class B No. 4 Chester Area topped Class B No. 5 Bridgewater-Emery in four sets on Saturday. Set scores were 25-19, 17-25, 25-23 and 25-23.
Chester Area (10-2): Ella Pry posted 16 kills and three blocks. Breckyn Ewoldt added 13 kills and Jayda Kenyon contributed 12 kills. Kenna Brown recorded 45 assists and 10 digs. Emery Larson posted 29 digs, while Carly Becker added 11 digs. Chester Area plays at Deubrook Area on Monday.
Bridgewater-Emery (12-1): Julia Weber finished with 22 kills, 28 digs and two blocks. Taylor Schallenkamp had nine kills and two blocks. Kerrigan Schultz posted three kills, 35 assists, 11 digs and three aces. Casey Meyer finished with six kills, while Morgan Uptagrafft had four blocks. Chloe Schmitt posted three kills and one block. Marah Hofer and Sara Hofer both had 15 digs. Cara Meyer finished with 17 digs. Bridgewater-Emery plays Alcester-Hudson in Alcester on Thursday.
KWL 3, Kadoka Area 1
KIMBALL -- Kimball/White Lake down Kadoka Area in four sets in high school volleyball action Saturday. Set scores were 25-17, 25-10, 24-26 and 25-20.
KWL (5-3): Kennedy Leiferman posted 21 kills, eight aces, four blocks and 11 digs. Dani Deffenbaugh logged nine kills, three blocks, eight aces and 13 digs. Alison Sinclair contributed 10 kills and two blocks. Ryann Nielsen dished out 37 assists, six aces and nine digs. KWL hosts Lyman on Tuesday in Kimball.
Kadoka Area (2-5): Jade Hutchinson recorded 12 assists, four kills, 13 digs, two blocks and two aces. Rebecca Shuck finished with six kills, four digs and five blocks. Abigail Roghair finished with 14 digs and one kill. Sammi Stout added 10 digs. Kadoka Area hosts Bennett County on Tuesday.