Area volleyball roundup: Bridgewater-Emery tops Hanson in three sets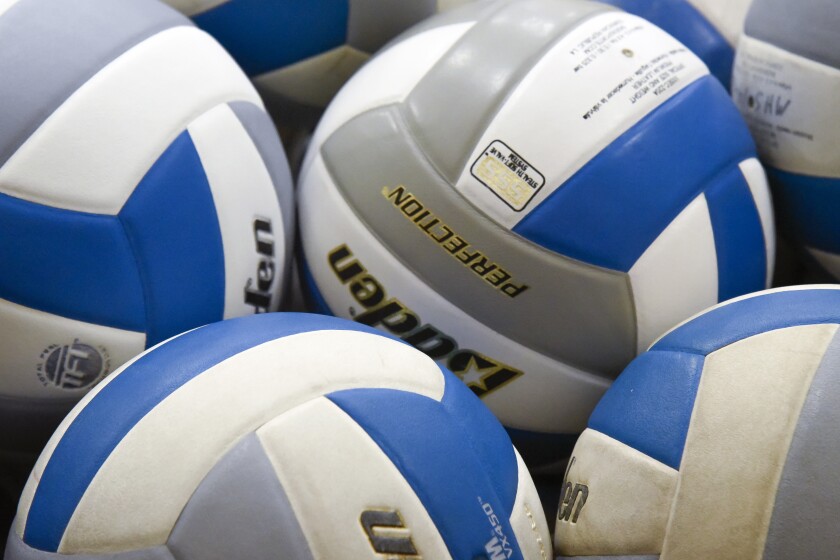 ALEXANDRIA --Bridgewater-Emery cruised past Hanson for a straight set win on Monday. Set scores were 25-16, 25-15 and 25-21.
Bridgewater-Emery (15-2): Julia Weber stuffed the stat sheet with 15 digs, 10 kills, five aces and four blocks. Kerrigan Schultz chipped in 19 assists, six digs and three kills. Sara Hofer added five digs and two aces. Kaitlyn Roskens served four aces and four aces. The Huskies play Colman-Egan today in Colman.
Hanson (4-9): Grace Weber finished with nine digs, five kills and two aces. Annalyse Weber added seven digs and four kills. Abby Kortan added 16 digs and five kills. Jalyn Kampshoff recorded 14 assists and 10 digs. Vanessa Doyle chipped in 11 digs. The Beavers play Menno today in Alexandria.
Platte-Geddes 3, Centerville 0
CENTERVILLE -- Platte-Geddes picked up a three-set victory over Centerville on Monday. The set scores were 25-19, 25-13 and 25-8.
Platte-Geddes (11-3): Karly VanDerWerff finished with 10 kills, five aces and three digs. Avery DeVries added 20 assists, 13 digs and three aces. Cadence VanZee posted eight kills, seven aces and five digs. Taryn Starr registered five kills, four digs and three aces. Regan Hoffman added nine digs and three aces. The Black Panthers travel to Miller today.
Centerville (3-12): Ellie Hunter and Mya Bendt both had three kills, while Bendt added nine digs. Sophie Eide recorded 14 digs. The Tornadoes travel to Dell Rapids St. Mary today.
Bon Homme 3, Gayville-Volin 0
TYNDALL -- Bon Homme handed Gayville-Volin its first loss of the season Monday. Set scores were 25-19, 25-21 and 25-21.
Bon Homme (8-11): Jenae Alberts and Olivia Bures both posted 12 kills and 10 digs, while Alberts finished with three aces. Hannah Cuka added 10 kills and three blocks. McKenzie Carson registered six kills, five digs, three blocks and three aces. Jenna Duffek added 27 assists and five digs. The Cavaliers travel to Parkston on Oct. 20.
Gayville-Volin (10-1): Jadyn Hubbard and Kayla Van Osdal both put down nine kills. Samantha Olson recorded seven kills. Keeley Larson dished out 26 assists and Molly Larson posted 19 digs. The Raiders travel to Canton today.
KWL 3, Miller 0
KIMBALL -- Kimball/White Lake swept Miller in prep volleyball action on Tuesday. Set scores were 25-15, 25-16 and 25-16.
Kimball/White Lake (10-3): Kennedy Leiferman finished with 12 kills, five blocks and 11 digs. Alison Sinclair posted nine kills, two aces and four blocks. Ryann Nielsen dished out 20 assists and Madison Heath added 15 digs. The WiLdKats play Sanborn Central/Woonsocket on Thursday in White Lake.
Miller (3-9): Storm Johnson finished with eight kills and four digs. Tyra Gates posted three kills, 12 assists and 11 digs. Kathryn Aymar recorded two assists, five digs and two aces. The Rustlers host Platte-Geddes today.