Area volleyball roundup: Bon Homme outlasts Hanson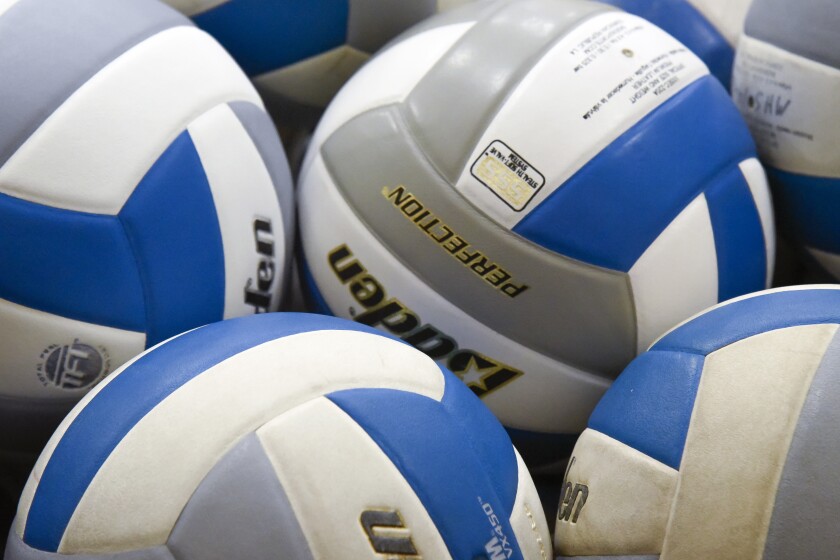 TYNDALL -- Bon Homme dropped the first two sets, but came back to take down Hanson in five sets on Monday. Set scores were 8-25, 18-25, 25-22, 25-23 and 15-8.
Bon Homme (3-17): Jenae Alberts had 13 digs and 12 kills for the Cavaliers. Ciera Himes put down 11 kills to go with 10 digs and three aces. Johanna Jelsma recorded 13 assists and 13 digs, while McKenzie Carson put down seven kills and served a pair of aces. The Cavaliers play Freeman today in Tyndall.
Hanson (6-14): Abby Kortan recorded assists, 11 digs and four aces. Morgan Huber and Josie Bartscher each had a team-high nine kills in the loss. Hanna Robinson recorded 25 digs and Jada Tuttle added 16 digs. The Beavers play Centerville today in Alexandria.
MVP 3, Lennox 1
MOUNT VERNON -- Lennox captured a win in the first set, but Mount Vernon/Plankinton rallied to win the next three to take the match in four sets, 23-25, 25-17, 25-22 and 25-13.
Mount Vernon/Plankinton (10-5): Reagan Klooz had 19 assists and 32 digs, while Katlyn Briggs had 18 kills and seven blocks. Shyla Tobin also added 15 assists and Maria Baker pitched in 10 kills. The Titans travel to Miller today.
Lennox (9-9): Rianna Fillipi had 10 kills and 27 digs, Hattie Breck had 24 assists and Madysen Wastwin had 10 kills. The Orioles host Parker today.
MCM 3, Baltic 0
MONTROSE -- Class A No. 4 McCook Central/Montrose took down Baltic in straight sets on Monday to earn a prep volleyball win. Set scores were 25-18, 25-10 and 25-16.
McCook Central/Montrose (16-3): Jacy Pulse recorded nine digs, eight kills and three aces for the Fighting Cougars. Emily Bies dished out 25 assists, Abigail Van Ruler put down nine kills and Aleah Ries added 12 digs and 10 kills. Cassy Knudsen recorded five digs and three aces in the win. The Fighting Cougars travel to Howard today.
Baltic (8-8): Sami Polzin recorded nine digs and a team-high six kills for the Bulldogs. Shelby Dosch added 10 digs and eight assists, while Kylie Schneider finished with 11 digs. Elyssa Clark added five digs and three aces. The Bulldogs play Alcester-Hudson today in Alcester.
Ethan 3, Menno 0
MENNO -- Class B No. 5 Ethan swept Menno in a prep volleyball match on Monday. Set scores were 25-9, 25-19 and 25-11.
Ethan (16-3): Jada Plastow had 11 kills, 10 digs and five aces, while Cameryn Logan and Bella Nesheim had seven kills apiece. Jessica Bartscher added 25 assists and Hannah Bartscher had 13 digs.The Rustlers host Wessington Springs today.
Menno (3-10): Jesse Munkvold and Trinity Kocourek each came up with 10 digs, while Kylie Harriman had five digs. The Wolves travel to Canistota today.
Elkton-Lake Benton 3, Howard 0
HOWARD -- Elkton-Lake Benton knocked off Howard in straight sets in prep volleyball action on Monday. Set scores were 25-14, 25-14 and 25-13.
Elkton-Lake Benton (13-3): Hannah Krog led the way with 16 kills and 21 digs, while Aubrey Wirth finished with nine kills. Julie Drietz handed out 38 assists. Rachel Krog and Jesse Busselman had 16 digs apiece. The Elks play in the Chester tournament on Saturday.
Howard (5-7): Aleya Kizer and Madison Gizer recorded six and four kills, respectively. Madison Kizer added four blocks. Mia Glanzer finished with eight assists. Emma Rudebusch added six assists. Kyra Shumaker and Austyn Smit added six and five digs, respectively. The Tigers host McCook Central/Montrose today.