Area volleyball roundup: Bon Homme clips Hanson in 5 sets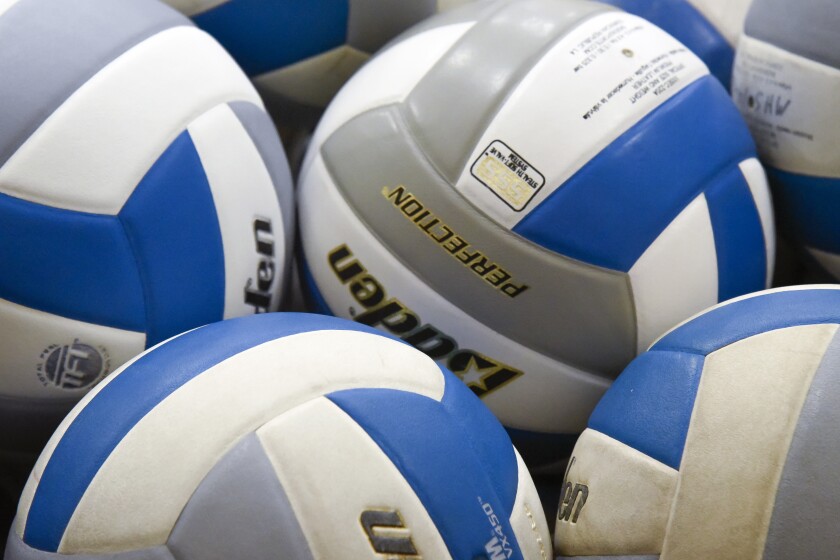 ALEXANDRIA -- Bon Homme nipped Hanson in five sets in a prep volleyball match. Set scores were 18-25, 24-26, 25-16, 25-16 and 15-13.
Bon Homme (7-10): Olivia Bures led the way with 13 kills and 15 dis. Jenae Alberts finished with 23 digs and seven kills. McKenzie Carson added 10 kills, seven digs and three blocks. Jaden Kortan posted seven kills and nine digs. Jenna Duffek finished with 32 assists and seven digs. Hannah Cuka added five kills and four digs. The Cavaliers travel to Freeman on Tuesday.
Hanson (3-7): Grace Weber led the Beavers with 12 kills and two blocks. Annalyse Weber added seven kills and 15 digs. Jalyn Kampshoff finished with 27 assists and 17 digs. Shelby Hernandez finished with four kills and six digs. Abby Kortan posted 13 digs. Andrea Thelen finished with six kills and Vanessa Doyle had seven digs. The Beavers travel to Centerville on Tuesday.
Freeman 3, Mitchell Christian 1
After narrowly dropping the third set, Freeman took down Mitchell Christian to win in four sets on Monday. Set scores were 25-14, 25-18, 23-25 and 25-17.
Freeman (10-6): Rijjy Peterson stuffed the stat sheet with 20 digs, 18 kills and eight aces. Cara Maske added 19 assists, while Kate Miller finished with eight kills and five digs. Paige Auch recorded nine digs and six assists. Freeman hosts Bon Homme on Tuesday.
Mitchell Christian (2-8): Erica Thompson recorded 15 assists, eight digs, four kills and two aces. Kaitlyn Tegethoff chipped in six kills, five digs and five blocks. Maggie Reynen put down eight kills to go with five digs and three aces. Whisper Eben had a team-high 10 digs. The Golden Eagles play Hanson on Thursday in Alexandria.
Corsica-Stickney 3, ACDC 0
CORSICA -- Corsica-Stickney scored a three-set sweep over Andes Central/Dakota Christian on Monday. Set scores were 25-19, 25-4 and 25-14.
Corsica-Stickney (11-2): Morgan DeLange finished with five kills and two digs. Paige Wright and Avery Broughton finished with four kills and four digs apiece. Wright added three aces. Raven Barse added 14 digs, three kills and three aces. Sutten Eide finished with 17 assists, eight digs and four aces. The Jaguars travel to Burke on Thursday.
Andes Central/Dakota Christian (0-7): Mackenzie Muckey posted seven assists, six digs and four kills. Allison Muckey added four kills, four digs and three assists. Claire Johnsen posted 10 digs. The Thunder play Freeman Academy/Marion on Tuesday in Marion.
SCW 3, Wessington Springs 0
WOONSOCKET -- Sanborn Central/Woonsocket swept Wessington Springs in straight sets on Monday. Set scores were 25-18, 25-15 and 25-13.
SCW (5-7): Kaitlin Brueske finished with 12 kills, while Trista White posted eight kills and eight digs. Brooke Doering added 14 digs, seven kills, three aces and two blocks. Morgan Schmiedt finished with 22 assists and three aces. Cassidy Slykhuis posted five aces and nine digs.
The Blackhawks host Sunshine Bible Academy on Tuesday in Woonsocket.
Wessington Springs (4-7): Avery Orth posted eight kills, eight digs and two aces. Trinity Flowers finished with six kills. Alyssa Grohs finished with 14 assists and Maddie Privett logged 13 digs. Wessington Springs hosts Ethan on Tuesday.