PALACE CITY PROFILES: Retiring the wanderlust in Mitchell
Palace City Profiles is an ongoing series of community members' stories, introducing our neighbors and the individuals who live and/or work in Mitchell.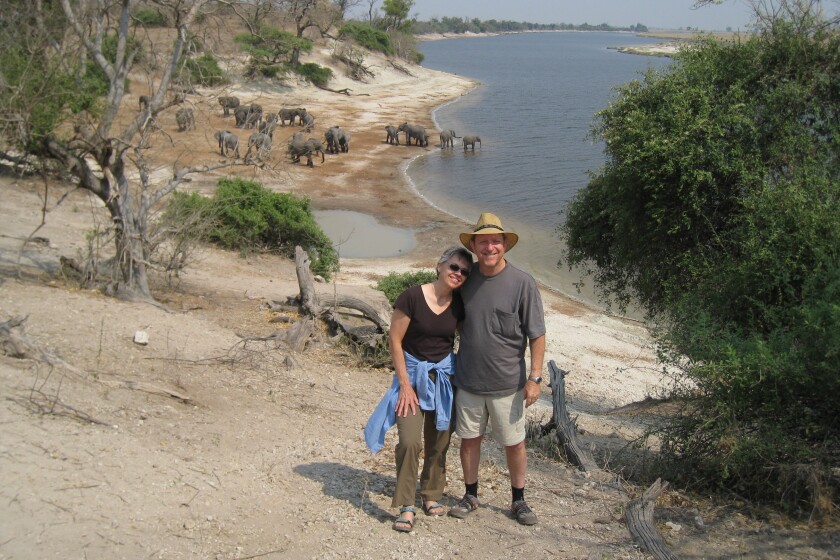 Palace City Profiles is an ongoing series of community members' stories, introducing our neighbors and the individuals who live and/or work in Mitchell.
Although they've lived and traveled around the world, Pat Aylward and Rick Snedeker chose Mitchell as their home after Rick's 2011 retirement.
Pat is a native of Alexandria, and she attended Lake Area Tech in Watertown to be a dental assistant. Her desire to travel eventually took her to Denver. It was there that she saw an ad in her professional journal that featured "good pay, full benefits, free housing and 60 days of paid vacation per year" - for those willing to move to Saudi Arabia. In 1985, she began work at King Faisal Specialist Hospital and Research Centre in Riyadh, Saudi Arabia.
Rick was born in New York, but as a young child, he moved to Dhahran, Saudi Arabia, where he lived for nearly a decade with his parents and siblings. Rick's father worked for the then-American-owned oil company Aramco, now called Saudi Aramco. He recounted his experiences growing up in a Saudi oil "camp" in his 2018 book "3,001 Arabian Days."
Rick's memoir recounts a surprisingly traditional upbringing in an exotic environment - a planned oil-company town with about 5,000 residents, mostly American expat Aramco employees and their families. Mid-1950s Dhahran was similar to mid-1950s United States: Little League baseball, childhood antics, Christmas pageants and stay-at-home moms. Dissimilar were the workweek - Saturday to Wednesday; "long vacation," a biennial three-month, partially subsidized vacation during which residents traveled the world; and Cub Scout camping trips to sand dunes overlooking the Persian Gulf.
Although Rick's family moved back to the U.S. in the early 1960s, in 1982, following his 1973 graduation from Arizona State University, he took a job with a new English-language newspaper in Saudi Arabia. A few years later, his and Pat's paths crossed at a social event in Riyadh. Eventually, they relocated to South Dakota, where Pat earned a degree in dental hygiene at the University of South Dakota. Rick took a job at the Rapid City Journal.
In 1992, the two married and they lived in the Black Hills. In 1999, they jumped at the opportunity to return to Saudi Arabia, when Rick was tapped as a writer-editor in the PR department at Saudi Aramco, and Pat was hired as a dental hygienist at Aramco's Dhahran dental clinic.
They lived and worked in Rick's "hometown" of Dhahran with people from all over the world, according to "3,001 Arabian Days."
"More than 70 nationalities were represented in Aramco at the cusp of the millennium," he writes.
Rick and Pat were shocked and dismayed along with the rest of the world when the 9/11 attacks happened in 2001, mystified that residents of their adopted country could mastermind such horrors. Their experiences with Saudis had been nothing but friendly and accommodating.
They remained in Saudi Arabia until 2011, when Rick took his mandatory retirement. With Pat's family in the Mitchell area, and Rick's scattered about the country, he lobbied to make their home in South Dakota.
For Rick, South Dakota's seasons were a draw for someone who spent about 40 percent of his life in the desert.
"I love everything about South Dakota," Rick said.
The couple built a home on Firesteel Creek in 2014, achieving Rick's longtime wish to live on the water. He's a self-described "homebody," and says that since he was in high school, he wished for time to write.
"I'm living the dream," he said. "I write every day."
He writes a daily blog, "Godzooks," which he describes as focused on religious skepticism. His next nonfiction book will be published in a few months, and he's fleshing out a novel.
He's also a fan of Mitchell Area Community Theatre and has been impressed with the caliber of local performances.
Pat is not yet retired, and upon returning to South Dakota she continued work as a dental hygienist, started a local chapter of the South Dakota Dental Hygienists' Association and founded Toothology Inc., a nonprofit organization committed to oral health education.
"Our overall health is directly related to our oral health," she said, "and tooth decay is preventable."
Toothology's nonprofit status allows for grant funding for equipment, and she has equipped space at Abbott House to provide services to the residents there. She also treats patients at Firesteel Healthcare Center.
Having visited many countries, Pat and Rick are content to have landed in Mitchell.
They say they now have less wanderlust and are quite content enjoying the small-city pleasures of living in Mitchell.
"Mitchell has everything we need," Rick said. "It is the perfect place to land."