Hagen: How Charles Manson and Vietnam prove our newspaper is more local than ever
When people say (and yes, I do hear your comments), "The local newspaper just isn't local anymore," my response: That's just not true.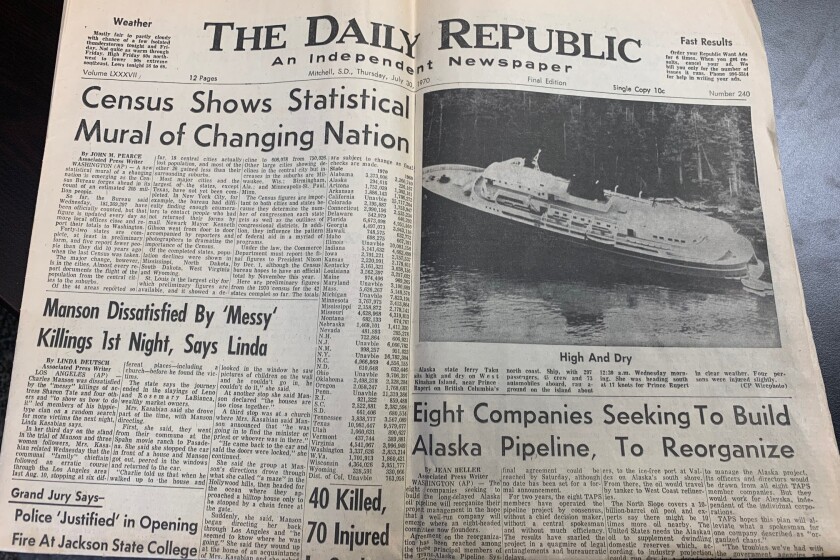 We are part of The Trust Project.
In case you haven't heard, we've moved.
We're pretty much all settled in at 400 N. Rowley, located in the same building as On Sight 24/7 in downtown Mitchell. Customers in the past couple weeks have trickled in, renewing subscriptions and placing ads. We're back to business as usual.
Our short-lived Main Street office had a nice view, but sometimes change is for the best.
As we were packing up, I found an edition of "The Daily Republic" from July 30, 1970, buried in my desk that caught my attention for multiple reasons. The paper was sent to us years ago from a woman in Crookston, Minnesota, who was cleaning out her father's estate.
"I thought you might find these interesting," the note said. "Please do with these as you please."
I didn't have a specific reason to keep the historical artifact, the edges torn and pages fading to faint yellow. But as I thumbed through the 12-page edition, I couldn't help but realize that change can most definitely be for the better.
The front page, which showed the paper cost 10 cents, had nine headlines. Nine! There was one photo showing an Alaska state ferry that had nothing to do with any of the front-page content.
Included were stories about Charles Manson, the Vietnam War, the United States Census and significant smog in New York City. What a time to be alive, huh?
This edition was printed about 16 years before I was born but gave me fantastic insight into how local our newspaper is today.
When people occasionally say (and yes, I do hear your comments), "The local newspaper just isn't local anymore," my response: That's just not true. And after looking through this 52-year-old edition, I know how much our staff cares about producing local news and serving our local readers with content that only comes from us.
Page 8 had sports bylines from the late Dean Minder, Republic sports editor, along with Jim Johnston. Better known as "Jocko" from Harve's Sports Shop on Mitchell's Main Street, Johnston received a photo message from me with his story headlined, "Pheasant Infield Hands Stickney 14-13 Victory" in a Sunshine League playoff baseball game recap. Apparently Jocko was a year out of high school when he wrote it, he said.
Other interesting aspects of this edition? An advertisement promoted an all-you-can-eat buffet at the Brig Cafe for a $1.79; our phone number 605-996-5514 hasn't changed; and the biggest local news was printed on Page 3, showing that a new Goodyear Store (you'd recognize it as Graham Tire) had recently made its move to 720 N. Main St.
Now, for the sake of argument, let's compare the Wednesday, Nov. 16, 2022, print edition of the Mitchell Republic. We had four front-page stories that all focus on South Dakota, with two specifically written about Mitchell topics. Like the 1970 edition, we still celebrate local birthdays and anniversaries, which were printed Wednesday on page 2, and we had South Dakota-focused opinion editorials on A4 and obituaries on A5.
My count of South Dakota and Mitchell news in the 10-page A-section? 11 stories! In a six-page B-section, our sports staff highlighted our region coverage with stories on Wagner, Freeman, Burke, Platte and Geddes in addition to Dakota Wesleyan University coverage — of which there was none, zilch — in the 1970 paper.
There's no question it was different to assemble a newspaper 50 years ago. Design was done by cut-and-paste, typewriters were used for story assembly and, back then, national and world news wasn't as accessible, which made those stories important to print.
What remains, though, is connection to the community. Life has changed and the newspaper has with it. We think continually for the better. Sure, we only print twice a week today compared to six days before, but have I mentioned how great and instant our website is? Our staff still works as many hours and just as hard as ever.
The Daily Republic from its inception to July 30, 1970, to today known as the Mitchell Republic has always cared about our city, region and state. We'll continue that commitment.
No, we're not moving out of Mitchell. Yes we really, really care about reporting local news and serving local businesses.
No matter where our office is located, that will always be the case.