State grant has Woonsocket eyeing $225K expansion for CTE programs
Workforce Education Grant will help fund new workshop, classroom areas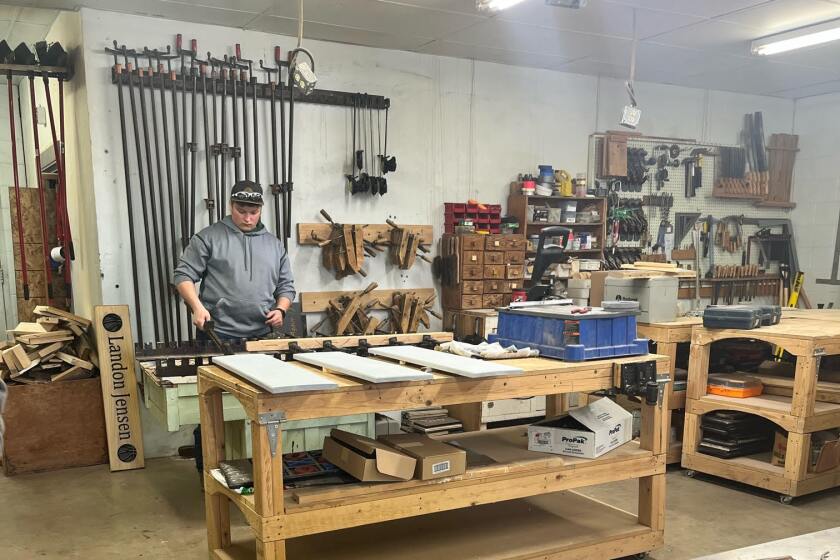 WOONSOCKET, S.D. — With more students comes the need for more space, and a grant from the state of South Dakota will help the Woonsocket School District acquire that by expanding the area used for career and technical education (CTE) programs at the school.
"We've always had the goal to expand our CTE department," said Rod Weber, superintendent of the Woonsocket School District. "The space we have now is part of the National Guard armory, but our school has never really had an industrial building and shop."
That is expected to change with the $225,000 grant that should pave the way for expansion in the program via some new facilities.
The state announced earlier this week that the district was one of five South Dakota school districts to receive a Workforce Education Grant, which was established by the state legislature and designated to provide grants for CTE programs in secondary schools.
The grant fund was established to make transformative changes in career and technical education programs. High-quality CTE programs give students knowledge, skills and experiences to be prepared for postsecondary education and the workforce, according to a release from the state department of education.
Woonsocket was one of three schools to receive $225,000 through the grant, the other two being the Wall School District and the Parker School District. Other schools receiving grants through the fund include the Edgemont School District, which received $84,975 to purchase heavy equipment simulators for an architectural and construction program and the Sioux Falls School District, which picked up $62,275 for equipment to support the animal husbandry and veterinary science training programs.
Weber said the school had started eyeing expansion for the program when it purchased a plot of land near the school a few years back.
"This is the first time we've applied (for the grant) and previously we didn't have the land to do anything. So purchasing the land adjacent to the school opened up some ideas," Weber said. "So we're looking at adding an addition to the school. It will actually have a classroom and a big shop area."
The current classroom space for the industrial programs is tight, Weber said, offering the space roughly equivalent to a triple-stall garage. It houses the school's CTE programs, and with a variety of studies taking place, Weber said an expansion would allow for a more comfortable and safer work environment for students and teachers.
That's important, as Weber estimates that about 35% of students at the school participate in a class that utilizes the space, and the school census is growing. Weber said the school has grown over the past decade, defying the trend of student enrollment decline seen at some other small school districts.
"We're a growing school district here, something that small schools don't see often. In the last 10 years we've doubled. We offer an industrial tech program and share ag and FFA with Sanborn Central but we could use extra room to make sure they stay successful," Weber said.
Weber school officials would soon meet with an architect to discuss the needs of the program. When that is decided, the school will sign a contract and construction will begin. He hopes to have the new space ready for students by the start of the 2024-25 school year. But he noted that the size and style of the expansion has yet to be discussed officially.
Darin Schmiedt, who teaches industrial tech at Woonsocket, said whatever form the plans take, the new classroom and workspace should be a considerable upgrade.
"(The current space) is probably 1,600 square feet in total, and the new proposed one, which is not written in stone, but we're proposing a 40 foot by 150 foot building. It will have its own spaces for welding, automotive, woodworking and finishing," Schmiedt said. "A classroom of about 30 feet by 30 feet would be included that we can use for electronics, drafting and CAD programs."
It will be a considerable step up for the program, which, like the school, has seen participation grow. That means things have gotten crowded in the classroom.
"We can only do welding when we do welding, we can't do anything else," Schmiedt said. "We will have a lot more space. We used to have 11 or 12 kids, but this year we had 21 kids in my CTE class. There are 27 freshmen in the class and 21 of them are taking CTE classes."
Schmiedt said safety is a priority over convenience. More space means not everyone will need to be crowded in a small area. That and not having to split up classes due to size restrictions are what he is most looking forward to with the plans.
"It will be a lot safer and better for everybody. Safety is the biggest thing. There will be enough space for all the students at one time instead of having to split classes," Schmiedt said.
Weber credited Woonsocket community improvement efforts to grow the town, which in turn has led to growth at the school district. The local business community, including local construction companies and potential future employers of CTE program graduates, were helpful in supporting the school's application for the grant.
Some businesses wrote letters in support of the grant application, Weber said.
"We've had a lot of support from our local businesses. They need more employees in this area to maintain our success," Weber said. "I think the biggest thing is our community is always looking forward. (The community) built a new swimming pool a few years ago and redid the rec programs and fields. That's enticing young families to move back, and that's worked. We're working on housing now, as we don't have enough."
Being able to grow a popular program that helps young people develop skills that are valuable in today's workforce is an opportunity the school does not want to miss, Weber said. CTE programs are growing all over the state, and Woonsocket wants to make sure it has the resources to make their students competitive when it comes to those skills.
"We just feel this will expand the program and bring more interest from students and grow the program like it is all over South Dakota," Weber said.
Funds to go toward purchase of new equipment
In South Dakota, there are approximately 30,000 CTE students in grades 7 through 12 in the state, according to the South Dakota Governor's Office of Economic Development. When businesses partner with local school districts, it helps students to experience work-based learning, understand the career path they are choosing, accelerate faster into the workforce, and see valuable career choices in their local community, state officials say.
Joe Graves, secretary of education for the state of South Dakota, agreed that CTE programs are a vital part of a high schooler's educational experience.
"Career and technical education connects students with experiences that prepare them for postsecondary, and ultimately, the workforce. CTE coursework brings relevance to the education experience, while students gain exposure to potential careers," Graves said in a statement. "I applaud these districts for investing in their students' futures in this manner."