Witness describes interaction between Ravnsborg, sheriff morning after fatal crash
Jason Ravnsborg Chief of Staff Tim Bormann testified to an impeachment committee Thursday, Feb. 24, about traveling with his boss the morning they came upon the body of a pedestrian struck and killed by the AG's vehicle the night before in September 2020.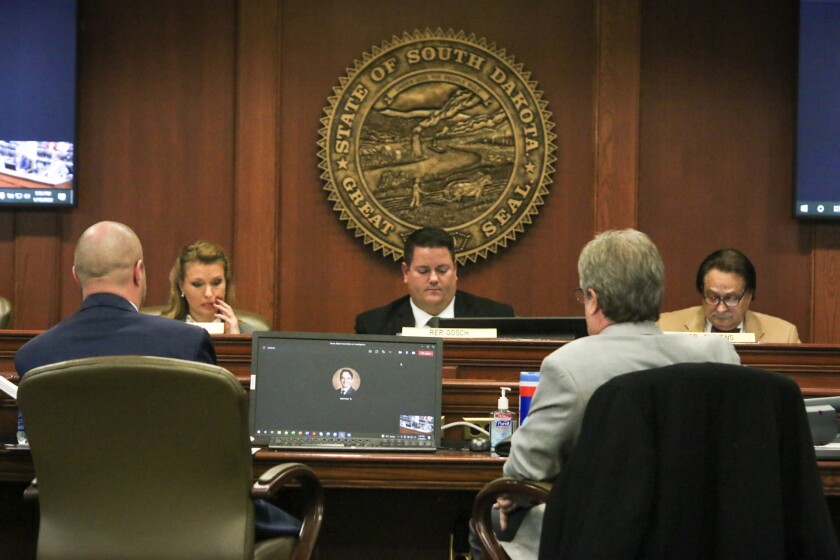 PIERRE, S.D. — Attorney General Jason Ravnsborg's chief of staff told an impeachment committee on Thursday, Feb. 24, that the interaction he witnessed at a farm between the local sheriff and the AG the morning after a deadly crash in 2020 "didn't seem like normal operating procedure."
Tim Bormann described publicly for the first time Thursday his version of the events on the morning of Sunday, Sept. 13, 2020. That day, he drove a separate vehicle behind Ravnsborg from Pierre to a crash site west of Highmore, South Dakota, where Ravnsborg had struck and killed pedestrian Joe Boever the night before.
Bormann had previously been interviewed by investigating authorities in North Dakota.
The South Dakota House Select Committee on Investigation is hearing testimony to decide if Ravnsborg should face impeachment charges for his involvement in the fatal crash. Ravnsborg, who pleaded no contest last August to two misdemeanor counts of careless driving, has maintained he did not know he hit a human being until the next morning when he returned to Highmore.
Bormann said that Ravnsborg had texted him — as well as Division of Criminal Investigation Director David Natvig — the night of the crash, Sept. 12, 2020, acknowledging he had "hit something in the road." According to the texts displayed to the committee, Ravnsborg said, "it didn't show any blood or anything in the car, but it smashed the hell out of it."
The next morning, Bormann drove to Ravnsborg's house, where the attorney general was eager to return to Highmore.
"Jason was waiting," said Bormann. "Pretty much ready to go."
Bormann drove behind Ravnsborg, who was returning a vehicle that was loaned to him after the accident by Hyde County Sheriff Mike Volek.
When they reached Highmore, Bormann said Ravnsborg drove to a Shell station near the crash site in order to fill up the gas tank before returning Sheriff Volek's vehicle.
However, when they drove past the crash scene, Bormann said he spotted a "large piece of undercarriage" from Ravnsborg's vehicle along the roadside. There also was glass on the road, he said.
The two got out to walk the road, Bormann said, and at some point, after a minute or so, Bormann said Ravnsborg turned to yell out Bormann's name.
"I turned and looked at him," said Bormann. "He was motioning toward the ditch with one hand saying, 'There's a man.'"
Bormann said he walked over and saw Boever in the ditch. Bormann said he knew the man was dead.
Under questioning Thursday from Rep. Mike Stevens, R-Yankton, Bormann testified that the two then drove the short distance to Volek's house. While Bormann says he sat in the car, he watched Ravnsborg and Volek speak outside his farmhouse.
"He [Volek] and the attorney general had words," Bormann said. "They discussed things."
Shortly later, Volek allowed Ravnsborg to return to Pierre with Bormann without any further questioning.
Pressed by Stevens on the appropriateness of such police work, Bormann acknowledged the treatment of the AG seemed unusual.
"It didn't seem like normal operating procedure," Bormann said. "But I've also never been a sheriff. So I wasn't about to second-guess how he was about to handle things."
Stevens noted that in testimony given to the North Dakota detectives, Bormann had strongly criticized Volek.
Bormann admitted that he felt reticent about criticizing Volek, who died last year.
"It jut feels a little bit more rude to say something a bit more critical now with Sheriff Volek deceased," Bormann said. "Mike was a good man."
The committee continued to hear from Natvig, as well as the two prosecuting attorneys, Sully County Assistant State's Attorney Emily Sovell and Beadle County State's Attorney Michael Moore, on Thursday evening.
Both Sovell and Moore defended the charging decision, which was ultimately Sovell's. Moore said manslaughter in the 2nd degree requires a standard of "recklessness," and he noted that the evidence — including multiple interviews by North Dakota detectives of Ravnsborg — could not turn up why the AG was driving outside the lane of travel when he left Highmore.
"There could've been a million reasons that he was outside the lane of travel that wouldn't have indicated he was distracted," contended Moore.
During questioning, lawmakers particularly pressed the attorneys whether they'd been pressured by anyone in Pierre, especially in Gov. Kristi Noem's office, to bring tougher charges against Ravnsborg.
Stevens recalled that in February, days after the prosecutors announced their misdemeanor charges against the AG, Noem released investigative video of Ravnsborg's interviews and called on him to resign.
"We don't live in a vacuum," responded Moore. "We know what the governor wanted us to do."
But both he and Sovell strongly said they maintained prosecutorial independence.
"I took careful effort to make sure nobody was going to influence me from a political standpoint, or anything outside the evidence of what I was reviewing," said Sovell.
Although Sovell did note that she eventually excluded Department of Public Safety Secretary Craig Price from her "communications," out of a perception he may exert possibly undue influence, Sovell said no one from Noem's office contacted her.
Ultimately she stood by her charging decision of Ravnsborg.
"I had hard drives," said Sovell. "I had boxes. It was one of the largest, most voluminous investigations I've seen."
After hearing testimony on Thursday evening, the 9-lawmaker committee entered into executive session to continue deliberations.
Christopher Vondracek is the South Dakota correspondent for Forum News Service. Contact Vondracek at cvondracek@forumcomm.com , or follow him on Twitter: @ChrisVondracek .
CORRECTION: Mike Stevens is a member of the House of Representatives. His office was wrong in an earlier version of this story. It has been updated with the correct title.