'Very realistic possibility' Ravnsborg knew he hit Boever, ND agents testify
North Dakota agents drop meaningful speculation in finale of two days of testimony to the House Select Committee on Investigation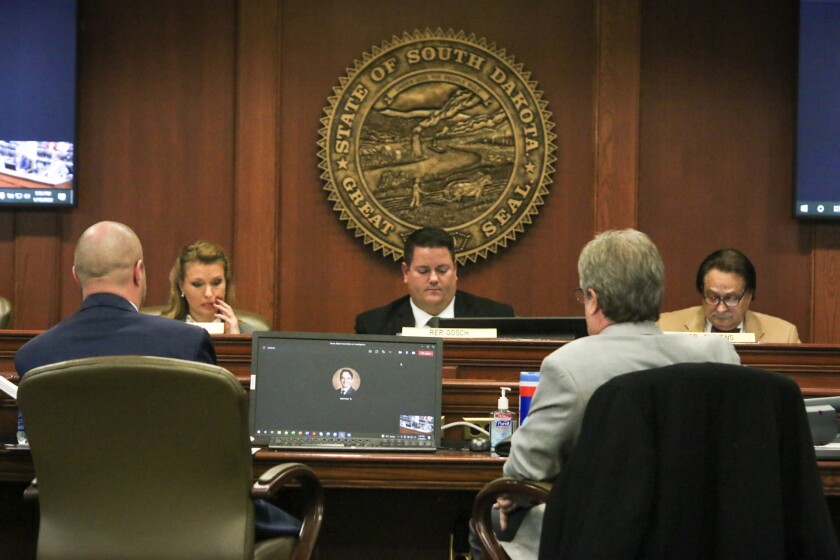 PIERRE — Investigators from the North Dakota Bureau of Criminal Investigation say there's a 'very realistic possibility' Jason Ravnsborg knew he had hit Joe Boever.
NDBCI agents Joe Arenz and Arnie Rummel appeared in Pierre on Wednesday to provide testimony to the House Select Committee on Investigation surrounding the details and conclusions of their investigation into Ravnsborg.
Their comments come as part of the second day of continued testimony to a state House committee from those involved in the investigation into the September 2020 crash where Ravnsborg struck and killed Boever near Highmore.
Nearly two hours into testimony, Rep. Jamie Smith, D-Sioux Falls, asked investigators a blunt question: "Do you believe that the Attorney General knew that he didn't hit a deer and that he hit a person?"
"His statements that he made, made me believe that," Arenz testified. "His statements indicated that it was a very realistic possibility."
"I agree," Rummel said. "The other part of that is he walked past a flashlight that was on."
Those statements came after the committee spent time asking the agents their opinion on Ravnsborg's conduct during interviews following the crash.
Rummel said Ravnsborg's emphasis, speech patterns and body language during videotaped interviews following the crash indicated to him that he wasn't getting the whole truth.
"That's an indicator to me that he's not being truthful," Rummel said.
The agents had brought Ravnsborg in for two different interviews at different times, looking to flush out discrepancies.
"The purpose behind the first interview was to get a statement as to what actually happened in his perception," Rummel said. "The second interview, after we found more info, we asked him about the same thing and his story changed."
Those differences led Rummel to a key conclusion that will help the committee come to a decision.
"When the story changes, in my opinion, they're not being very straightforward. They're not telling the truth," Rummel said. "All the evidence we were seeing is he's not being straightforward."
Arenz said that Ravnsborg's story stayed consistent, with him always pleading that he didn't know what he had hit, but noted there was one instance where Ravnsborg had said he didn't know what he had hit until impact.
Another major question that remains unanswered, the agents never administered a polygraph test, despite Ravnsborg offering himself up. That's because Arenz, who is trained to conduct and read polygraph tests, said himself and other examiners determined that, for a variety of factors, the polygraph wouldn't have given an accurate result in this instance.
"After looking at it, none of the examiners, including myself, thought it would be a good case. We didn't feel it would be a fair test to give to him," Arenz said. "The likelihood of him not passing the test would be extremely high, even if was telling the truth."
Contrary to Rummel, Arenz testified that he didn't notice any "extreme" indicators that Ravnsborg was holding back on much of his story.
"I didn't see much in body language. I don't recall myself seeing anything that was extreme," Arenz said. "I could tell he was uncomfortable."
As the committee began to conclude their questioning, they asked Arenz to share his overall conclusion from his investigation, asking specifically if he feels the Ravnsborg's three Class 2 misdemeanor charges were appropriate.
Arenz said if the crash had happened in North Dakota, Ravnsborg would've been charged with a felony — of which he did not specify — but understands that the verbiage of South Dakota law would have made it more difficult to charge him with a higher grade of severity.
The testimony from Arenz and Rummel concluded about 8 hours of testimony on Tuesday and Wednesday, giving the committee their first real look at the raw details from the investigation.
Of the eight men who took the stand, none indicated that Ravnsborg or his office attempted to influence their investigation in any way, shape or form.
Chairman of the committee and Speaker of the South Dakota House of Representatives Spencer Gosch said the two days of testimony brought a lot of information to lawmakers, and they hope to be as thorough as possible.
Gosch won't rule out the possibility of issuing more subpoenas to bring more documents and/or testimony before the committee, but they're now tasked with evaluating the plethora of information before them.
"We've got a good start, but we have more work to do," Gosch told reporters following adjournment.
Any future meetings of the House Select Committee on Investigation have yet to be set, and will be publicly announced in accordance with law.