TIMELINE: How did a fatal crash evolve into South Dakota's historic impeachment of Jason Ravnsborg?
Though South Dakota's first impeachment inquiry took place against Judge Levi McGee in 1917, Jason Ravnsborg was the first constitutional officer to ever be impeached.
PIERRE, S.D. — The South Dakota Senate will sail into uncharted waters this summer as they're set to host the first impeachment trial of a constitutional officer in the history of statehood.
It's been nearly 600 days since South Dakota Attorney General Jason Ravnsborg struck and killed Joe Boever, a pedestrian walking along a highway at night.
After a thorough investigation resulted in the conviction of two misdemeanors, the South Dakota House of Representatives impeached Ravnsborg in April for crimes and malfeasance in office. Now, the state's Senate will determine this June whether or not his impeachment warrants removal from office.
How did a fatal vehicle-pedestrian crash become a historical first? Here's how it all unfolded:
An attorney turned politician
Following the announcement of U.S. Sen. Tim Johnson's retirement in 2014, Jason Ravnsborg, then a private practice attorney in Yankton, threw his hat in the ring for Johnson's seat. Running on the Republican ticket, he tallied less than 3% of the vote in the primary election, falling more than 39,000 votes short of Mike Rounds, who would later win the general election.
Four years later, during South Dakota's 2018 election, Ravnsborg again ran for office, this time for the seat of Attorney General, as the state's tenured top cop, Marty Jackley, had reached his term limit. After winning the GOP nomination through convention, he topped Democratic candidate Randy Seiler with 55% of the vote.
Looking to keep his job through the 2022 election, Ravnsborg announced his candidacy for attorney general in 2020, kicking off yet another campaign. On Sep. 12, 2020, he left his office in Pierre for a Lincoln Day dinner event — an annual fundraising gathering hosted by the Spink County Republicans — in Redfield, about two hours northeast of the Capitol.
A little under six hours after Ravnsborg arrived at the Redfield restaurant, a 21-month-long political saga would begin.
A career-defining fatal crash
According to surveillance cameras in Redfield, as well as investigation reports from the South Dakota Highway Patrol and the North Dakota Bureau of Criminal Investigation (NDBCI), Ravnsborg arrived at Rooster's Bar and Grill, the host of the Lincoln Day dinner, shortly before 5 p.m.
He spent more than four hours at the event. Receipts, security footage and witnesses all agree he had not drank any alcoholic beverages during the dinner. As the event wrapped up at approximately 9 p.m., Ravnsborg was a straggler, staying behind to wrap up conversations. Security footage shows he was one of the last attendees to leave at approximately 9:15 p.m.
According to phone records recovered by the NDBCI, Ravnsborg was using his phone in the minutes leading up to the crash to check the weather, read emails, see voter registration statistics and read at least three political articles. During interviews with NDBCI agents — the video recording of which was publicly released then later ordered to be taken down by a judge — Ravnsborg claimed to not remember the extent of his phone use.
Phone records show Ravnsborg was not actively using his phone at the time of the crash, but the crash mapping found all four wheels of Ravnsborg's vehicle to be on the shoulder of the road, which eventually led investigators to testify he was distracted in some way. Ravnsborg claimed in his interviews he may have been adjusting his radio or setting his cruise control.
After striking Boever, it's estimated Boever, with his face embedded in Ravnsborg's windshield, rode the vehicle for approximately one second before dislodging and rolling off to the car's passenger side before coming to rest in the ditch.
The South Dakota Highway Patrol said Boever was likely killed on impact. The crash severed one of his legs completely, and left him partially stripped of his clothing in the ditch where he came to rest.
After the crash, Ravnsborg came to a stop before calling 911 to report he had been in a crash. He identified himself as the Attorney General just 11 seconds into the call. He did not provide his name until prompted at the 47-second mark.
He told the operator he struck something in the middle of the road. After assisting a dispatcher map his location, the dispatcher asked if it was possible he struck a deer, to which Ravnsborg responded he had no idea, but it could've been.
After hanging up with 911, Ravnsborg used his phone flashlight to search the north ditch for what he thought would be an injured deer for a little over six minutes, tallying just shy of 900 steps.
Boever's body, which the South Dakota Highway Patrol described as of a "pale white complexion," was lying two feet off the roadway in the ditch. He was carrying a flashlight when struck, which NDBCI agents would later describe shone like "a beacon."
After Hyde County Sheriff Mike Volek arrived, neither discovered the body, though Volek did not adamantly search the ditch, he admitted in a report. A tow truck was called for Ravnsborg's vehicle.
Volek brought Ravnsborg back to his home and loaned Ravnsborg his personal vehicle, which Ravnsborg took back to Pierre and kept overnight.
On his way to return Volek's vehicle the following morning, Ravnsborg, with Chief of Staff Tim Bormann following with a vehicle so the two could return to Pierre, decided to stop at the scene of the crash to look again for the deer. It was then Ravnsborg said he first saw Boever's body.
Ravnsborg then drove to Volek's home to inform him of the discovery. Volek later called 911 and requested the South Dakota Division of Criminal Investigation respond to the scene to begin an investigation.
Press conferences, information releases provide insight
Less than 24 hours after the fatal crash, Gov. Kristi Noem, who was in Sioux Falls for unrelated business, held a press conference. From Sioux Falls City Hall, she made the first public announcement that Ravnsborg had been involved in a fatal crash.
While she didn't provide much detail in the initial press conference, DPS Sec. Craig Price noted the South Dakota Highway Patrol routinely investigates fatal crashes and assured details would be available at a later time.
In an email exchange released by the NDBCI, Tony Venhuizen, then-chief of staff for Noem, messaged Bormann to inform him of Noem's press conference ahead of time. Ravnsborg and his staff began crafting a press release and debating how, where and when to issue it. One individual in the conversation, whose name was redacted when the conversation was released, questioned if expressing shock, sorrow and cooperation was "a good direction or not."
Another user suggested the press release go out in an email instead of on Facebook, as a social media post "may invite trolls to talk." The group decided to send it out in an email and to provide the statement to Tony Mangan, public information officer for DPS. Before Noem's press conference, it was suggested Ravnsborg turn his phone off for the rest of the night.
One day later, on Sept. 14, 2020, Ravnsborg released a two-page statement on the official Office of the Attorney General letterhead to address "rumors" regarding the crash. After providing his narrative of the events of the crash, he reiterated the idea that he is cooperating investigators, extended his "heartfelt condolences" to Boever's family and said he would make no further comment.
On Feb. 18, 2021, Ravnsborg was officially charged via complaint with use of an electronic device while driving, illegal lane change and careless driving. Five days later, on Feb. 23, 2021, DPS released video interviews of Ravnsborg speaking, voluntarily, with North Dakota investigators. The videos gave additional insight into Ravnsborg's account of the fatal crash and what kind of questions investigators needed answered.
That same day of the video release, news broke of the charges, prompting Noem to call for Ravnsborg's resignation on Twitter.
Now that the investigation has closed and charges have been filed, I believe the Attorney General should resign. I have reviewed the material we are releasing, starting today, and I encourage others to review it as well.

— Governor Kristi Noem (@govkristinoem) February 23, 2021
On Feb. 25, 2021, a judge ordered the video — and all other evidence that could be considered hearsay in Ravnsborg's legal proceedings — be precluded from disclosure. The order also specifically named Noem.
A little more than a week later, on March 8, 2021, the House of Representatives approved 57-11 House Resolution 7001, which proclaimed the House shall evaluate whether articles of impeachment are necessary and proceed accordingly following the conclusion of Ravnsborg's legal proceedings in Hyde County.
18-week probe recommends not to impeach
The House Select Committee on Investigation met for the first time on Nov. 10, 2021. The nine-man committee, headed by Speaker of the House Spencer Gosch, R-Glenham, and Speaker Pro Tempore Jon Hansen, R-Dell Rapids, was made up of seven Republicans and two Democrats.
Over the course of the next 18 weeks, the Select Committee met on 10 separate occasions — though some gatherings were considered to be one official meeting across multiple days — for a total of over 35 hours, most of which were spent in executive session.
Across their first three meetings, the Select Committee received a presentation from the Legislative Research Council (LRC) on impeachment and worked with the LRC to set the rules of the process with counsel. Members of the Select Committee were administered an oath of office and spent about 15 hours in executive session before issuing subpoenas.
On Dec. 29, 2021, the Select Committee issued subpoenas that compelled testimony from Price; Jeramie Quam and Joe Arenz, both agents with the NDBCI; John Daily, a private crash reconstructionist; and Jon Berndt, a South Dakota Highway Patrol trooper. Documents were also subpoenaed from DPS, the NDBCI, Jackson Hole Scientific Investigations and the Hyde County State's Attorney's Office.
After meeting in executive session for over three hours on Jan. 17, 2022, the Select Committee heard over six hours of testimony across the next two days.
South Dakota Highway Patrol troopers testified to their reconstruction of the crash, reiterating many widely-known details, including that the evidence indicated Ravnsborg had been driving entirely on the road's shoulder, that he had been distracted at the time of the crash and that he was speeding for the majority of his trip.
However, NDBCI agents took the stand and gave testimony that made national headlines.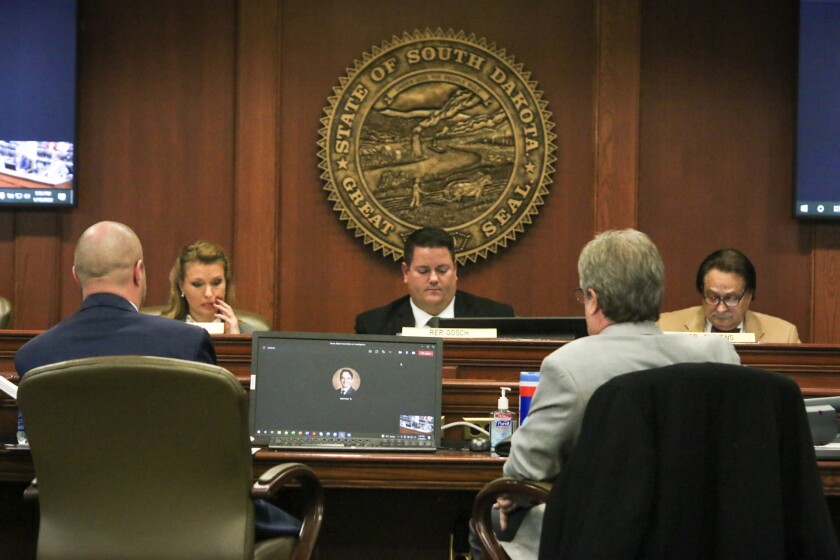 "Do you believe that the Attorney General knew that he didn't hit a deer and that he hit a person?" Rep. Jamie Smith, D-Sioux Falls, asked the agents.
"His statements that he made, made me believe that," Arenz testified. "His statements indicated that it was a very realistic possibility."
"I agree," Rummel said.
Rummel further testified that Ravnsborg's body language and speech patterns had indicated to him that Ravnsborg wasn't being truthful in his recollection of the crash or in his denial of knowledge regarding what he believed he struck that night. Though Arenz said he didn't necessarily come to the same conclusion, the duo agreed that body language and speech patterns are only an indicator of guilt, and aren't admissible in a court of law.
Daily, who analyzed the crash reconstruction map produced by the South Dakota Highway Patrol, called the crash a "classic case of distracted driving," saying any other reconstructionist who would look at the crash map would likely come to the same conclusion.
Despite the shocking testimony, many questions from the Select Committee came as an attempt to cast doubt on the South Dakota Highway Patrol's crash map, looking specifically at trend lines that they didn't believe could place Ravnsborg's vehicle on the shoulder.
The committee later subpoenaed and heard two hours of testimony from Bormann; DCI Director David Natvig, Sully County State's Attorney Emily Sovell and Beadle County State's Attorney Michael Moore as part of a probe into Ravnsborg's legal proceedings.
After their eighth and ninth meeting, which involved over five hours of executive session, the Select Committee on March 28 ultimately voted 6-2, along party lines, to recommend the full chamber of the House of Representatives not impeach Ravnsborg. Though citing a variety of reasons, one raised eyebrows with some legislators.
The majority report, explaining the Select Committee's recommendation, hinged on what became known as the "in office" clause, arguing that because Ravnsborg was returning from a campaign event at the time of the crash, he was not acting by virtue of the Office of the Attorney General, and should not be impeached for crimes committed outside of the execution of his responsibilities.
That didn't sit right with some lawmakers.
Developments at the 11th-hour
With the House of Representatives' impeachment just days away, the South Dakota Department of Public Safety (DPS) announced April 4 that, at the request of lawmakers, the state's Highway Patrol would hold a briefing, covering all aspects of the investigation that troopers could answer to and offering legislators an opportunity to ask questions.
The briefing was requested by Rep. Tim Goodwin, R-Rapid City, who told the Mitchell Republic he believed the impeachment inquiry was a "cover-up" by Representatives. He told the Argus Leader it was "bulls—."
Ahead of the April 6 briefing, DPS dropped a 404-page compilation of reports that detailed the investigative materials considered by troopers as they investigated Ravnsborg. One main takeaway was his driving history.
From the time he took office in January 2019 to the time the South Dakota Highway Patrol wrote a report on his driving history on March 10, 2021, Ravnsborg had been named in 10 police reports relating to alleged traffic violations. Of those 10 stops, two resulted in tickets — both for speeding. Five other run-ins with police resulted in warnings for speeding, while he was issued warnings for two other miscellaneous traffic offenses. The final interaction was a result of the crash that killed Joe Boever (though he's been involved in other traffic stops for speeding since the report was finalized).
Those traffic stops are just a fraction of Ravnsborg's interactions with police. He's actually been stopped at least 27 times across three different states since 1996. According to Price, Ravnsborg displayed his Attorney General's badge on four occasions and identified himself verbally once, none of which resulted in citation.
Troopers also used the briefing to answer pertinent questions to clarify takeaways from the impeachment inquiry that left some wondering, such as trend lines from the original crash reconstruction diagram, which were highly contested by the Select Committee.
Ahead of the briefing, Gosch told the Mitchell Republic he stood by the work of the Select Committee, explaining that lawmakers considered all evidence. He refuted troopers' claim that they "weren't allowed" to present to the Select Committee, saying it misrepresented the committee's actions.
On April 11, the night before the House of Representatives met to vote on impeachment, Ravnsborg issued a late-night letter to lawmakers, asking Representatives to vote against impeaching him. As it turned out, that letter pushed at least one lawmaker to vote for impeachment.
South Dakota's first impeachment
The House of Representatives met in full on April 12 to debate and vote on the impeachment of Ravnsborg. Though the South Dakota Legislature had conducted an impeachment inquiry regarding corruption charges against Judge Levi McGee in 1917, lawmakers were gearing up for a historic moment, as no constitutional officer had ever before been impeached in the state.
After spending countless hours reviewing the investigation conducted by the Select Committee, legislators attended closed-door caucus meetings ahead of a vote. There's no knowing what was discussed, but Rep. Lance Koth, R-Mitchell, said though "tense" discussion occurred, it was clear to him no amount of discussion would change the votes of Representatives.
With articles of impeachment filed ahead of the special session by Rep. Will Mortenson, R-Pierre, lawmakers were quick to suspend the rules of the House and move directly to discussion of the articles, which alleged crimes and malfeasance in office.
Reps. Ryan Cwach, D-Yankton; Linda Duba, D-Sioux Falls; Mary Fitzgerald, R-Spearfish; Oren Lesmeister, D-Parade; Mortenson and Nancy York, R-Watertown, all spoke in favor of impeachment, arguing that Ravnsborg's position and use of state property implies he is always acting by virtue of the office, that Ravnsborg's use of his title and badge are indicative of malfeasance and that the conviction of his legal proceedings in Hyde County are indicative of crimes committed, satisfying the burden of proof the articles placed upon them.
No Representative spoke publicly against impeachment, though Rep. Fred Deutsch, R-Florence, introduced an amendment to remove references to malfeasance, which failed.
Ultimately, the House voted 36-31, without a vote to spare, in favor of impeaching Ravnsborg from his office.
"It was super close and I had anticipated that, but I think that we did the right thing," said Smith, who also serves as the House Minority Leader. "I think sending it over to the Senate for the first real trial that we'll have involving this matter is important. I think the people of South Dakota expected us to do this today, and it was successful."
Noem, who had already endorsed Ravnsborg's primary election opponent, took to Twitter nearly an hour after the impeachment passed the House, noting the chamber had done "the right thing."
Ravnsborg later issued a statement saying he respected the vote of the House, but believed he would be vindicated by the Senate.
An unprecedented gathering of the Court of Impeachment
With the impeachment finalized, Senate leadership has already announced the schedule and rules surrounding how the state's first-ever impeachment trial will run.
President Pro Tempore Sen. Lee Schoenbeck announced April 13 that the Senate will hold a two-day impeachment trial beginning June 21. He told the Sioux Falls Argus Leader that day was the one of the earliest date that Senators were able to gather in Pierre.
A five-section rulebook of sorts has already been approved for the trial, which comes just days before the GOP's convention where Ravnsborg hopes to win the nomination to run as a Republican for attorney general.
Most notably, Ravnsborg will have until June 1 to file an answer to the impeachment charges with the Senate, either pleading guilty or not guilty to each charge the House approved. Before he enters his plea, the Senate must serve the articles of impeachment upon him.
Sitting as a court of impeachment, Lt. Gov. Larry Rhoden, whose duties include serving as the President of the Senate will preside. Should Rhoden be unable to preside, Schoenbeck will become the presiding officer. Any decisions made by the presiding officer are subject to appeal by Senators.
Before the trial may begin, the presiding officer must make the House's entire impeachment available to Senators for their review. Any documents prosecuting or defending parties intend to use as part of the trial shall be submitted to the Senate by June 1 and made available to Senators.
Standard rules of evidence under South Dakota do not apply to the impeachment trial. Instead, the presiding officer has been given the authority to decide any evidentiary questions.
The prosecution and the defense will each be given one hour for opening arguments before being given up to four hours each to present witness testimony, present exhibits of evidence and cross-examine witnesses presented by their opponent. Should Ravnsborg, himself, testify, he is not subject to the time limit prescribed by the rules, though each day of the trial must adjourn by 8 p.m.
Upon completion of the trial, members of the Senate will submit a vote to sustain or not sustain each article of impeachment approved by the House.
Conviction requires a two-thirds majority vote. If Ravnsborg were to be convicted, removal from his position as attorney general would be immediate. A vote would then follow to consider disqualification from holding future office, which would require another two-thirds majority vote.
Upon conclusion of all voting, the Senate shall adopt a resolution memorializing the proceedings of the Court of Impeachment.