Sioux Falls came 'very close to losing an officer' during Tuesday rush hour shootout that killed suspect
"Let's not mince words with it — these people are trying to kill our officers," said Sioux Falls Chief of Police Jon Thum
We are part of The Trust Project.
SIOUX FALLS — A suspect sought by a Sioux Falls narcotics task force was shot and killed by police Tuesday evening after he reportedly opened fire on police during a rush-hour traffic stop.
Shortly after 5:30 p.m. Tuesday, authorities with the Sioux Falls Area Drug Task Force — consisting of law enforcement from various local and state entities — initiated a traffic stop on a vehicle near the intersection of West 12th Street and South Williams Avenue, in west-central Sioux Falls.
"The Sioux Falls Area Drug Task Force was conducting some operations and, in the course of that, developed a vehicle that needed to be stopped based on some facts, including maybe a wanted subject, some parolees, and some other issues that were going along with it," said Sioux Falls Chief of Police Jon Thum. "Immediately upon pulling into the Burger King lot, a couple subjects fled from the vehicle."
As the four individuals attempted to flee from the vehicle, one male suspect produced a firearm and began shooting at police, evoking deadly force from law enforcement.
"Officers returned fire, striking the subject," Thum said. "The subject was transported to the hospital where he was later pronounced deceased."
Though it's unclear how many times the suspect was shot, Thum said one officer from the Sioux Falls Police Department and one deputy from the Minnehaha County Sheriff's Office discharged their weapons. No injuries were reported to any other individuals.
Let's not mince words with it — these people are trying to kill our officers.
Sioux Falls Chief of Police Jon Thum
Police were later able to locate two of the other suspects who fled, though one suspect, who fled with the vehicle that was originally stopped, is still at-large.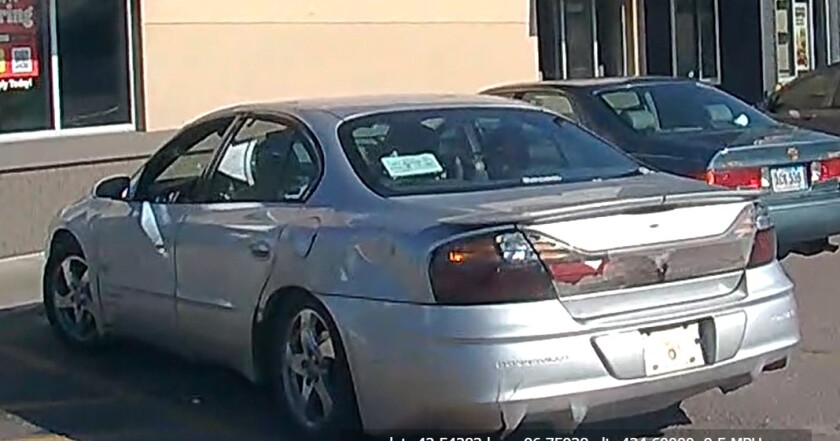 According to Thum, one suspect used the chaos to take the vehicle, back into an unoccupied squad car and "peel out" of the scene. The vehicle was described as a silver Pontiac Bonneville with temporary, paper license plates.
"This is somebody who is a dangerous person … This person has been demonstrating some dangerous behavior," Thum said. "We're not gonna say there's a specific threat to the public from this person, but obviously it's somebody we want to locate and make sure they're accounted for."
Thum said more information regarding the at-large suspect would be released at a later time.
Sheriff: 'We came very close to losing an officer'
During a Wednesday morning press conference at the Sioux Falls Law Enforcement Center, both Thum and Minnehaha County Sheriff Mike Milstead shared how close officers came to being killed in Tuesday's shooting.
"Without getting into any specifics, I will say that we came very close to losing an officer yesterday," Milstead said. "Possibly more than one."
Citing statistics gathered by the Federal Bureau of Investigation, Milstead noted that being a police officer has never been more dangerous, as violent crime is increasing throughout the country.
"This isn't something our community is accustomed to. We've had more and more violent crime in our community. Across the US we're seeing an increase," Milstead said. "The FBI tracks assaults on law enforcement and law enforcement deaths. In the last 18 months, they report a large increase in violence against law enforcement across the country."
Citing the FBI data, Milstead said 2021 was the deadliest year for law enforcement since the terrorist attacks on Sept. 11, 2001, and that the increase in violence against police has a direct correlation with use-of-force.
"The increase in officer assaults and killings often mirrors the rise of violent crime. The more violent crime we respond to, the higher probability that officers could be involved in a use-of-force event," Milstead said. "People in our community continue to believe, and I believe, that this is still one of the safest places in America — but we have violent crime in our community that we haven't seen at this level, and so it raises concern."
With five officer-involved shootings in Sioux Falls this year — a rate never before seen in the city or state — Thum took a moment to echo Milstead, talking more on how officers are ending up in situations where deadly force is utilized.
"To be honest, we're extremely fortunate no officers were injured in this exchange. The willingness of people to use firearms against law enforcement, it's alarming," Thum said, "but let's not mince words with it — these people are trying to kill our officers."
Officers are placed in danger everyday, according to Thum, as what he said should be routine business has turned deadly.
"We don't want to get into shootouts in the streets of Sioux Falls. In a legal, lawful traffic stop, the response is not ever to draw a gun and fire at law enforcement. There's too much at risk in that situation," Thum said.
With Tuesday's shooting taking place at a popular fast food joint during rush hour traffic, Thum said officers returning fire was risky, but necessary.
"[A high-traffic area] is a very challenging situation. We don't always choose the time place or manner in which one of these happens. When people choose this action in this environment, it creates a very high consequence and very, very dangerous situation," Thum said. "Officers are always prepared. I think sometimes they're looked at as hyper-vigilant or over-prepared, but this is why."
Across 14 officer-involved shootings in South Dakota since 2018, all were deemed justified.
Drumming up a conversation about change
With more violence and threats of violence against police, Thum and Milstead took the opportunity to briefly discuss the efficiency of the state's criminal justice system.
"We're responding to events, and a lot of the time the people we're responding to have a history within the judicial system," Thum said. "Law enforcement is just one piece in that whole equation. We're just one part of that whole system … there's a lot of other pieces that take place that really can have an impact on these problems and solutions."
"At the end of the day, law enforcement is the one on the streets dealing with it. Law enforcement is the ones getting shot at at a higher rate than ever before. We're up to that challenge," Thum continued. "We understand our role and responsibility of what we need to do. But at the same time, it's a good conversation for what our system's doing and how we're working together to make sure that violent offenders are where they need to be and not out endangering the public and endangering our officers."
Milstead said most suspects who engage in violence against law enforcement are repeat offenders who are already involved with the criminal justice system in other cases.
"Part of it is the justice system. [In homicides and shootings,] most [suspects] are often on some level of monitoring out-of-custody — they're on parole or on probation. They're very familiar faces. There's been justice reform in the nation and in justice reform in South Dakota in the last 10 years and maybe we need to revisit that and see how that's working for us," Milstead said. "How is presumptive parole working? Can we feel comforted if our penitentiary and parole numbers go down and public safety is compromised? Probably not. I think this is much broader than just the discussion about what law enforcement can do."
Tuesday marked South Dakota's ninth officer-involved shooting of the year, four of which have been deemed a justified use of force. Four investigations are ongoing in Sioux Falls, as is one in Madison.
While the South Dakota Division of Criminal Investigation, the agency tasked with investigating officer-involved shootings, aims to release shooting reports in 30 days, recent reports have taken nearly two months to be publicly released.