In new book, Noem says Trump became 'fixated' on Mount Rushmore fireworks
The South Dakota governor has released her autobiography, "Not My First Rodeo: Lessons from the Heartland."
We are part of The Trust Project.
SIOUX FALLS, S.D. — In her new memoir, Gov. Kristi Noem describes her ability to effectively navigate former President Donald Trump's often unorthodox style, writing she "had a good understanding of what makes him tick" and calling him a "doer."
Noem spends nearly a full chapter in her book, "Not My First Rodeo: Lessons from the Heartland," playing up her relationship with and admiration for the former president. She describes a meeting in December 2018 between Trump and several governors-elect to discuss upcoming priorities. Of Noem's three requests that day, the one that stuck with Trump the most was getting July Fourth fireworks back to Mount Rushmore.
"[Trump] immediately perked up," she writes of his reaction to her request. "'Fireworks? What do you mean?'"
From that point on, Noem says he was "fixated" on accomplishing the task. Whenever the two would meet over the next two years, she recalls, "without fail, he would ask, 'Kristi, how are we coming along on our fireworks?'" To which she would respond, "'We are working on it, Mr. President.'"
In a letter to the South Dakota Department of Tourism, the National Park Service said a repeat of the fireworks show in 2022 would not be "safe and responsible" due to, among other reasons, the "substantial wildfire risk" and "environmental contaminants" that could result from launching fireworks above the monument in the Black Hills.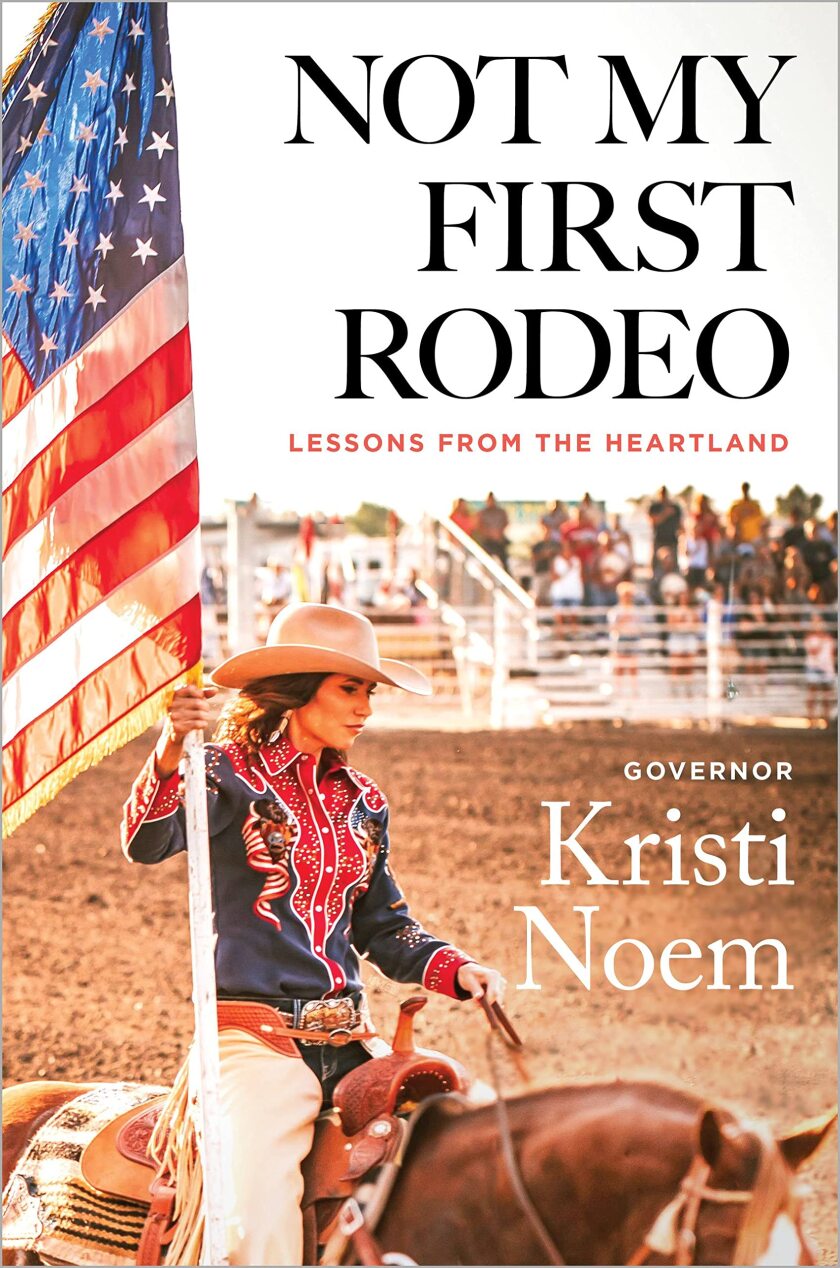 The story behind the fireworks celebration is one of the revelations in an autobiography that largely traces Noem's upbringing and political career, often tying her trials and lessons back to her deep connection with family, faith and country. Many of the events described in the memoir, presented with a fair amount of spin, will likely be familiar to South Dakotans who have followed Noem's career.
The memoir was released Tuesday, June 28. It sat at or near the top of multiple sales categories on Amazon, including Women's Biographies and Politics & Social Sciences. According to a blog post from Tony Venhuizen, who served stints as chief of staff for Noem and former Gov. Dennis Daugaard, Noem is the only governor in the state's history to publish a memoir while in office.
Within the context of an unspoken playbook for presidential hopefuls , the intimacy and self-awareness that characterizes much of the book can be read as Noem looking ahead, offering a personal introduction to those outside her home state in hopes of building on her national profile.
"I think she felt that to move herself up into the first 10 of people considered for the presidential race, she had to do something, and this seems to be the route to follow," said Michael Card, a professor emeritus of political science at the University of South Dakota. "You have a chance to control the narrative about how you're going to be perceived and really about why you're going to [run.]"
Adding to the perception of Republican Noem as chasing that elusive national recognition (a Morning Consult poll released June 8 saw Noem under 1% among registered GOP voters picking their 2024 primary preference) was her appearance on several national television shows this past weekend in part to promote the book's release.
While there's no mention of higher office buried in the 288 pages of the memoir, the end of the first chapter summarizes the all-important "why" for her engagement in politics, a decision she says was inspired by her father. Listening to a trove of tapes he left in his pickup, she writes, "I made a decision about my own life … I would not follow the glittery distractions of whatever was popular or convenient at any given moment … Like my dad, I aim to stand fast in any current for what I believe. That is why I got into politics."
Noem is currently running for a second term as governor. She is expected to face a challenge from Democrat Jamie Smith in November.