Election roundup: After committee recommended not to impeach Ravnsborg, Speaker Gosch loses Senate primary
Spencer Gosch lost an election bid to the Senate as Republicans are virtually assured a legislative stronghold following a primary that had one of South Dakota's largest turnouts for a non-presidential election cycle.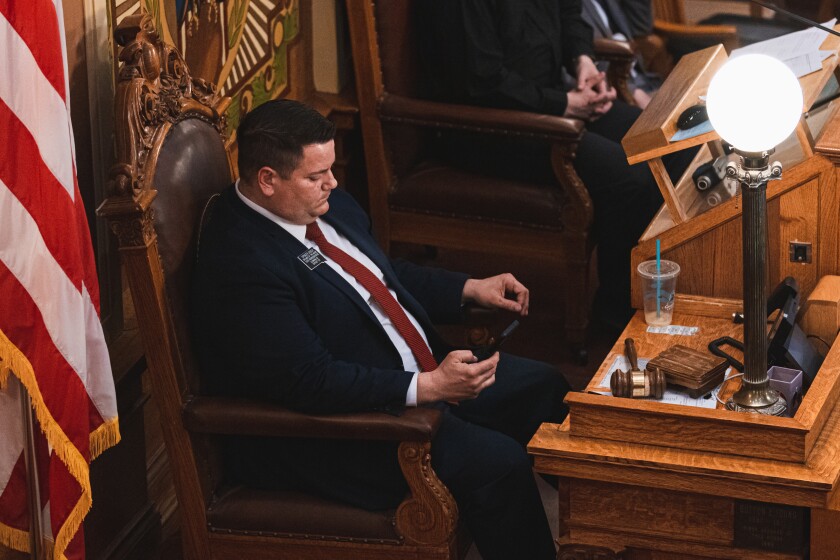 GLENHAM, S.D. — Roughly two months after a South Dakota House of Representatives select committee recommended the full chamber not impeach the state's embattled attorney general, the committee's chairman fell short of re-election in Tuesday's primary election.
Rep. Spencer Gosch, a Republican from Glenham who is nearing the end of his term as Speaker of the House, lost his primary election for a seat in the state's Senate on Tuesday, falling to incumbent Bryan Breitling by 467 votes.
After the September 2020 crash in which South Dakota Attorney General Jason Ravnsborg struck and killed Joe Boever, a pedestrian walking alongside a highway at night, lawmakers passed House Resolution 7001, forming the House Select Committee on Investigation, of which Gosch chaired.
Tasked with conducting an inquiry into the facts of the fatal crash involving Ravnsborg, Gosch and the committee met on 10 separate occasions for a total of 35 hours — most of which were spent in executive session — to determine whether Ravnsborg's conduct before, during and after the crash warranted impeachment.
After 18 weeks of closed-door discussion, public testimony and document review, the committee ultimately recommended 6-2, along party lines, that the full House not impeach Ravnsborg.
Before the recommendation was made, the Dakota Institute for Legislative Solutions, whose mission was to "generate support for Governor [Kristi] Noem's agenda," sponsored billboards in Sioux Falls, one of which specifically targeted Gosch, asking what he was hiding.
After the recommendation was released, Rep. Tim Goodwin, R-Rapid City, who told the Mitchell Republic the inquiry Gosch led was a "cover-up" and told the Argus Leader it was "bulls—," asked the South Dakota Department of Public Safety to hold a briefing surrounding their findings — in which a Highway Patrol trooper said the committee didn't allow him to give a presentation.
"Essentially, [the committee] had all the documents they presented … plus we had a lot more," Gosch told the Mitchell Republic following the briefing, adding that the claim was a mischaracterization. "We had already seen them. We didn't need talking points. We had questions."
Gosch did not immediately return a phone call Wednesday to discuss his future plans. A voicemail could not be left.
Republicans virtually assured a legislative stronghold
After Tuesday's primary, Republican candidates in 23 Senate districts will face no challenger in a November general election, while 29 House Republican candidates will see the same.
With only 35 total seats in the South Dakota Senate, Republicans will once again hold a more than three-fifths majority in the upper legislative chamber. Victories in any of the dozen Senate races where Democrats are challenging Republicans will only exacerbate the party's already strong grip on the Senate.
On the House side, nine races saw no Democratic candidate run for the seat, guaranteeing both legislative district's seats to be held by Republicans. District 20 — including Mitchell, Wessington Springs and Woonsocket — was one district that saw no Democrat run.
In another 20 House districts, only one Democrat threw their name into the ring, guaranteeing Republicans scored at least one seat in the House. Only two House districts saw more than two Democratic candidates run for office and required a primary election. All other Democrats advanced to the primary by default.
Tuesday saw highest non-presidential primary turnout in two decades
Tuesday's primary saw 186,893 ballots cast across South Dakota, resulting in a 32.09% voter turnout — the state's highest primary turnout since 2002 — where 42% of registered voters cast a ballot — for election years without a presidential race.
Davison County voters were more likely to hit the polls than the state's average voter, as the county saw 4,139 ballots cast for a 35.13% voter turnout, compared to Hanson County's 27.36% turnout.
To the south, Bon Homme County saw the highest turnout of all South Dakota counties on Tuesday, with 61.87% of registered voters casting a ballot at the polls. Oglala Lakota County saw the lowest turnout in the state with only 8.19% of registered voters voting.
So, why the discrepancy?
There are a number of factors that might entice a voter to head to the poll or sit the primary out. Local or county elections, such as races for school board or county sheriff, play a role. In Douglas County, voters were able to vote in the first contested sheriff's race in over a decade, contributing to the county's 55.77% turnout. In Buffalo County, there were no Democratic primary races, so registered voters, regardless of party, had no local representation to vote for or against.
Another factor is the popularity (or unpopularity) of a ballot question. Voters hit the polls en masse to overwhelmingly shoot down Amendment C, which would have increased the voter threshold to pass ballot measures that impose taxes. Over 97% of all ballots cast on Tuesday included a vote on Amendment C.
DISCLAIMER: All voting data is sourced from the South Dakota Secretary of State's website and from county auditors. Results from Tuesday's primary are considered unofficial until certified by the South Dakota Secretary of State.