Mitchell school board declines to authorize parent mask survey
Board votes 5-0 to not conduct parent tally on mask rules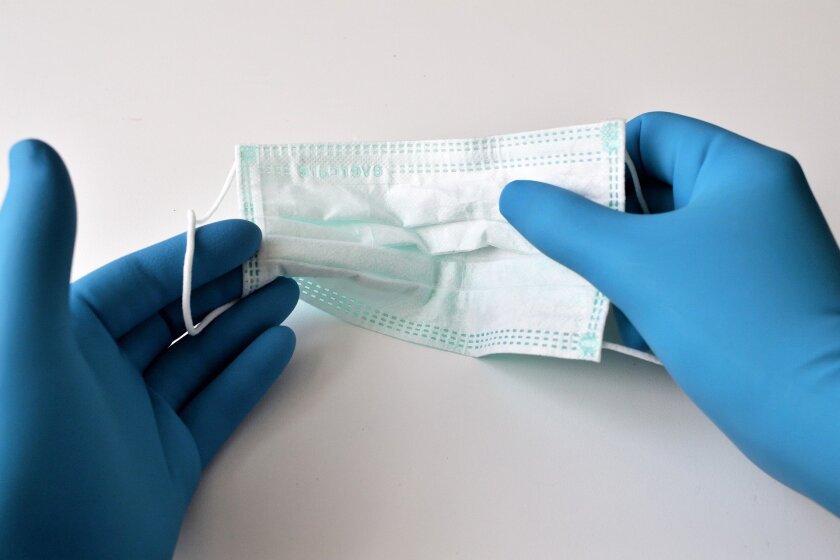 The Mitchell Board of Education Monday night voted to not conduct a survey of parents to determine where they stand on the district facemask policy, which requires all people on district property to wear a mask in an effort to mitigate the spread of COVID-19.
The proposal was voted down by a 5-0 vote following about an hour of public commentary.
Joe Graves, superintendent for the Mitchell School District, said that the item was on the agenda due to parental requests he had received on the subject.
Board member Lacey Musick, who made the motion to not conduct a survey, said she understood the emotional aspects of the issue, but her decision was guided by the opinion of public health officials and organizations.
"Public health should not be based on a popular vote," she said. "Public health and health initiatives need to be directed by science, data and the expertise of the doctors and the public health officials. And for those reasons, I am not in favor of a parent survey at this time. We need to listen to our health care providers, and right now our providers are asking us to mask up."
Matt Christiansen, another member of the board, said a survey would not sway him away from his support of masks, and approving such a survey would only give opponents of the mandate false hope.
"A survey would not change my opinion on whether or not we should require them, that may be different in six months. It gives false hope that it's going to change my opinion, because it won't," Christiansen said.
Board member Neil Putnam said he did not want the board to end up beholden to a survey in the event conditions change and the board needs to work quickly and doesn't have time to conduct a survey every time there may be a policy change.
"At this point, I could not be in favor of it. I like to be nimble and if something changes or our numbers start going down, and so far our student numbers have been stable, I just don't want to be Pierre, Watertown or Rapid City, who had to go remote because of their outbreak," Putnam said.
Mitchell Board of Education Chairwoman Deb Olson agreed that the direction of public health officials helped steer her to her decision, along with the desire to keep students in in-person classes.
"We know it was difficult for students to miss school for those last two and a half months. School is a safe place for some kids, there are meals, they can receive extra support and care from teachers or staff members. If we have to go remote, that's a part that isn't there. I don't want to go remote, but I also realize the situation we're in as a district," Olson said. "If I'm ill, I go to a doctor to get advice on how to treat my condition, and when I see that Avera, and the physicians I see, are saying mask up, and are willing to sign their name to a letter, I respect their advice."
Reed Bender, who has spoken at several recent board of education meetings in opposition to the mask mandate, again addressed the board Monday night. He said forcing others to wear a mask when they oppose it is too much power for a board to wield.
"I'm hardcore about my health and my kids health, more hardcore than most people. I treat my body like a temple: my body, my choice. If I can't breathe with a mask on, I take it off. Yet you people can tell me how to breathe. If you have that much power to tell me and my child how to breathe, that's too much power," Bender said.
Sonya Van Erdewyk, who has also spoken at previous board meetings in opposition to the mandate, again stressed that officials should be looking more at improving the general health of the public, whether it be vitamin supplements or fighting obesity. She also said that it appears mandates like the one at the Mitchell School District appears more about control than virus containment.
"What are we doing to boost people's immune symptoms? We can do so much better than we're doing, but the masks are not the solution. I'm concerned about my children's health," Van Erdewyk said.
Most who spoke at the meeting spoke against the mandate, though at least one woman in attendance, who was wearing a mask, thanked the board for making difficult decisions on the issue and others thanked the board for including the parent mask survey item on the agenda. The board heard public comments for over an hour.
The board approved the following personnel moves at the Nov. 9 meeting:
The new classified hires of Kari White, general food service at Mitchell High School, $13, effective Oct. 26 and Christie Perry, Mitchell Middle School special education paraeducator, $14, effective Oct. 22.

The transfer of Christian Licea, kitchen at L.B. Williams Elementary to maintenance/custodial at L.B. Williams Elementary, $13.10, effective Oct. 26.

The resignation of Jormarie Reyes, custodian at L.B. Williams Elementary, effective Oct. 27 and Diana Reiner, administrative assistant at L.B. Williams Elementary, effective Nov. 23.

The new Mitchell Technical College hire of Elijah Deneui, substation student worker - less than 20 hours per week, $10.25, effective Sept. 14.
Also at the Monday meeting, the board:
Declared various items surplus, including Fruhaus band uniforms (jackets and bibber pants), plumes and Shako-style hats. All items were purchased in 2007 and would be sold by sealed bid or removed from district inventories by other legal means if no bids are received.

Heard superintendent and board member reports.

Added the yearly Title 1 comparability report to official board policy. The report, filed every year, ensures comparability of programming among Title I schools and between Title I and non-Title I schools of the same grade span to ensure they are not supplanting Title I dollars. Graves said the process has been completed for at least the last 25 years at the Mitchell School District, but the requested action would make filing the report part of official board policy.