Mitchell mother of 6-year-old girl killed in house fire receives 8-year prison sentence
Ayla Barna, 26, of Mitchell, was sentenced to serve eight years in prison for leaving her three children unattended during a house fire that killed her 6-year-old daughter.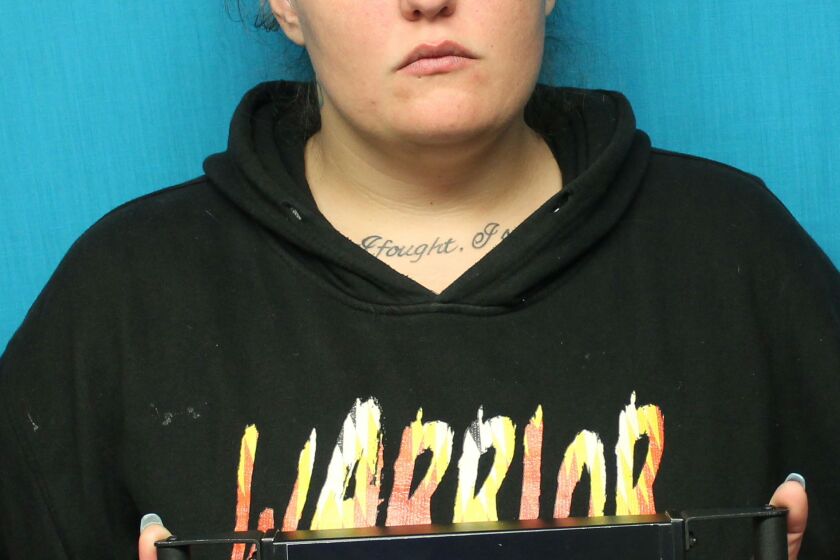 A Mitchell woman who pleaded guilty to felony child abuse for a house fire that caused the death of her 6-year-old daughter was sentenced Tuesday to serve eight years in prison.
In front of a courtroom with three children wearing T-shirts that read #JusticeForAmyah in memory of Amyah Barna , the 6-year-old who died in the fire, Ayla Barna, the 26-year-old mother, was handed down her sentence for one count of child abuse and cruelty to a minor less than 7-years-old.
Prior to First Circuit Judge Chris Giles sentencing Barna during Tuesday's felony court proceedings at the Davison County Public Safety Center, Barna issued an emotional statement.
"Every day without her has been a struggle for me and my family, and saying goodbye to her is something that I never thought I'd have to do," an emotional Barna said. "I'd do anything to change what happened… This is the hardest thing I have had to go through. I ask that you show leniency for my two children who want me in their life, and also because of the life sentence I'm already receiving from the guilt and not being able to hold her, talk to her and see my beautiful girl's little face."
At the time of the April 23 fire, Barna had left her three children home alone when the house fire broke out, which resulted in her daughter's death. Her other two children who were home escaped and survived the blaze. The child abuse charge she pleaded guilty to carried a maximum penalty of 15 years in prison and a $30,000 fine, which State's Attorney Jim Miskimins sought Judge Giles to execute.
In July, Barna initially pleaded not guilty to all three of the child abuse charges she was facing. According to Miskimins, investigators found that one of Barna's three children who were in the home at the time of the blaze started the fire, while Barna was not in the house.
"She really received the benefit of the bargain when the charging decision was made to proceed on this matter with the felony child abuse, as opposed to the potential charge involving manslaughter or homicide," Miskimins said. "In summary your honor, the state simply is asking the court to impose the maximum sentence available to it. These matters were completely avoidable and resulted in the tragic death of a child who was a member of our community, and there is only one person who is responsible for that. That's her mother."
Judge Giles expressed his sympathy for the family and friends of Amyah Barna , adding that it was a preventable tragedy caused by the neglect of Ayla Barna.
"Any punishment I impose today will not bring this little girl back to you or her family. Ultimately, you are responsible for your daughter's death," Giles said. "This child's death was an accident, but it was a preventable accident."
Following the sentencing, the group of children sporting the #JusticeForAmyah T-shirts huddled together for a group hug and a brief prayer.