Mitchell leaders tweaking medical marijuana ordinances to align with new state rules
For dispensaries, Mitchell's ordinance sets a maximum of five licenses, while similar-sized cities such as Yankton and Huron allow a maximum of just two dispensary licenses.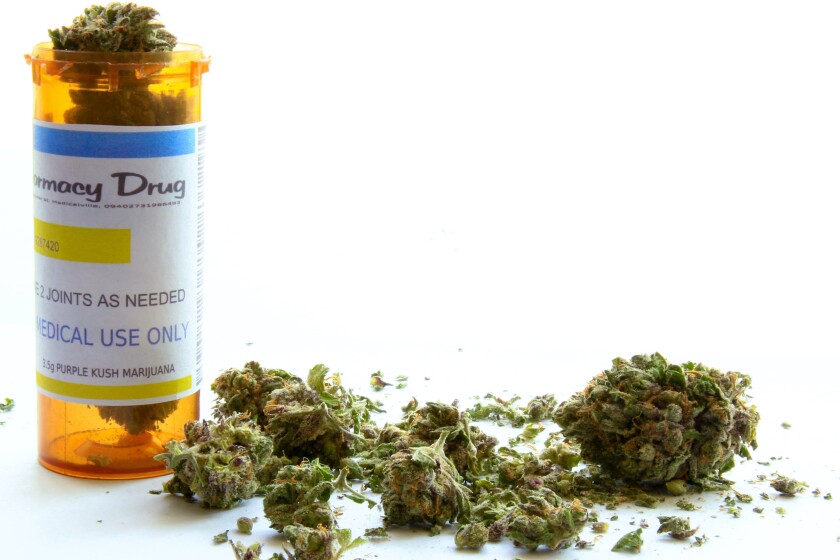 We are part of The Trust Project.
As state lawmakers lay out more medical marijuana regulations for cities to follow, Mitchell leaders are tweaking its own medical cannabis program to smoothly roll out the industry.
However, a new rule from the state could give the city the authority to prohibit any medical marijuana businesses from operating in Mitchell, if state lawmakers officially adopt the rule in October. But considering the early steps the city has taken to welcome the new industry by passing ordinances that are comparatively less restrictive than other cities' regulations, Mitchell Mayor Bob Everson said the city wouldn't go that route if the rule goes into effect.
"That's not the route we're going. We're making that change simply just to match our ordinance with the state rules," Everson said, noting the city's ordinance still allows for five dispensary licenses, with no cap on the number of cultivation facilities.
While the Mitchell City Council approved an ordinance in early June that spells out the medical marijuana regulations for the industry to operate in Mitchell, it hinges on the state's rules that city governments are expected to follow. After the Legislature's Interim Rules Review Committee approved 143 of the Department of Health's recommended measures on Sept. 13, City Attorney Justin Johnson is working with the council to implement the new rules into Mitchell's medical marijuana ordinance, which he said will pave the way for the city to begin accepting license applications by Oct. 4.
"As soon as the state's rules are published and adopted and put into place on October 4 like the state is anticipating, we would be accepting applications at that time. If we had to wait through the entire process, we would be having people apply when our new rules have technically not gone into effect yet," Johnson said.
Among the other notable new measures from the state that the council will consider including in its own medical marijuana ordinance on Monday during a special meeting are allowing cannabis cultivation and manufacturing facilities to share a physical space with dispensaries and adding language that says they shall not give any preference for those who hold medical cannabis licenses, if recreational marijuana becomes legal pending a state Supreme Court ruling.
As of now, the city's ordinance prohibited dispensaries -- the entity that sells the cannabis products -- from sharing the same location as cultivation and manufacturing facilities, which are the establishments that grow and sell the cannabis to dispensaries.
"The state will allow those types of businesses -- the dispensaries, cultivation and manufacturing facilities -- to share a physical location and co-locate at one site under certain circumstances," Johnson said during Monday's Mitchell City Council meeting.
However, Johnson said an amendment to the city's ordinance would not allow any non-cannabis businesses to share locations with cannabis businesses. For example, a bar may not share the same physical location with a medical marijuana dispensary or cultivation facility.
With the state's new proposed rule that gives each city government the authority to prohibit any medical cannabis establishments from operating, the City Council would be the governing body that has that power.
"If we did exercise that authority at that time, the existing licenses would cease to exist," Johnson said.
While the proposed rule to allow local governments to outright ban the industry in its respective municipalities is a move that some state lawmakers say provides an option for cities and counties that had a majority of voters vote against the Initiated Measure 26 ballot measure, Davison County isn't one of them. Two-thirds of voters in Davison County were in favor of the measure.
Comparing Mitchell's cannabis program to surrounding SD cities
Since South Dakota voters approved a measure to legalize medical marijuana during the November election, along with another measure to legalize recreational marijuana -- which is tied up at the Supreme Court following a judge's ruling that deemed the amendment "unconstitutional" -- cities have been tasked with adopting their own regulations that align with the state's rules.
Mitchell was among the first cities to adopt ordinances to welcome the industry. So how does it stack up to the other cities' regulations?
For dispensaries, Mitchell's ordinance sets a maximum of five licenses, while similar-sized cities such as Yankton and Huron's ordinance allows a maximum of just two dispensary licenses. Like Mitchell, Sioux Falls' dispensaries are capped at five.
For all four of Mitchell's medical cannabis licenses -- cultivation facilities, dispensaries, testing and manufacturing facilities -- the city set a $5,000 application fee that must be annually renewed at a cost of $5,000. In Sioux Falls, the application for a dispensary license is $50,000, which has sparked criticism from some residents. But in Huron, the application fee for a license is $1,000, while Yankton's is $1,500 with an annual renewal fee of $3,000.
The regulations that Mitchell's city officials have put in place thus far are receiving support from some medical cannabis industry leaders.
Steve Buysman, a Sioux Falls-based consultant who works with cities on implementing medical cannabis programs, is among the industry leaders applauding the city's medical marijuana regulatory measures. At a recent City Council meeting, Buysman -- who also works with the South Dakota group that brought Initiated Measure 26 to the ballot in November 2020 -- used his 3 minutes during public input to commend the city's efforts to adopt medical marijuana regulations.
"I'm not here to condemn you for anything, I'm actually here to give you accolades. You are one of the first responders to this, as there are a lot of communities that are dragging their feet," Buysman said, noting the city has "acted early" on rolling out its regulations. "You're welcoming this by being proactive, not reactive."