Woonsocket native emerging as top pro angler competing in National Walleye Tour
"This was a whole new world for me at first, and I love it," said Duane Hjelm, a South Dakota pro angler who got his start in walleye fishing on small bodies of water.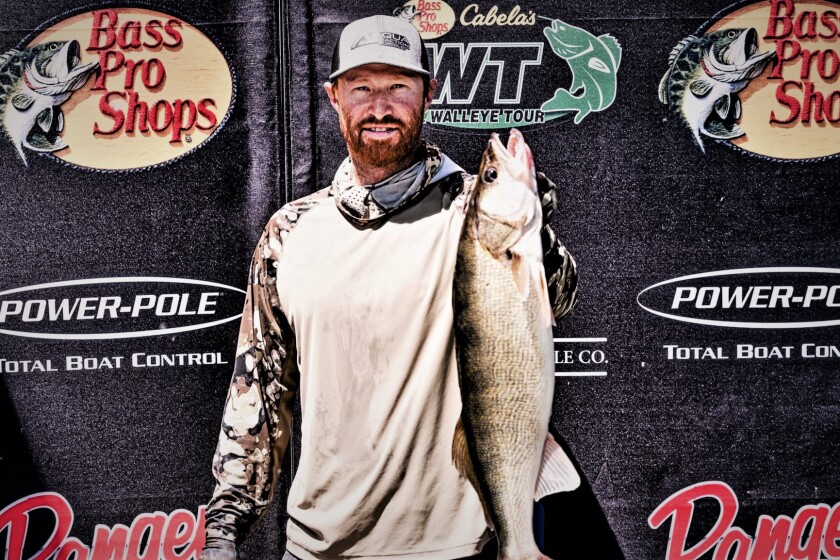 PIERRE — Growing up in Woonsocket, Duane Hjelm learned how to fish on small lakes around the Sanborn County and Mitchell area that aren't known for walleye fishing.
But he's morphed into becoming one of the top pro walleye anglers competing on the National Walleye Tour. While a fair share of the pro anglers Hjelm competes against on the National Walleye Tour were either born into families with tournament-fishing backgrounds or raised near large bodies of water that are premier walleye fishing destinations, that wasn't the case for the Woonsocket native.
"I did most of my fishing growing up on Lake Prior in Woonsocket and the James River," Hjelm said of the small bodies of water where he got his angling start. "I didn't do any tournaments growing up. This was a whole new world for me, and I love it."
In 2008, Hjelm moved to Pierre to take a job as a power lineman. For the first time in his life, he had the Missouri River in his backyard, a body of water revered as one of the nation's premier walleye fishing hubs.
As he began fishing the river, Hjelm's walleye angling skills blossomed. When he started fishing in local tournaments on the Missouri River roughly a decade ago, Hjelm was emerging as the winner in many of the events and taking home money. Little did he know his angling abilities would eventually lead him to compete in the National Walleye Tour in 2017 and become a household name on the tour among some of the best pro anglers in the nation.
"When I was a full-time power lineman and running my other business, I would have to cherry-pick what fishing tournaments to compete in. It got to the point where I was having enough success that I could fish more tournaments and focus on running my business instead of working 14-hour days," said Hjelm, who runs a flooring business in the Pierre area while competing as a professional angler.
The South Dakota pro angler has strung together his most dominant season yet this year while competing on the tour — producing top-10 finishes and claiming a tournament championship. It's the first season he has fished full-time on the NWT.
"It's been a pretty crazy ride this year," he said.
Hjelm put on a clinic of walleye fishing in early July on Lake Michigan, where he reeled in a whopping 73-pound bag of walleye in two days of fishing to claim the Green Bay, Wisconsin championship. The first-place finish helped move him into third place on the National Walleye Tour's Angler of the Year award standings, which solidified Hjelm with a spot to compete in the August season finale at Lake Erie in Dunkirk, New York.
After hauling in a 31-pound bag of fish on day one of the tournament, Hjelm managed to land five more massive walleye on day two that weighed a combined 41 pounds. His 73-pound bag of fish in Green Bay marked the largest combined weight two-day weight total of all four regular season National Walleye Tour tournaments this summer.
"It was a good day on the river. We mixed it up a bit today," Austin Earley said of the fishing tactics that he used to reel in five walleye weighing in at a combined 18 pounds.
Although he's used to fishing the Missouri River system as his home body of water, Hjelm has managed to figure out large lakes and other rivers in Wisconsin, Minnesota and North Dakota quickly. Unlike rivers that have constant current, rock structures and nearby shorelines known to make walleye opportunistic, big lakes are an entirely different system with an abundance of open water typically much deeper than rivers.
"It's weird. You can get out in the middle of these big lakes and not see the shoreline anywhere in sight. You have to pay attention to any current deflections and wind. You also have to pay attention to your graphs," he said.
Despite the differences between river systems and lakes, Hjelm said the key to his success on big lakes has been fishing it somewhat "like a river."
"A lot of people don't associate lakes with current. That couldn't be further from the truth, especially on the Great Lakes. The current changes a lot and creates breaks. I treat some lakes somewhat like a river more than a big lake," Hjelm said of his tactics on larger lakes he's fished, which have proven to be successful come tournament time.
Hopes of turning competitive fishing into full-time career
As a young face in the National Walleye Tour circuit, the 34-year-old pro angler's dominant season has helped Hjelm amass nearly $200,000 in winnings from the tour. Although the walleye tour season stretches from early spring to late August, competing on the tour can be close to a full-time job in itself.
Prior to each tournament across the Upper Midwest, Hjelm and many anglers usually trek to the waters they will compete a couple weeks in advance to pre-fish and feel out the walleye bite.
Running his epoxy flooring business while competing in professional walleye tournaments demands a fair share of Hjelm's time, but he said his goal is to eventually make competitive tournament fishing a full-time career.
Making money as a pro angler competing in tournaments across the country can be a lucrative career, but as Hjelm says, "You have to be really good."
"There are only a handful of guys who can say they fish full-time for a living. I'm not there yet, but it's ultimately what I want to end up doing down the road," Hjelm said. "It is so hard to finish in the top-10 at these tournaments. You're competing against the best of the best pros out there."
With the success he's had this season on the National Walleye Tour paired with the tournament win that helped him take home a $102,000 check and new Ranger fishing boat in early July, the Pierre pro angler is on the right track to make competitive fishing a full-time career move.
Like many pro anglers, Hjelm's abilities have attracted big-name fishing industry sponsors like Lowrance and Berkley Fishing that bring in endorsement money. Although Hjelm has been making a name for himself as one of the nation's top pro walleye anglers, the South Dakota native has stayed true to his roots amidst the fanfare.
Plastered on the side of his state-of-the-art boat is a large Precision Fishing decal, a Mitchell company that makes artificial lures. Hjelm said the business has been supporting him since he started competing in big tournaments, and while he's been fielding calls from other big name sponsors in the wake of his success, Hjelm said he's proud to represent an area company that helped him get his start in the competitive angling world.
"South Dakota and the Woonsocket area is home. Precision reminds me of home and where it all started," Hjelm said.