South Dakota pro angler Duane Hjelm opens 2023 National Walleye Tour with second-place finish
After stringing together a dominant season last year on the National Walleye Tour, Woonsocket native turned pro angler Duane Hjelm got off to a good start this year on the Illinois River.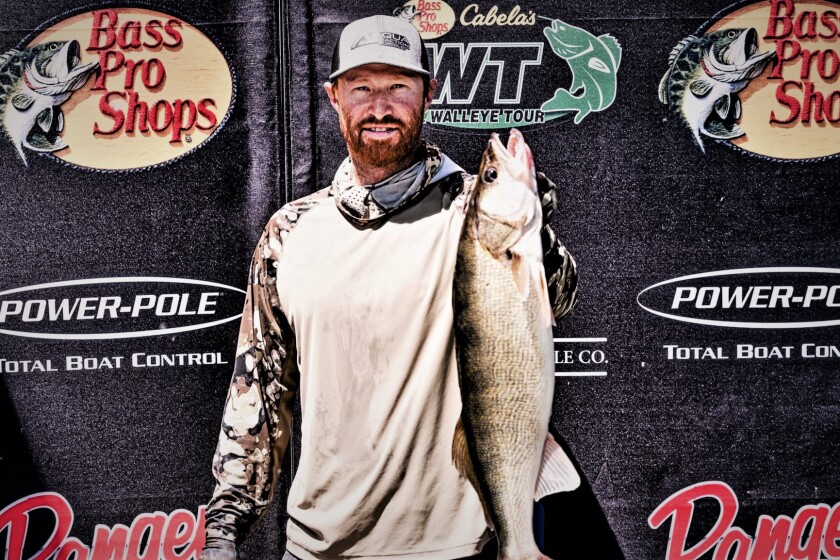 SPRING VALLEY, ILLINOIS — South Dakota pro angler Duane Hjelm kicked off the 2023 National Walleye Tour season with a solid performance on Tuesday and Wednesday in Spring Valley, Illinois.
The Woonsocket native who now resides in Pierre weighed in 21 pounds of walleye after two days of fishing the Illinois River, earning him a second-place finish. His 21.14-pound pound bag of walleye was roughly 2 pounds shy of the first place angler's 23-pound bag.
Weather conditions posed challenges for the 117 pro anglers who squared off on the Illinois River. Temperatures hovered around 40 degrees on both days, which were met with sporadic wind gusts. Over half of the pro anglers weren't able to manage to catch their daily limits of five walleye each day.
The unfavorable weather conditions didn't stand in the way of Hjelm, who was among the few anglers to land his daily limits.
Hjelm entered the 2023 Cabela's and Bass Pro Shops National Walleye Tour season as the reigning Angler of the Year – an award that goes to the pro angler who earns the most points based on the weight and amount of walleye caught throughout the entire summer season. He strung together a dominant season last year by claiming first place at the Green Bay, Wisconsin tournament and finishing in second place at the championship finale in Dunkirk, New York. Hjelm amassed over $300,000 in winnings, including two new Ranger fishing boats during his 2022 run.
The 2023 season will make its way to South Dakota once again in late June. For the first time, Pickstown will play host to a National Walleye Tour tournament on June 22-23. Chamberlain-Oacoma hosted a tournament the past two years.
The next stop will take place in May at Oshkosh, Wisconsin.