Sioux Falls man leads Highway Patrol on 33-mile, 130 mph chase through Hanson County with children in car
The chase began on I-90, looped through Emery, crossed through Alexandria and eventually ended at a rural intersection 5.5 miles northwest of Fulton.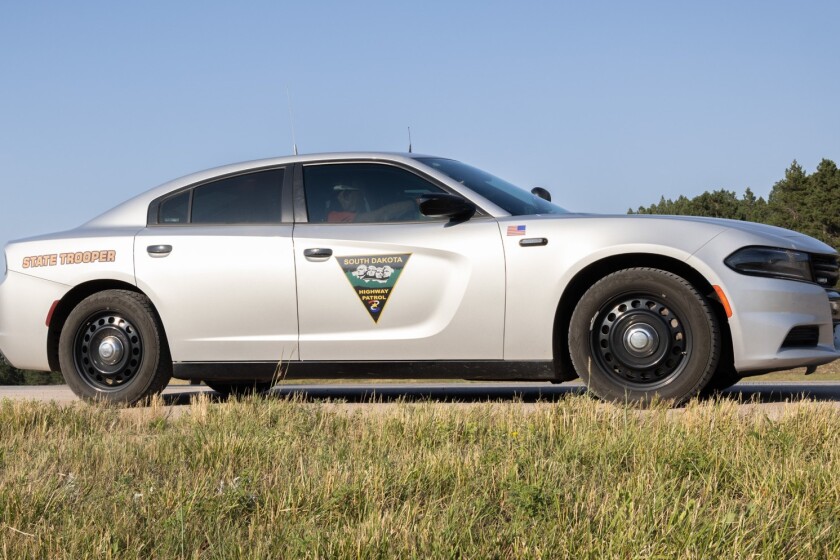 ALEXANDRIA, S.D. — A Sioux Falls man is facing serious charges after authorities say he led them on a 33-mile pursuit reaching speeds of over 130 mph with children in the back seat.
Christian Jones, 22, of Sioux Falls, was charged with two counts of abuse or cruelty to a minor under 7 years of age, one count of aggravated eluding, one count of reckless driving and a host of other traffic violations in connection with the pursuit.
Shortly before 3:30 p.m. Sunday, South Dakota Highway Patrol trooper Shane Johnson was parked in the Interstate 90 median near mile marker 346 when he observed a BMW that appeared to be traveling over 80 mph. Using radar, he confirmed the vehicle was traveling at 86 mph.
As Johnson pulled onto the road, the BMW, later known to be driven by Jones, had accelerated to 126 mph. When Johnson caught up and activated his emergency lights, the vehicle failed to pull over and then exited the interstate onto South Dakota Highway 25, heading southbound.
While driving down SD 25, the trooper estimated Jones reached speeds of 130 mph as he passed tractors on the highway. The vehicle turned east on SD 262 and entered the city limits of Emery at 95 mph before turning up Main Street and looping back to SD 262.
Back on the highway, the vehicle led the chase to Alexandria, again reaching speeds of 130 mph and failing to slow through city limits. Another trooper had deployed spike strips north of Alexandria to prevent the vehicle from accessing the interstate, but the vehicle turned west on to 257th Street prior to the spikes.
The trooper noted that 257th Street is a gravel road in poor condition, but Jones reached speeds of 110 mph down that stretch. He turned north on to 416th Avenue and managed to avoid another set of spike strips placed by a Hanson County deputy. Maintaining a speed of 110 mph, Jones failed to stop at a stop sign when crossing SD 38, police say.
A female passenger had opened the door multiple times while Jones drove on 416th Avenue. He eventually stopped the vehicle just south of 247th Street and ran on foot into a field. Troopers took their vehicles directly into the field and were able to take Jones into custody.
While checking on the female, authorities discovered Jones' vehicle was also occupied by a 6-month-old girl. Troopers say they were unaware that children were present until the pursuit was over.
The female passenger, who was unharmed, told police she had pleaded with Jones to stop the vehicle, but he refused.
Jones was arrested and charged with four felonies, four misdemeanors and one petty offense.
An initial appearance was held Tuesday morning in a Hanson County courtroom, and he's due to appear again on March 30. He's currently being held in the Davison County Jail on a $10,000 bond.
If convicted, he faces up to 34 years in prison plus a $68,000 fine.