Renovation of this red barn south of Mitchell has been a perfect place for produce sales
Now in second year, family barn restoration leads to burgeoning fruit, vegetable outlet
We are part of The Trust Project.
MITCHELL — Lee's Red Barn is hard to miss.
Located just a few miles south of Mitchell on U.S. Highway 37, drivers can easily spot the bright red structure on the west side of the road. Their eyes may also be drawn to the fall decorations in the front yard. Or the large sign fluttering in the breeze that says "open."
And they just may spot a group of vehicles parked in front of it while their owners browse a wide selection of fresh fruits and vegetables, all produced by small scale farmers and orchards from around the region and around the country.
While the small business has grown in popularity with locals and long-distance travelers alike, starting a roadside produce outlet wasn't exactly part of some grand plan, said Kayleen Lee, who along with her husband Bob own the acreage and the barn and house that occupy it.
The project all started when they decided to do some renovations on their vintage barn.
"Bob and I talked about it and thought (selling produce) would be a good way to test to see if people would come out to our barn — to do something with the barn besides use it for our family, which is our primary purpose," Kayleen told the Mitchell Republic. "The whole design of it really is about having a place that family can gather. It's not been designed for commercial use. It's a personal space."
The produce endeavor wouldn't be there if it weren't for the barn, a project the Lee family has undertaken after having purchased the property in 2016 and moving to in 2018. A year later, Bob, who works part-time with his trucking business Lee Ranch Trucking, had thoughts about building a shed for his trucks.
"We were going to put up a truck shed for my trucks. And I thought about it and said there's no reason to do this, I want to be out of the trucks before I'm 65 or 66. Let's do something with the barn," Bob said.
At first, Kayleen wasn't sure about a barn renovation project, but after talking to Bob's childhood friend Robert Hoffman, a construction contractor out of Mount Vernon, about some ideas, she was on board. It would be a nice place for when the family got together.
A porch on three sides of the building for gathering was a central idea to the renovations.
"We knew we wanted a porch around it. A big, wide porch, and we didn't know what we would use it for, other than you could put a table out there or just have a bunch of rocking chairs. We said to Robert that we'd like a big wide porch," Kayleen said.
So Hoffman got started, but there was a good deal of work to be done. Hoffman estimates the barn is about 100 years old, and it had seen better days. The structure had twisted on its foundation to the tune of about 6 inches to the south and 5 inches to the east, he said, and it would require a new foundation underneath, as well.
It was a challenge, but a satisfying one, Hoffman said. There are fewer and fewer of these vintage barns every year, and restoring this one to some of its former glory took some work. Luckily, there was some positive news in that the roof was replaced at some point in its history, which probably saved the building.
Many barns of this age have long been taken down in favor of new structures, and fires and storms have claimed others.
"There were a lot of barns built in the 1920s, and in 1926 some heavy winds and tornadoes went through this area and took a lot of the barns down, but some are still standing. And some were rebuilt around that time," Hoffman said.
Hoffman began the work of taking the twist out of the barn. Using straps and ratchets, he applied pressure to bring it back to plumb, similar to the process of straightening teeth with braces. It's a slow process, but they soon had the structure straightened and secured.
"You put pressure on it and walk away, and you come back every other day and try to put on a little more pressure," Hoffman said. "It took 100 years to twist like that, you're not going to pull it right back. Just let it settle in or you'll start breaking things."
Soon the porch was added, new siding was installed on top of the original siding, and a walk-out deck was added to the second story level on the south side. The upstairs flooring, which Hoffman estimates used to support 60 to 80 tons of hay, was redone in Black Hills Pine and cedar, including the word "Lee" outlined in wood in the center. New windows were added to let in more light. Bob and Kayleen's son, Phil, owns T.K. Electric, and did the wiring for the barn.
An addition for two bedrooms and a bathroom was added to the downstairs, and once complete the concrete floor will be heated. The whole space has a revamped feel, but is still clearly an old barn, a characteristic Kayleen stressed she wanted to preserve.
"When people walk in, she said she wanted them to know they were walking into a barn," Hoffman said.
Kayleen said much of the charm is in the rustic feel of the building. She wanted to update it, but not completely change the style.
"This is not going to be fancy. It will be nice and cool, but not fancy," Kayleen said.
There is still work to do, particularly on the interior, though Hoffman said he should have it close to completed by next spring.
But the family has already hosted a family gathering in the new space, and after the idea of selling produce out of the barn came up, they've been hosting visitors by the dozen who roll off the highway to grab potatoes from Minnesota or fruit from Washington state.
What started as an experiment has turned into another full-fledged family project, Kayleen said.
"It's taken off faster than what we anticipated and grown a little bigger than we anticipated," Kayleen said.
Drawing inspiration from her brother-in-law and sister, who used to sell potatoes from Minnesota, she and Bob thought selling produce out of the barn would be an interesting endeavor.
"We had this great porch and so we thought let's test and see if people would drive out of town and that kind of thing. So last year we got some potatoes and onions, and we immediately sold them. We were just in the month of October," Kayleen said. "So then we found some more potatoes, and after COVID and the supply chain issues and everything, I think people were interested in fresh produce."
They acquire their stock from a network of small farmers and orchard owners they've reached out to and struck deals with, often on a highly informal basis. Those farmers often have relationships with area trucking companies who work with them to help supply smaller operations like Lee's Red Barn. That allows them to order and ship single pallets of a product instead of an entire truckload. That makes choice affordable and gives them the chance to offer a wide range of different products.
"The relationship with mom and pop produce markets and growers is almost on a handshake basis. It's hard to believe," Bob said. "And they won't accept payment by credit card - they say 'just send me a check, will ya?'"
Kayleen said customers are interested in fresh produce and knowing where it comes from. She said her family knows exactly where their stock comes from and how fresh it is because they're often right on site immediately after the produce comes out of the ground. She can pass that knowledge on to her customers, she said.
"We can tell the people who come out here and are looking for fresh produce — we saw the potatoes, some of them had to wait because they were dug and needed to be washed and dried before we could load them into bags, so they are very fresh," Kayleen said. "We pretty much know what day they were dug and bagged."
The process of securing their own supply chain has opened up the door to many new friends who want to support small retailers and have a trust that is often only reserved for real family.
"I ask if they want my credit card – we're talking a couple thousand dollars worth of fruit — and they say nah, I'll just bill you. Same thing with the trucking company – how do you want me to make payment? They say they'll just bill us. They just like to provide this service to small operations," Kayleen said.
Having only sold onions and potatoes that first year, the Lees have expanded to include more selection, including apples, peaches, and tomatoes, among many other items. And the whole family pitches in. Kayleen mingles with customers answering questions, and Bob, a trucker in his career, will help load vehicles and has even been known to haul a load into town if a customer needs extra help.
Phil and his wife Andria purchased the property behind his parents' property and now live there, allowing their kids easy access to grandma and grandpa after school. Andria, who has sold products straight out of her own garden at the barn, is often on scene with Kayleen tending to customers, and Kayleen credits them both with helping make the barn renovation and the produce stand possible. She also praised Hoffman for his dedication to getting the look of the barn just right.
The Lees expect they'll be open at least through the end of October, depending on weather and their supply. They are normally open from 12 p.m. to 6 p.m. Mondays through Saturdays and are enjoying welcoming locals and long-distance visitors alike, some of whom stop just to take a look at the renovated barn and then pick up some produce while they're there.
"This is what makes people stop off the highway from Missouri and other states. They stop to take pictures. They stop in the yard and ask if they can take pictures of the barn," Kayleen said. "The joke was that I should charge for barn tours and give potatoes away for free."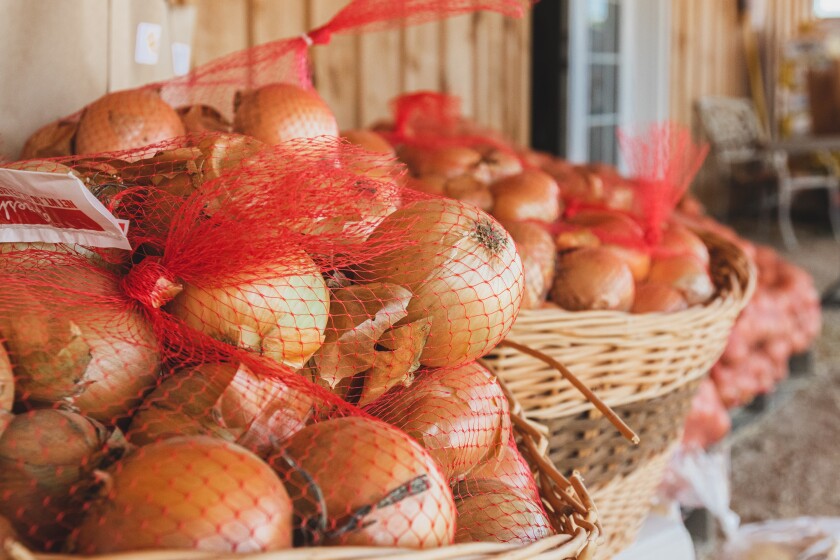 1
/
5:
Shown here are a few of the fresh products available for purchase at Lee's Red Barn, on Thursday, Oct. 6, 2022.
2
/
5:
Shown here are a few of the fresh products available for purchase at Lee's Red Barn, on Thursday, Oct. 6, 2022.
3
/
5:
Shown here are a few of the fresh products available for purchase at Lee's Red Barn, on Thursday, Oct. 6, 2022.
4
/
5:
Shown here are a few of the fresh products available for purchase at Lee's Red Barn, on Thursday, Oct. 6, 2022.
5
/
5:
Shown here are a few of the fresh products available for purchase at Lee's Red Barn, on Thursday, Oct. 6, 2022.
Hoffman said it has been an enjoyable project, and the produce stand idea works because of the family's dedication and product and its excellent location on a busy highway.
"(People from) Wagner, Tyndall, Tabor, they either go to Yankton or Mitchell, and most of them come to Mitchell for something. And they all come right up here. This is a very busy road," Hoffman said.
Kayleen said they fully expect to be up and running again next year. But when the day of selling produce ends, the family can sit back and relax on the wide porch or the second story deck they had hoped for years ago. Highway 37 is busy, but it calms down in the evenings, and then they can enjoy peace of the outdoors in rural South Dakota.
And they can enjoy the company of their family, both those right next door and extended family when they make a visit to the family barn.
That was the original goal that led to their barn renovation and produce-selling adventure, after all.
"It's just nice. There's a lot of traffic during the day on Highway 37, but in the evening it slows down and it's a nice place to be able to sit. And now our grandkids live right over there," Kayleen said with a smile.
Readers can follow Lee's Red Barn on their Facebook page.
The pumpkin patch, which runs from September 11 until October 31, will be closing permanently following the end of the 2022 Halloween season.