Mitchell family takes on nutrition business Game Changer
Herbalife products main ingredient behind shakes and teas
MITCHELL — A mother-daughter duo are shaking up the local food and beverage scene by mixing up a plethora of health drinks out of their new store in north Mitchell.
As a former nurse, Val Fredrich knows how vital healthy eating and drinking habits are for the body and mind. After being introduced to Herbalife Nutrition products, Fredrich said they provided her with more life-changing health benefits than other products she's tried.
Now, she and her daughter, Chandler Fredrich, are sharing the benefits of Herbalife with the Mitchell community in the form of shakes and teas from the confines of their new business called Game Changer.
"Good nutrition is the core of everything. All of your health problems all stem around good nutrition," she said. "Those who are healthy aren't the people who get greasy food every day, they are the ones who watch and care about what they eat. We are proud to provide a healthy option to the community when there are so many fast-food places around."
For Val, becoming a small-business owner has been a new venture that she's found rewarding in the first few months of running the store, located at 1901 N. Main St., next to Papa Murphy's. Game Changer opened in early October under the first owners, but Val recently purchased the business, which opened in early October.
After several decades of caring for patients as a nurse, Val said she was ready to take the leap into running a business. While there are risks that come with opening a small business, Val said the proven effectiveness of Game Changer's Herbalife-based shakes and teas has instilled confidence for the road ahead.
"I believe in this product," she said. "During the pandemic, we've seen more people care about their nutrition, and that's the best way to keep your immune system strong."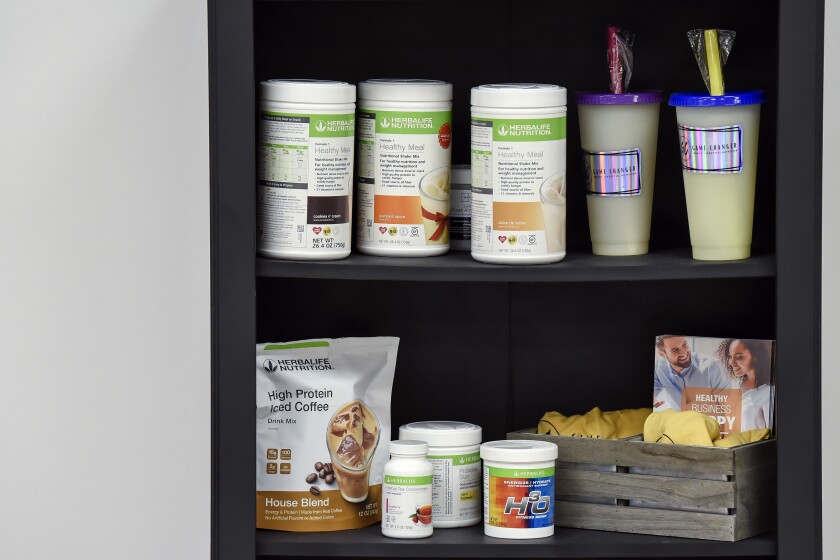 A majority of Game Changer drinks are teas and shakes, which are typically caffeinated. Val said the teas are packed with a variety of vitamins aimed at helping boost metabolism and the immune system, while the shakes are rich in protein, fiber and vitamins.
What makes the Game Changer teas and shakes unique, Val said, is the customized mixtures that can produce a variety of healthy effects on the body. For example, Val said several of the shakes and teas are made with ingredients that produce more mental clarity and hydration, while other recipes help control appetites.
Some of the shakes on the menu are considered meal-replacement shakes, meaning there are enough ingredients, protein and other nutrients similar to a full meal of whole foods.
The positive health effects weren't the only thing that compelled Val to turn to Herbalife products. She said the founder of the company's personal story was pure and inspirational.
Herbalife was founded in 1980 by the late Mark Hughes. After his mother died from an overdose of prescription diet pills, the then-18-year-old Hughes developed a natural soy-based shake that became Herbalife's first meal-replacement shake to hit the market. He began selling the product out of his vehicle in the early 1980s, and became a millionaire within five years of releasing Herbalife products.
Still, Herbalife hasn't been without controversy. The company agreed to fundamentally restructure its business after being criticized for allegedly running a pyramid scheme. In 2016, as a part of a settlement with the U.S. Federal Trade Commission, Herbalife paid a $200 million fine following the accusations.
Val said the natural and herbal-based ingredients used to make the wide variety of Herbalife shakes and teas is what separates the product from other nutrition drinks. She pointed to the rapid growth of the company and positive results among the millions of customers who use the products as living proof of Herbalife's effectiveness in overall health improvements and weight management.
"There is a lot of fad dieting, but Herbalife has been proven to show results," Val said.
Chandler, who is also a dental hygienist in Mitchell, has played an integral role in the operations of the business. As an avid yoga and fitness enthusiast who is raising a son, Chandler noticed there weren't many quick, nutritious and healthy food options in Mitchell.
"There are quite a lot of people in Mitchell who are into health and fitness, but there hasn't been a healthy food option available. I saw a void," Chandler said. "Health and fitness is a big part of my life, and I have a passion for helping people. This has been a great opportunity to help people reach their goals."