Downtown Mitchell building gives Helmuth brothers chance to usher in new era for family woodworking business
"We've been dreaming about this building and turning it into this for a long, long time," said Lester Helmuth, a co-owner and operations manager at Helmüt.
MITCHELL — It's been a longtime dream for the Helmuth brothers to turn an old downtown Mitchell building into their custom cabinetry and woodworking business headquarters.
In 2021, their dream became a reality when the Helmuths worked out an agreement with the owner of the 120 S. Lawler St. building that provided the Lester, Clayton and Jeremiah Helmuth with an opportunity to usher in a new era for their family owned cabinetry and woodworking company in downtown Mitchell.
Since moving into the new location, the Helmuth brothers have transformed the building that housed the Mitchell Republic newspaper for over half a century into Helmüt's showroom, production facility and office headquarters. On Thursday, the Helmuths shared their facility with the Mitchell community during an open house.
"We've been dreaming about this building and turning it into this for a long, long time," said Lester Helmuth, a co-owner and operations manager at Helmüt.
What was once a newsroom filled with cubicles is now a showroom with an array of Helmüt's custom cabinets, countertops and kitchen designs.
"We have made this a destination showroom with the goal of getting clients here and connecting designers from across the country," Lester said of Helmüt's new showroom. "When clients see the showroom and get a chance to touch and feel everything we've created, that's what sells them on our work."
While the Helmuths have made great strides toward reconfiguring the building, they aren't quite finished fulfilling the final look.
Clayton, the company's general manager and lead designer, said they plan to replace the small windows facing Lawler Street with large "floor to ceiling" sized windows to give onlookers a view of the main floor showroom.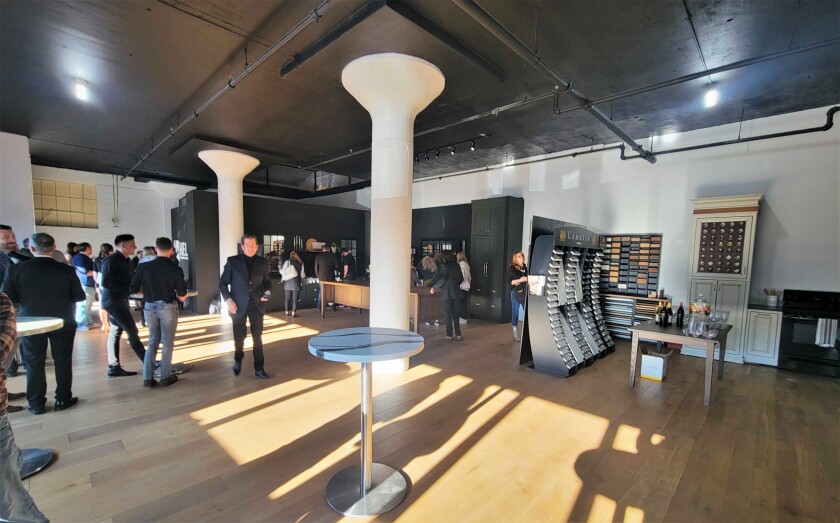 "With the full windows back in, it will bring a major transformation of this space," Clayton said.
Prior to making the move into the downtown Mitchell building, Lester and Clayton were leasing space out of their father's woodworking shop in Alexandria.
With a team of 16 employees and a growing customer base that now extends nationwide, Clayton said Helmüt was beginning to outgrow its space in Alexandria, a town roughly 10 miles east of Mitchell.
"Moving into this space is going to allow us to grow so much more. The building has so much potential, and we couldn't resist it," Clayton said of the downtown Mitchell location.
After opening in Mitchell, it marked the company's second location. Helmüt has another office in Sioux Falls.
Aside from the brothers' attraction to the old three-story brick building that's been a fixture on the corner of East Railroad and South Lawler street, Clayton, 31, and Lester, 35, both see Mitchell as a city that offers "great potential" for the company's growth.
"I know we're transplants, but Mitchell is home. We also have a passion to see Mitchell grow and become something much more," Clayton said, adding that he hopes the Helmuth brothers' entrepreneurial spirit will spark more business growth.
The Helmuth family cabinetry business was launched a little over a decade ago in Alexandria by Vernon Helmuth, the father of Lester, Clayton and Jeremiah.
While raising his kids in Michigan, Vernon passed down his rich knowledge of woodworking skills to his sons, which sparked a passion that would continue the Helmuth family's legacy.
"There were seven boys in my dad's family, and all of them have been into woodworking and cabinetry their whole lives. It's kind of in our blood," Lester said.
When Vernon moved to Alexandria over a decade ago, he began building his own custom cabinetry company from the ground up at a small warehouse.
Initially, the three brothers weren't planning on taking over the family business, they said.
As they were running the company and pumping out custom kitchens and countertops for customers while some of their family members embarked on faith-based mission trips, Lester and Clayton developed a strong passion for the business side of things, ultimately, leading them to take a leap in steering Helmüt together. Jeremiah recently joined his brothers and became the third co-owner.
"With my two brothers, we are able to balance each other and bring our own skills together well," Clayton said.
In 2017, the Helmuths rebranded the business that reflected their German heritage. In true German language, the company's name changed to Helmüt with an umlaut above the "u."
Although the Helmuths were raised in Michigan, the family is proud of their German roots as seen in the name of their business.
Together, the Helmuth brothers pride themselves on their quality of work and dedication to customer service.
Some customer reviews speak to the Helmuths' commitment to producing quality work and customer service. One review from a Mitchell customer wrote "South Dakota is extremely lucky to have such a world class cabinet company in our midst, and I cannot speak highly enough about their professionalism, competence and innovative products."
While the brothers are proud of the business their father built from the ground up, they have dreams of taking Helmüt to new heights.
"The future is very bright for us here. We're just getting started," Lester said of his vision for Helmüt.