Area election roundup: Reitsma Lau wins first Douglas County Sheriff's race in over a decade
From races for county sheriff to the South Dakota Legislature, voters hit the polls Tuesday to exercise their right to vote in the state's primary election.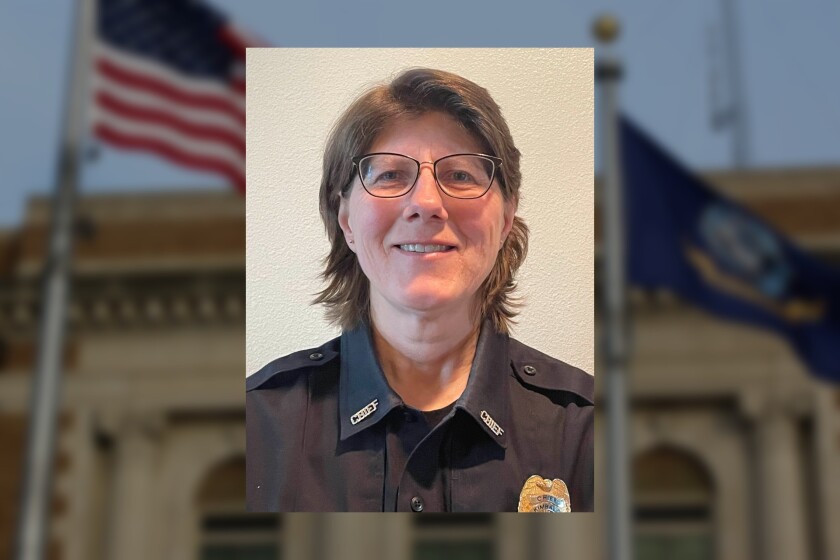 ARMOUR, S.D. — For the first time in over a decade, voters in Douglas County have elected their new sheriff.
After two straight resignations of prior sheriffs — Troy Strid in 2011 and Jon Coler in 2021 — the Douglas County Commission was tasked with appointing interim sheriffs. After Coler's appointment, he ran unopposed in two straight elections until he resigned due to what the commission described as a "disagreement.".
In Tuesday's primary election, Kimball Police Chief Chris Reitsma Lau tallied 617 votes for the position of Douglas County Sheriff, topping two other primary challengers: current sheriff's deputy Dustin Palmquist, who snagged 62 votes, and local farmer Shane Niewenhuis, who earned 360 votes. No Democrats ran for the position, so a general election will not be conducted for the position.
"I'm excited and happy to see the results and I'm looking forward to the opportunity to serve as sheriff and lead the county into a new era," Reitsma Lau said. "I'm humbled by the vote and plan to live up to what I've talked about. I appreciate everyone going out to vote and appreciate their confidence in me."
Current interim sheriff Jim Severson, a 42-year law enforcement veteran who was appointed by the Douglas County Commission after Coler's resignation, wasn't immediately available for comment.
Severson will continue serving as the interim sheriff until Reitsma Lau is sworn in by the Douglas County Commission in January.
Waltner to succeed Zeeb as Hutchinson County Sheriff
Hutchinson County Sheriff Jim Zeeb has served as the county's top cop for roughly 18 years, but decided now's the time to retire.
"I turned 68 last month and … when I finish my term I'll have 18.5 years [of law enforcement service] in so I'm eligible for retirement," Zeeb said. "I really appreciate the opportunity I've had to be sheriff for this length of time, and I'd like to thank the people for that."
His decision opened the door for current deputy Maurice Waltner and emergency manager Barron Nankivel, both of Freeman, to run for the position.
With six of seven precincts reporting late Tuesday evening, Waltner tallied 84% of the 1,529 ballots cast, topping Nankivel by roughly 1,000 votes. No Democrat ran for the office, therefore Waltner will assume the seat in January without undergoing a general election in November.
Ahead of the results of the vote, Zeeb told the Mitchell Republic that he knows both candidates well, and trusts the winner will handle the position well.
McCook County Sheriff defeats former chief deputy
Mark Norris will see another term as the McCook County Sheriff after topping former chief deputy Casey Urrutia by a 965-204 count. No Democrat ran for the seat, so Norris will assume the position he's held for the past 16 years without facing a challenger in November.
Reisch, Mills claim seats in Dist. 8 House of Representatives
On a three-way ballot for District 8 House of Representatives, Tim Reisch, of Howard, and incumbent John Mills, of Volga, came out ahead in the race to represent voters in all of Kingsbury and Lake counties as well as most of Brookings and Miner counties.
After all votes came in Tuesday night, Reisch led the pack with 52% of the vote, followed by Mills' 31%. Lecia Summerer, of Wentworth, fell short in the District 8 House of Representatives election with 17% of the vote.
Reisch, the former Miner County Sheriff who became South Dakota Secretary of Corrections and later adjunct general of the South Dakota National Guard until retirement in 2019, has recently worked as a part-time veterans service officer for Miner County. Mills secured his fourth term representing District 8 in the House of Representatives. No Democrats ran for seats in either the House or Senate, therefore all victors from Tuesday's primary have won the office.
Reisch and Mills will serve two-year terms.
Bahmuller, Peterson win tight Dist. 19 House race
In a tight five-way race for two seats in the state's House of Representatives, Alexandria's Jessica Bahmuller and Salem's Drew Peterson were elected to serve in Pierre.
Bahmuller scored the most votes, tallying 30% of the field, while Peterson — the younger brother of Rep. Kent Peterson — escaped incumbent Caleb Finck, who finished in third, by roughly 150 votes.
Finck was seeking a third consecutive term in the House but had served his two prior terms on behalf of District 21. After redistricting, Finck was been moved back to District 19, where he unsuccessfully ran for a state Senate seat in 2016.
Bahmuller and Peterson will serve two-year terms.
Kimball sticks with Mayor Hamiel for another one-year term
Incumbent Donnie Hamiel defeated Janene Wingert in Kimball's mayoral race. Hamiel cruised to victory on Tuesday, tallying 133 votes to Wingert's 63. Hamiel will serve a one-year term as Kimball's top-elected official.
Goodall secures Kimball City Council seat
Brady Goodall emerged as the winner of the Kimball City Council election. Goodall defeated Jesslon Walsh, earning 61% of the vote in the two-person race. Walsh tallied 39% of the votes in the race. A total of 72 voters casted ballots in the election.
Thomas, Soulek secure seats on Chamberlain City Commission
Clint Soulek and Timothy Thomas claimed the pair of open seats on the Chamberlain City Commission.
In the four-man race, Soulek and Thomas defeated Tucker Petrak and Miles Bradley, Jr. to earn a three-year term on the Chamberlain City Commission. Thomas was the top vote-getter on Tuesday, tallying 314 votes, followed by Soulek, who earned 301 votes.
Petrak and Bradley Jr. fell short with 201 votes and 112 votes, respectively. The election saw 928 votes casted.
Ashley wins seat on Chamberlain School Board
An administrative assistant at a certified public accounting firm, Nikki Ashley topped challenger Aaron Wisenbaugh, a houseparent with St. Joseph's Indian School, in the non-partisan race for the third district's seat on the Chamberlain School Board. Ashley received 70% of the vote, beating Wisenbaugh 305-132.
Three elected to Lyman School Board
In a five-way race for three open seats on the Lyman School Board, 1,649 votes were split relatively close between the non-partisan candidates — with roughly 130 votes separating first and last place.
Veronica Gerard, Nathan Millard and Cody Volmer won seats with 375, 354 and 368 votes respectively. Falling short were Deb Halverson with 306 votes and Michael Ryan with 246 votes.
Dangel, Kaczor prevail in Lake Andes School Board race
Incumbent Michael Dangel prevailed in a three-way race for the Lake Andes School Board, earning another term with 91 votes. Joshua Kaczor tallied 74 votes, qualifying for a second open seat. Tammy Swanson came just five votes short of Kaczor with 69 ballots.
Of the 1,314 registered voters living within the school district, 127 cast ballots in the race, resulting in a 9.6% voter turnout, according to Susan Johnson, business manager of the Andes Central School District. Of those 127 ballots, nine were received as absentee.
Dangel and Kaczor will take the oath of office at the district's regular board meeting on July 11.
South Dakota did not record a single case of voter fraud or other election-related crimes tied to the use of ballot drop boxes in 2020 or 2022, according to a survey.