Council gives green light to medical marijuana dispensary in 2022, making it Mitchell's first
The council's approval sets up Jordon Raftis to open his medical marijuana dispensary by Jan. 1, 2022 on the south side of Mitchell.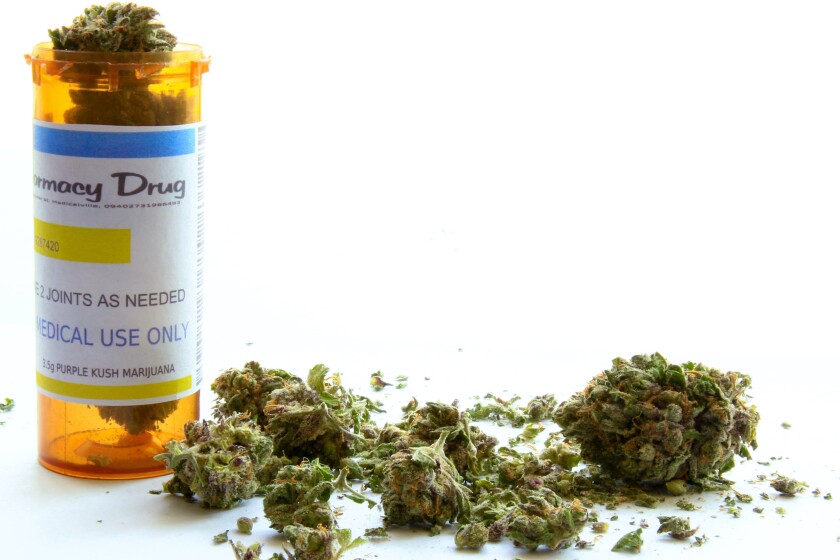 Mitchell is set to see its first medical marijuana dispensary open in the near future after the Mitchell City Council approved the first dispensary application on Monday night.
While the council unanimously approved Jordan Raftis' application to operate a medical marijuana dispensary that will be located at 1005 E. Spruce St., his business cannot operate until Jan. 1, 2022. Since the city requires a $5,000 annual renewal fee for each license holder, City Attorney Justin Johnson recommended the council attach a contingency on the license for it to take effect Jan. 1, 2022, which he said would avoid having to prorate the $5,000 application fee.
"That's what I recommend instead of trying to work on prorating it through the end of the year, which is less than two months away," he said. "We conducted our preliminary review of the application, and it met all of the standards and requirements."
Johnson also recommended the license approval be contingent on Raftis passing a fire inspection and meeting building codes as required by the city. Raftis' business will be located in a storefront at the 1005 E. Spruce St. strip mall near Walmart.
Among the most notable building guidelines for dispensaries includes implementing a verification lobby separated from the portion of the business where marijuana is on display and sold in the establishment and security. The lobby is intended to allow each establishment to verify a patron seeking to enter possesses a valid medical marijuana card that's recognized by the state, which has been clouded by some confusion as the Santee Sioux reservation in Flandreau began issuing medical marijuana cards before the state finalized its own program, leaving some wondering what is considered a valid medical card.
Although a dispensary in Flandreau's reservation has been selling medical cannabis to customers who hold a medical card since July, a Davison County judge recently informed a Mitchell man who was charged with possession of a controlled substance that the court "did not" recognize his medical card issued by the Santee Sioux Tribe. During the Nov. 9 felony court proceedings in Davison County, Judge Chris Giles said a medical marijuana card must be issued and administered by a licensed physician through the state of South Dakota's recently unveiled program for the court to recognize it as valid, which he indicated had yet to begin.
"It's my understanding that sometime this month they will begin issuing medical marijuana cards," Giles said during Kenneth Miller's hearing on Nov. 9 when Miller asked whether his Santee Sioux tribe medical cannabis card exempted him from testing positive for marijuana prior to sentencing.
While the city's application process involves a lottery system, Johnson said it wasn't used for the first round of the application opening since Raftis was the only applicant who submitted one by the Oct. 29 deadline.
As part of the city's signage regulations, medical marijuana establishments are prohibited to display the words "marijuana" and "cannabis" on their business signs. Raftis' business will be dubbed Superior Buds, which is in line with the city's policy.
With the council's approval to issue Raftis a license, it opens the application window for the city to begin accepting dispensary applications on a first-come, first-served basis. The maximum number of dispensary licenses in Mitchell is capped at five.
Aside from dispensaries, there is no cap on any of the remaining licenses, which includes cannabis cultivation, manufacturing and testing facilities. Regardless of the type of license, all business applications have a $5,000 fee and a $5,000 fee upon the annual renewal. There have yet to be any applications for cultivation, manufacturing and testing licenses brought in front of the council to consider approving, which could pose a challenge for dispensaries.
For Raftis to stock cannabis inventory, he said it must be done through a facility that's in state due to the illegal federal of cannabis. The federal government currently classifies marijuana, whether for medical or recreational use, as a Schedule I controlled substance.
A growing number of state governments have been passing laws to legalize medical and recreational cannabis in those respective states, creating a grey area between state and federal laws. South Dakota joined the list of states that legalized medical marijuana when voters passed a ballot measure in November 2020.
After the state regulations were recently approved by state lawmakers earlier this month, it allowed Mitchell to begin rolling out the industry, and the city began accepting applications on Oct. 7.