Armour, Mitchell teachers earn prestigious science fellowships
Preheim, Olson among 50 to travel the world for education
A pair of area teachers will be doing a little extra-curricular work outside the classroom in the near future. Far, far outside the classroom.
Kelly Preheim, a kindergarten teacher from Armour, and Julie Olson, a science teacher at Mitchell High School and Second Chance High, will both take part in international learning excursions with Lindblad Expeditions as part of the fellowship, which is administered by the National Geographic Society. Only 50 educators from the United States and Canada are selected each year for the program.
"It's really something. I never thought I'd make it, but thought I'd apply and see what happens," Preheim said in a recent interview.
The Grosvenor Teacher Fellowship is a professional development opportunity for educators made possible by a partnership between Lindblad Expeditions and the National Geographic Society. An annual competitive application process is used to select educators and host them aboard Lindblad Expeditions' voyages for a life-changing, field-based experience, according to the program website.
The program takes educators all over the world to a variety of ecosystems and environments, ranging from the tropics to Antarctica. They travel by ship and are accompanied by a group of naturalists, as well as National Geographic photographers. The two-week trip allows the teachers to study methods of educational communication and storytelling that will help them enhance the classroom experience for their students.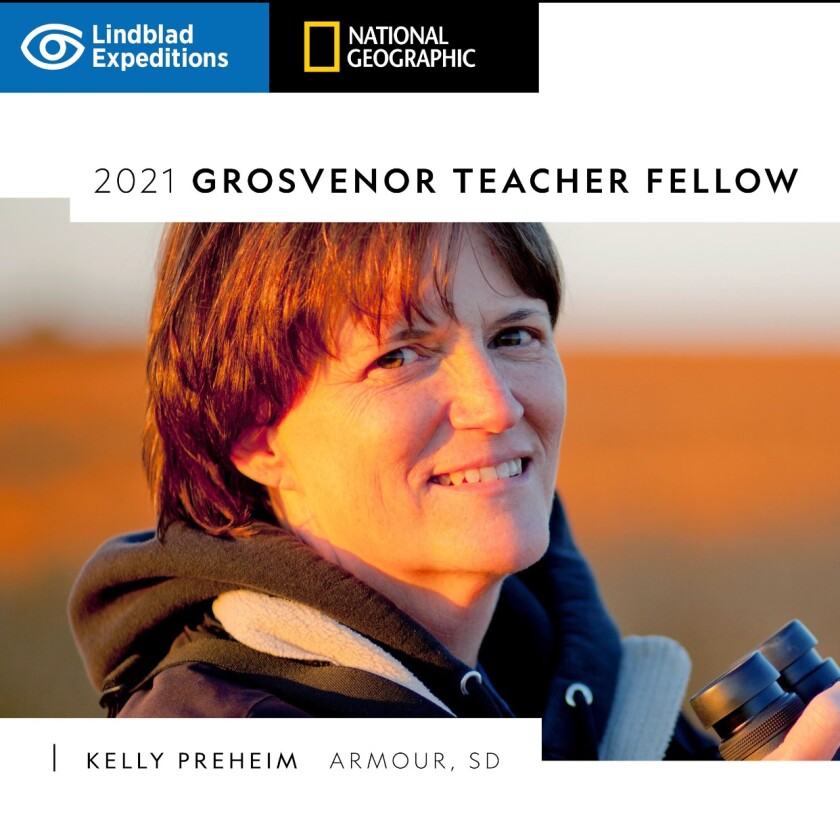 Preheim, who has an acute interest in birds and teaches about them to her students and in after-school programs , as well as lecturing on them around the state, completed her application and eventually learned that she had been selected. She was thrilled to have been chosen, and that was even before they told her where the program would be sending her.
"They were really interested in teaching kids about birds and nature, and they decided a birder needed to go to the Galapagos Islands," Preheim said. "She told me to sit down first."
The Galapagos Islands are a string of islands in the Pacific about 560 miles west of Ecuador, well-known as one of the destinations of the HMS Beagle, the ship that carried Charles Darwin in the 1830s and contributed to his study of natural selection. The islands are known for their unique wildlife, a result of their relative isolation from other land masses, including birds.
"The Galapagos is a special place for birds, and they say the birds are not afraid of people," Preheim said.
Preheim said the program is a chance for her to share first-hand experiences and knowledge of the interconnectedness of the human and natural world, to create more globally-minded students who are empowered to take action and bring life to subjects like geography. Her experiences will also likely enhance her spoken presentations on birds, she said.
Like so many other aspects of life in the past year, the Grosvenor Teacher Fellowship program was suspended during much of the COVID-19 worldwide outbreak, forcing those who had been selected for the latest batch of fellowships to postpone their plans until travel could once again be safely coordinated and international regulations could be sorted out. Fellowship recipients are now in a holding pattern, and they understand that their initial assigned destinations may end up changing to a new location.
Both Preheim and Olson said they were inspired to apply for the fellowship by Anne Lewis, a colleague who had been selected for the program in 2016. Olson focused her application on her classroom studies of the effects of plastics on the environment and thought the benefits of the program would help give her students a more global view of their studies.
"(The program) would be an amazing opportunity to learn from some of the top naturalists and storytellers," Olson said.
Olson discovered that the program would be sending her to a destination just outside the Arctic Circle: Iceland. Olson has a masters degree in aquatic toxicology, and the trip would allow her to study the natural resources of the island nation through direct observation and working with the scientists on board the ship.
The experts accompanying the teachers will provide guidance on using technology such as cell phones or video cameras, using them to capture and edit images and video, as well as blogging to help log their experiences and communicate them to students.
With a destination of Iceland, Olson said she had hoped to look closely at the effects of tourism on the island, as well as alternative energy sources.
"People visit places and they're actually trashing the place. One of those places is Iceland. There has been a huge increase in tourism and tourists aren't environmentally conscious," Olson said. "I also like the idea of (studying) different kinds of renewable energy. They use a lot of geothermal energy."
The program encourages the selected teachers to be active and hands-on during the experience and to share and network with their fellow participating educators. Those new relationships could lead to interaction between the classrooms of participating teachers, further expanding the horizons of students like those in Armour and Mitchell.
Both Preheim and Olson, as well as the other selected educators, will have to wait to see if their initial assigned locations will remain the same. There is no specific timeline on when that decision will be made, but Olson said she hoped it would come before the end of this school year.
Regardless, the experience should be one to remember, both for the teachers and their students who stand to benefit from their teachers' expeditions abroad, no matter what the specific destination may be.
"The opportunity to work with world class naturalists from Lindblad Expeditions and National Geographic is going to be amazing. I know I'm going to learn so much from them that I'll be able to share with my students," Olson said.
Preheim agreed.
"(I hope to) grow and develop as a professional and in my teaching practice, realizing pathways to serve as a leader and educator ambassador in my local and global networks," Preheim said.