Try this recipe for a delicious summertime burger that's actually good for your waistline
"Home with the Lost Italian" food columnist Sarah Nasello says these Mediterranean Chicken Burgers are savory, mouthwatering, healthy — and deliciously addictive.
We are part of The Trust Project.
FARGO — These Mediterranean Chicken Burgers were inspired by the Greek Salad Salsa recipe I featured here last week . With an abundance of salsa left over after my photo shoot, I was looking for new ways to serve it, other than on a pita chip. Out of the blue, my son, Giovanni, scooped up a chip of the salsa and said, "This would be great on a burger."
I had been playing with the idea of creating a ground chicken burger for some time, and this was just the nudge I needed to bring a recipe to fruition. I raced out and bought a large pack of ground chicken (from Sam's Club at $8.83/2.75 pounds) and then set to the task of creating a recipe that would complement the Greek Salad Salsa. The result is a savory, mouthwatering, chicken alternative.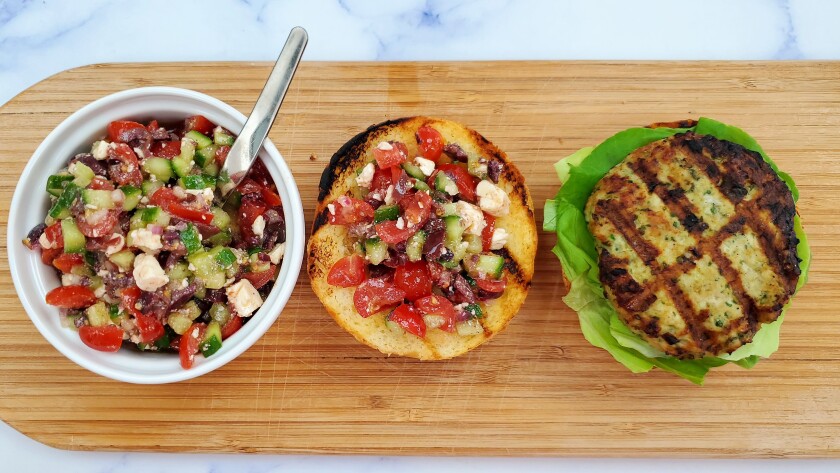 This burger is also good for your waistline. I ran the recipes for both the Mediterranean Chicken Burger and the Greek Salad Salsa through an online calorie calculator, which yielded a result of around 225 calories combined per serving, before factoring in a bun. I served the burgers with brioche buns from Target, and even then, the entire sandwich boasts only around 400 calories — can summer dining get any better?
These burgers are not only healthy and deliciously addictive, but they are also super easy to prepare. All the ingredients — ground chicken, onion, spinach, Parmesan cheese (I use whatever grated version is in my fridge), minced garlic, lemon juice, oregano, crushed red pepper flakes, salt and pepper — are mixed by hand until fully combined, which takes about a minute. The onion and spinach are key, as their water content keeps the chicken patty moist and juicy.
Because ground chicken tends to be soft and somewhat sticky, I refrigerate the mixture for at least 20 minutes before forming the patties, which helps make it easier to handle. If you have food-safe gloves, this is the time to use them. If you do not, you can simply run your hands under cold water, which will keep the mixture from sticking as you form the patties.
To keep the patties from spreading as they cook, I water my thumb and make an indentation in the center of each one, pressing about halfway through but not all the way to the bottom.
I have made these Mediterranean Chicken Burgers three times in the past 10 days, once on the stovetop and twice on the grill, and I have served them with my Greek Salad Salsa every time. They are great both ways, but at their best when filled with the smoky flavor of grill cooking.
Easy to prepare and big on flavor, these Mediterranean Chicken Burgers are a terrific option when you are seeking a low-fat chicken alternative — and I hope you enjoy them as much as we do.
Check out these links for more great burger recipes:

Mediterranean Chicken Burgers
PRINT: Click here for a printer-friendly version of this recipe
Ingredients:
1 pound ground chicken
1 medium yellow onion, finely chopped
½ cup fresh spinach, finely chopped
¼ cup grated Parmesan cheese
2 cloves garlic, minced
1 tablespoon fresh lemon juice
1 teaspoon dried oregano
¼ teaspoon crushed red pepper flakes
1 teaspoon kosher salt
½ teaspoon black pepper
Greek Salad Salsa , as a topping (optional)
Directions:
In a large bowl, use your hands to mix all the burger ingredients together until fully combined.
The mixture will be soft and sticky, so place it in the refrigerator for 20 minutes to firm up before forming patties.
Preheat grill to medium-high heat (about 400 degrees Fahrenheit).
Divide the mixture into 4-6 equal mounds, and then shape into patties. Place the patties on a baking sheet lined with wax paper and use your thumb to create an indentation on the center of each patty. This will help ensure that the burgers cook evenly and retain their shape on the grill. Brush or drizzle the top of each patty with olive oil until lightly coated. Discard the wax paper once burgers are on the grill.
Use a brush or cloth to wipe the grill with vegetable oil, then place the patties on a hot grill and cook for about 4-5 minutes on each side, until an internal temperature of at least 165 degrees is achieved. For best results, use a meat thermometer for accuracy. To prevent the meat from sticking to the grill, let the patties cook for at least 3 minutes per side before lifting.
Once the burgers have reached the required temperature, remove from the grill and transfer to a plate or baking sheet lined with wax paper.
Scrape any remaining chicken from the grill. Slice buns in half and place them on the grill, cut side down, and grill until lightly toasted. Remove and spread Southwest sauce on the inside of the bun's top. Place a burger on the bottom half of each bun then top with Greek relish and your favorite toppings. Cover with top bun, serve and enjoy.
This week in...

Recipes can be found with the article at InForum.com.
"Home with the Lost Italian" is a weekly column written by Sarah Nasello featuring recipes by her husband, Tony Nasello. The couple owned Sarello's in Moorhead and lives in Fargo with their son, Giovanni. Readers can reach them at sarahnasello@gmail.com.